Asian Games: China basketball squad outhustles Taiwan rivals
Outplayed by its Chinese counterpart in every facet of the game, Team Taiwan suffered an ugly 101-65 loss in Game 3 of the basketball competition at the 2006 Asian Games in Doha, Qatar, late on Wednesday evening.
Other than a decent first quarter that ended with China leading 24-23, in which the Taiwanese managed to run its offense without much trouble, the game was as one-sided as one can imagine, with China doing as it pleased on both ends of the floor.
From the second quarter on, Taiwan was unable to keep up with a tenacious Chinese attack that capitalized on its height advantage by pounding the ball inside the paint with dominant efforts from big men Yi Jian-lian (212cm and 110kg) and Wang Zhi-zhi (212cm and 130kg) to build a 52-33 lead by the end of the first half.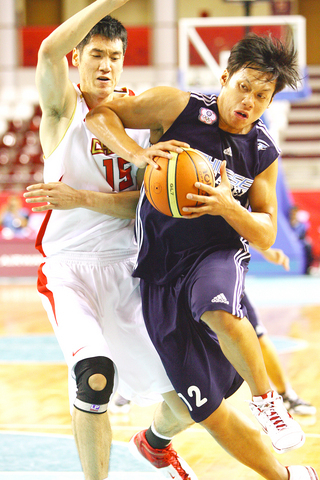 Taiwan's Lin Chih-chien, right, cuts in beside China's Li Ke during their Asian Games basketball men's preliminary Group F match at the Sports City Basketball Indoor Hall in Doha, Qatar, on Wednesday. China beat Taiwan 101-65.
PHOTO: AFP
Held to just 10 points offensively in the second quarter, Taiwan continued its dismal showing in the third quarter by scoring only 13 points, compared with the 28 from a Chinese line-up of mostly reserve players by that time, to trail by 34 points heading into the final quarter.
China would take leads as large as 40 points towards the end of the game that had long been over before Taiwan mustered a few late-game baskets to keep the deficit under 40 points in the rout.
Only three players were able to crack double-digits in scoring for Taiwan with Chen "Airman" Hsin-an of the Yulon Dinos and Taiwan Beer's Lin "the Beast" Chih-jeh netting 14 points each, followed by Tien Lei's (Dacin Tigers) 10.
As for China, all but one of its five starters racked up 10 points or more, led by Yi's game-high 28, with sharpshooters Zhu Fang-yu and Hu Xue-feng chipping in 18 and 16 points respectively.
The whopping rebounding margin off the glass, with China enjoying a 45-20 advantage was even more embarrassing than the final score for Taiwan since it further showed how much the Chinese outhustled the Taiwanese.
Next up for Team Taiwan is another uphill battle tonight against a heavily favored Lebanese squad that looked very strong in the early going of the tournament.
Comments will be moderated. Keep comments relevant to the article. Remarks containing abusive and obscene language, personal attacks of any kind or promotion will be removed and the user banned. Final decision will be at the discretion of the Taipei Times.