Asian Games: Taiwan takes the sweet with the sour on big day
GOLD IN THE BANK Although Taiwanese athletes won the nation's first two gold medals at this year's games yesterday, some important semi-finals didn't go so well
Taiwan had a big day at the Asian Games yesterday, with two soft tennis players taking home the nation's first two gold medals of the tournament.
Yesterday also saw a number of important semi-final matches, although they were not quite as successful. Huang Yi-hua and Lu Yun-feng fell to the Chinese team in six sets in the table tennis mixed doubles semi-final. The Taiwanese team lost the first three sets before mounting a comeback and taking the next two, before finally losing in a close sixth.
Because there is no bronze-medal match, the team will automatically share third place with the Hong Kong team.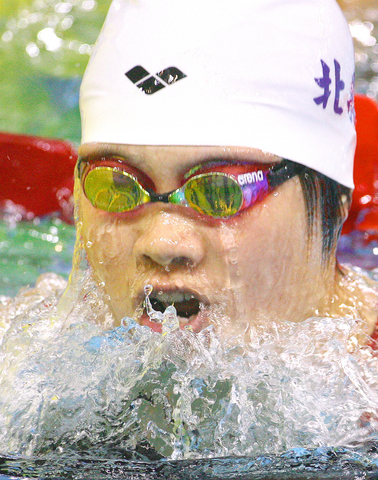 Taiwan's Nieh Pin-chieh comes up for air after completing the second heat of the women's 100m freestyle swimming event at the Hamad Aquatic Center during the 15th Asian Games in Doha yesterday. Nieh finished the heat in third place.
PHOTO: AFP
The men's doubles tennis team of Wang Yeu-tzuoo and Lu Yen-hsun also lost their semi-final match to Korea.
Taiwan's baseball team has a chance to add another gold medal to the tally today. After cruising past the Philippines yesterday, the Taiwan team is gearing up for its biggest challenge of the tournament yet when it faces Japan today at 4pm in the gold-medal match.
Coach Yeh Chih-hsien is expected to tap Los Angeles Dodgers lefty Kuo Hung-chih, who also earned the win in Taiwan's first-round victory over the formidable South Korean squad, to make the big start.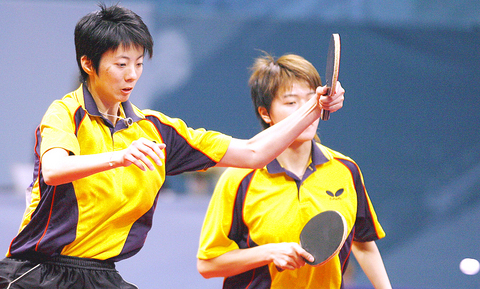 Taiwan's Huang Yi-hua, left, and Lu Yun-feng compete with China's Guo Yue and Li Xiaoxia in the women's doubles semi-final match in Doha yesterday. China beat Taiwan 4-2.
PHOTO: AFP
Both teams bring with them undefeated records, although the Taiwanese team leads Japan in both team ERA and batting average.
Meanwhile Mu Shuangshuang set a new world record in the snatch in the +75kg women's weight class to hand China its 10th gold in 13 Asian Games weightlifting categories yesterday.
Mu, herself weighing more than 132kg, was rock solid as she lifted 139kg to beat by 1kg the previous record set by South Korean Jang Mi-ran in May this year.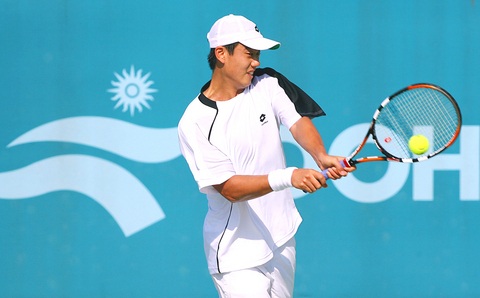 Wang Yeu-tzuoo of Taiwan returns the ball to Jun Woong-sun of South Korea during the tennis men's team semi-finals in Doha, Qatar, yesterday.
PHOTO: AP
Arch-rival Jang, who beat Mu to two world golds on her inferior bodyweights after the duo posted identical totals, had failed in her attempt to break her own record just minutes before Mu's successful effort.
The snatch result gave the 22-year-old double world silver medallist a vital 4kg lead going into a nail-biting clean and jerk that enthralled the raucous crowd at the al-Dana auditorium.
Jang immediately upped the ante in the second discipline, effectively canceling out Mu's lead with a first lift of 171kg, compared with the Chinese's 167kg.
But Mu nailed 174kg, and 178kg in her third and last attempt, to leave Jang with what would have been a world record-equalling clean and jerk of 182kg for victory.
The South Korean managed the clean with ease but the jerk was a manoeuvre too far and the bar tumbled behind her back, handing Mu the gold medal with an aggregate of 317kg, just 1kg under Jang's world overall record.
"I wasn't nervous before Jang's last lift," Mu said.
"I just focus on my lifting and wanting to improve my own performance. The pressure was more on her because she won this medal last time around in Busan. I admit that I was nervous when I first arrived in Qatar but after touching the bar in training that all drained away," she said.
"I never think about other competitors or medals when I'm on the stage," she said, adding that her exemplary performance would stand her in good stead come the 2008 Beijing Olympics. I will be one of the leading candidates for gold, that's for sure," Mu added.
China has now won 10 golds and four silvers from the 13 categories already held. Only the men's 105kg and +105kg categories remain in this world-class competition.
Kazakhstan won two golds on Tuesday in the men's 85kg and 94kg weight classes, while Thailand's Pawina Thongsuk claimed the other gold in the women's 63kg category.
Mu's snatch lift was the fifth weightlifting world record of the Games. Pawina set a world mark in the clean and jerk while China's Chen Yanqing produced three world records to win gold in the women's 58kg category.
Princess Slumming It
Princess Sirivannavarinariratana of Thailand is not alone among royalty at the Asian Games. She is, however, the only one who took up residence at the Athletes Village.
"It feels good that I can develop some new relationships with the other athletes," the 19-year-old badminton player said. "If I am not participating I will be there cheering for my team at other sports, particularly boxing."
The Thai princess said her Athletes Village experience is easy to deal with: "I know when I have to be a player and when I've got to be a princess."
She won her first gold at the Southeast Asian Games last year in Manila.
The United Arab Emirates has eight members of Dubai's royal family in its delegation, represented in equestrian endurance, show jumping and karate. Bahrain has two sons of the King of the Kingdom of Bahrain in equestrian endurance, an event that attracted four royal members of the Kingdom of Saudi Arabia.
The captain of Qatar's endurance team is Mohammed Bin Hamad Bin Khalifa Al-Thani, who rode one of his Arabian horses up a steep ramp at the opening ceremonies to light the games' flame.
Comments will be moderated. Keep comments relevant to the article. Remarks containing abusive and obscene language, personal attacks of any kind or promotion will be removed and the user banned. Final decision will be at the discretion of the Taipei Times.