Time for the covers to come off
COLOSSAL CONTEST After England ended 16 years of total dominance last time around, Australia are eager to win back the ancient urn on home soil
Funny what a little competition can do for a cricket series.
For 16 years, Australia held the Ashes -- a tiny urn representing more than 120 years of not-always-cordial competition between the old convict country Down Under and its former ruler England.
Last year in England the home side won it back. That not only stopped the decade-old jokes about England's ineptitude as a cricket team, but ensured that the hype surrounding the five-test series beginning on Thursday at the Gabba in Brisbane would reach colossal levels in Australia.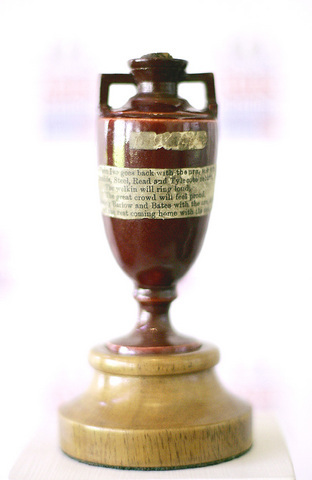 This Oct. 9 photo shows the original cricket Ashes urn pictured at Lords Cricket Ground in London.
PHOTO: AFP
That's no overstatement, and very different from the last series here in 2002-03: ho hum, four Australian wins in five tests, eight series wins in a row.
The only thing resembling this kind of buzz was the excitement level around the country when Sydney hosted the Olympics in 2000. And this time, it'll be spread around Australia's five largest cities -- Brisbane, Adelaide, Perth, Sydney and Melbourne, over a six-week period ending on Jan. 6.
Tickets at most of those cities' venues sold out with hours of going on the Internet or at the box office. The Barmy Army, England's legions of loyal and boisterous fans who travel with the team, were said to have hijacked some of the best tickets by joining the so-called "Cricket Family" set up by Cricket Australia to allow preferential purchasing status.
It worked, because it's likely about 45,000 English fans will be here for the series.
"We knew Australians would be straining at the leash to purchase tickets ... but even the experts have been surprised at the demand," Cricket Australia chief executive officer James Sutherland said. "This is unprecedented in the history of major event ticket sales in Australia."
For those unlucky not to have a ticket, large television screens are being set up in major cities to provide a party-style atmosphere during the tests, most of which will be played during regular working hours. In the past, that kind of treatment has mostly been reserved for the Olympics.
Famous Fans
Elton John has reportedly booked seats at each of the five venues, while another touring Englishman, singer Robbie Williams, has also said he'll watch some of the tests in person. Tailor-made television commercials have already appeared, and Ashes blog sites on the Internet have sprung up everywhere.
John comes by his connection with the team honestly. Last year, he and Andrew Flintoff sang the English captain's favorite John song -- the 1970s hit "Rocket Man" -- at a charity dinner in London.
The Courier-Mail newspaper in Brisbane reported this week that other British celebrities tipped to be at the first test are billionaire businessman Sir Richard Branson, TV talkshow host Michael Parkinson, former British prime minister John Major and lyricist Tim Rice.
There's a good chance that not much will happen in the Australian government when the matches are on. Politicians, led by self-admitted "cricket tragic" Prime Minister John Howard, always manage to sneak away for some of the matches.
"I expect Australia to regain the Ashes," Howard said at a government-held reception last week that included the England team. "I'm not only hopeful but I'm confident."
The excitement level rose another notch when the English team arrived on Nov. 5 after a 22-hour flight from London via Hong Kong. Tucked into their fully-stretched out beds in first class, the players also had massage therapists on board to make sure everyone stayed loose on the flight.
Flintoff, named test cricketer of the year last year for his sterling performance with the bat and ball against Australia, will lead a tentative England into the series.
Affected by injuries -- including Flintoff's ankle surgery in July -- the team has had a spotty record since its Ashes win, although they drew Sri Lanka 1-1 and beat Pakistan in recent series.
Stress-related illness
Things got worse for England this week when opener Marcus Trescothick returned home with the recurrence of a stress-related illness, further decimating the side.
Michael Vaughan, who captained England when it won the Ashes last year, won't likely get a chance to repeat the feat. He is still out of action because of a recurring knee problem, although there were some suggestions that he might recover in time to join the team in the third test at Perth.
Australia, meanwhile, has 11 wins in 12 test matches since losing the Ashes. Led by Ricky Ponting, named the International Cricket Council's test cricketer of the year in 2006, resurgent Australia, the No. 1-ranked test team and World Cup champions, recently added the limited-overs Champions Trophy to its silverware collection.
Since it is playing at home, and with a better recent record, bookmakers are predicting an Australian win. So is Australian bowler Glenn McGrath, who lamely predicted Australia would win the last series 5-0. This time, he's also given England some dressing room fodder by predicting a 5-0 Australian win.
Last week, organizers announced a new series of security and crowd control measure for the first test which is expected to have maximum crowds each day of about 40,000 fans.
More than 80 security guards will be joined by 130 police officers, 230 ushers and staff monitoring 85 closed-circuit television cameras, while players will appeal for good behavior in messages played on Gabba screens.
Anti-terrorist measures are not planned, despite British media reports last month that two London bombers had discussed gassing the dressing rooms of England and Australia at the Edgbaston cricket ground.
"The intelligence that we're receiving on a daily basis, which includes national and international, is there is no threat to this event," a police inspector said of the Brisbane test.
Oddly enough, Queensland state officials have banned advertising blimps over the Gabba, but the move had nothing to do with security. Officials figured there might be an opportunity for rival companies to promote their products in the skies above the stadium, so they banned them.
The move was quickly applauded by Cricket Australia, which admonished those "ambush marketers trying to sneak a free ride at the expense of legitimate sponsors."
With this kind of exposure and hype, no wonder.
Publication Notes
Key Ashes players
England
* Andrew Flintoff (captain)
Right-hand batsman and fast bowler. Age 28. 62 tests, 3,127 runs, average 32.91, 5 100s, highest score 167, 186 wickets average 31.32.
England's key man. The dynamic all-rounder was the star of England's 2005 Ashes success with 402 runs and 24 wickets. But coming back from ankle injury and there are doubts too over how he'll cope with burden of captaincy.
* Ian Bell
Right-hand batsman. Age 24. 18 tests, 1,287 runs, average 47.66, 5 100s.
Long billed as most talented young batsman in England, has struggled to nail down a place and looked out of his depth against Glenn McGrath in the last Ashes series. But has scored three elegant hundreds in successive Tests against Pakistan. How he performs at number three could prove crucial to England's hopes Down Under.
Australia
* Ricky Ponting (captain)
Right-hand batsman. Age 31. 105 tests, 8,792 runs, average 58.22, 22 100s.
Made 156 at Old Trafford in the last Ashes series to force a draw in the third test but reached 50 on only one other occasion and was heavily criticized for his captaincy. Now in the best form of his career, has scored eight test centuries since the Ashes and was named the ICC's player of the year for 2006.
* Adam Gilchrist
Wicketkeeper, left-hand batsman. Age 35. 85 tests, 5,124 runs, average 48.80, 16 100s.
A fine wicketkeeper and devastating with the bat in hand. One of the cleanest hitters in the game, he is one of the few players who can turn around matches in a flash. Has scored 15 test hundreds despite batting at seven but struggled on the last Ashes tour, failing to score a single half-century and averaging just 22.62. Has captained Australia in six tests including last year's series win in India. Is currently equal third on the all-time list of wicketkeeping dismissals with 355, behind Ian Healy (395) and Mark Boucher (364).
Comments will be moderated. Keep comments relevant to the article. Remarks containing abusive and obscene language, personal attacks of any kind or promotion will be removed and the user banned. Final decision will be at the discretion of the Taipei Times.