Taiwan beat Aussies to claim first win
BIG RESULT A four-run blast in the eighth inning was enough to secure the team's first win in three and boost Taiwan's hopes of making it through the preliminary round
Chen Yong-ji's game-tying single sparked a dormant attack that had been quiet all afternoon and Lin Yi-chuen finished it off with a bases-clearing, three-run double that capped a four-run eighth to help Taiwan top Australia by a 4-2 margin in the 2006 XVI Intercontinental Cup Baseball Championship in Taichung yesterday.
The win was Taiwan's first of the ten-day tournament after two tough losses to Italy and Japan on Thursday and Friday respectively had kept the hosts winless in its first two contests.
"It might have turned the whole tournament around for them," sports commentator Chien Ding-yuan said after the win, referring to Team Taiwan's chances to finish this year's competition with a respectable result.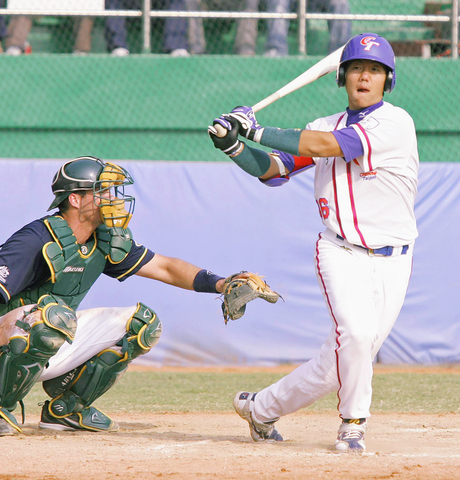 Taiwan's Lin Yi-chuen hits a bases-clearing double to score three runs in the eighth inning, securing Taiwans' win over Australia 4-2 yesterday.
PHOTO: TAN CHAO-YANG, TAIPEI TIMES
Stellar efforts by starters Tseng Song-wei (Taiwan) and Adam Blackley (Australia) kept either offense from scoring through the first six innings, with Tseng pitching a three-hit shutout and Blackley taking a no-hitter one out into the fifth before settling for a two-hitter through the sixth.
Then came a timely single by Australia's Matthew Kent off a tiring Tseng following a hit batsman by Tseng that put runners at the corners in the top of the seventh.
After Tseng intentionally walked the next batter to load the bases to set up a potential inning-ending double play for Taiwan, Australia's Trent D'Antonio promptly drove a pitch from Tseng deep enough to right for a sacrifice fly that gave the team from Down Under a 1-0 lead.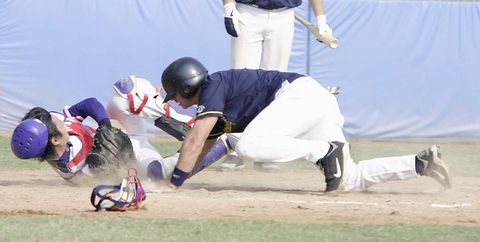 An Australian player is tagged out at the homeplate to end the fifth inning as he collides with Taiwanese catcher Kao Chi-Gang yesterday.
PHOTO: TAN CHAO-YANG, TAIPEI TIMES
Australia's one-run advantage would stand for just an inning before Taiwan responded with a game-turning, four-run eighth for its first lead in the game.
Down 4-1, Australia would muster one final offensive in the top of the ninth against reliever Luo Cheng-long by drawing a walk and a hit batsman after two quick outs to set up Bradley Dutton's run-scoring single that made it 4-2 with runners on first and second.
Taking no chances with Luo, Taiwanese skipper Yeh Chih-shien immediately sent for right-hander Keng Bo-shuen who got the next batter to fly out to right to seal the win.
Luo was credited with the win for Taiwan, allowing a run on a single with a walk, two hit batsmen and a pair of strikeouts over 1-2/3 innings of play, beating lefty Donovan Hendricks who entered the game in the seventh in relief of Blackley.
"It was a huge win for us because it meant the difference between a 1-2 start and a 0-3 start," Yeh said after the game.
His troops now take on South Korea in a key matchup at 1pm this afternoon where the winners will likely finish in the top-four of the seven-game preliminary round.
Japan 4, Taiwan 3
Team Taiwan dropped its second straight game in as many days on Friday night in a disheartening 4-3 loss to Japan to remain winless in the 2006 XVI Intercontinental Cup Baseball Championship.
The classic seesaw battle between two of Asia's powerhouses featured three lead changes before Japan's Saigo Yasuyuki smashed a tie-breaking solo home run off Taiwanese reliever Lin "Little Chick" En-yu (Macoto Cobras) in the bottom of the eighth to put his team up for good.
Trailing 3-2 for nearly three innings, Team Taiwan wasted a golden opportunity to make a big inning out of the eighth by managing to score only one run on three singles, a hit batsman and two wild pitches by the Japanese to force a 3-3 tie before doing any further damage to end the inning with the bases loaded.
The second game of the seven-game, round robin preliminaries for Taiwan had the squad in their traditional blue uniform jumping 2-0 in front at the top of the fourth, courtesy of a two-run double off Japanese starter Saitoh Takashi by top amateur slugger Lin Yi-chuen.
The 2-0 advantage for Taiwan would last less than an inning as the Japanese answered with a pair of runs in the bottom of the same inning on a two-out single by Nakao Toshihiro, followed by Suzuki Kanji's liner to shallow-right that scored the tying run with the help of an erroneous throw by Taiwanese shortstop Yang Chung-sho.
Team Japan then skidded ahead 3-2 in the bottom of the fifth on a solo blast by Onizaki Tomochika off Taiwanese starter Yang Jien-fu (Sinon Bulls) to claim its first lead in the game before the late-game drama that ultimately went Japan's way.
Both starters pitched effectively for their respective team with Yang Jien-fu holding a decent Japanese lineup to three runs (two earned) on five hits and seven strikeouts over five innings and his counterpart Saitoh limiting Taiwan to two runs on three hits in seven spectacular frames.
So the game boiled down to which team had a better bullpen. And unfortunately for Taiwan, a poorly located pitch by the Little Chick was the difference in the game as an unforgiving Saigo taught the soon-to-be rookie hurler for the Nippon Professional Baseball League's (NPB) Rakuten Eagles (Lin was signed by the Eagles to a multi-year contract earlier this week) a costly lesson by driving the ball to the opposite field for the game-winning homer.
Comments will be moderated. Keep comments relevant to the article. Remarks containing abusive and obscene language, personal attacks of any kind or promotion will be removed and the user banned. Final decision will be at the discretion of the Taipei Times.