Smyth brace snaps Oilers' run
DOUBLE DELIGHT The Edmonton winger claimed two scores while keeper Dwayne Roloson made 26 saves as the Oilers put an end to their four-game losing streak
Ryan Smyth scored twice and the Edmonton Oilers snapped a four-game losing streak with a 4-1 win over the Columbus Blue Jackets on Friday.
Ales Hemsky and Joffrey Lupul added goals for Edmonton, which opened the scoring with two goals 1:38 apart early in the second period. Dwayne Roloson finished with 26 saves for the Oilers.
Anson Carter scored his second goal in 14 games for Columbus, which had won two of three, but hasn't won back-to-back games in a month.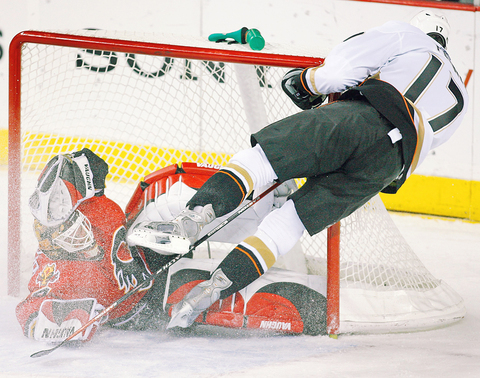 The Anahiem Ducks' Dustin Penner, right, crashes into the net after colliding with Calgary Flames goalie Mikka Kiprusoff during first-period NHL hockey action in Calgary, Canada, on Friday.
PHOTO: AP
Red Wings 3, Predators 0
At Detroit, Dominik Hasek stopped 21 shots to record his second consecutive shutout in leading the Detroit to victory.
Hasek has not allowed a goal in 153 minutes and 28 seconds. Hasek has 71 career shutouts.
Robert Lang, Nicklas Lidstrom and Dan Cleary scored for Detroit (11-4-1), which won its eighth straight. Pavel Datsyuk had two assists.
The shutout snapped a five-game winning streak for Nashville (9-4-1), and its run of 10 straight games (9-0-1) with at least a point.
Rangers 5, Thrashers 2
At Atlanta, Michael Nylander scored two goals, including one 15 seconds into the game, and added an assist to power the New York Rangers past Atlanta.
Jaromir Jagr had three assists and Matt Cullen added two more goals for the Rangers, who won for the fourth time in five games and ended Atlanta's four-game winning streak.
The Rangers got off to a quick start by scoring on two of their first three shots in front of Atlanta's first sellout crowd (18,545) of the season. Michal Rozsival, Brendan Shanahan and Petr Prucha also scored for the Rangers.
Vyacheslav Kozlov and Ilya Kovalchuk scored power-play goals for Atlanta.
Senators 6, Penguins 3
At Pittsburgh, Dany Heatley scored Ottawa's first and last goals and Jason Spezza added a goal and two assists, leading the Senators to a victory over Pittsburgh that ended the franchise's longest losing streak in 10 years.
The Senators scored three consecutive goals after Penguins rookie Evgeni Malkin scored his eighth goal in 10 games -- but first in four -- to tie it 2-2 about six minutes into the second period.
Andrej Meszaros, Wade Redden and Peter Schaefer scored the next three goals as Ottawa opened a 5-2 lead early in the third. Penguins goaltender Marc-Andre Fleury got little defensive help as the Penguins again were outshot by a large margin in their fourth straight loss.
Michel Ouellet and Maxime Talbot also scored for Pittsburgh.
Sabres 5, Panthers 4 OT
At Buffalo, New York, Thomas Vanek had two goals, including the winner 19 seconds into overtime, and Buffalo erased another two-goal deficit to beat Florida for its second straight win 13th overall.
With the Sabres on the power play, Vanek picked up a loose puck in front and slid it past Florida goalie Alex Auld.
Brian Campbell, Paul Gaustad and Ales Kotalik also scored for the Sabres, who have come back to win six times after falling behind by two goals this season.
Gary Roberts, Ruslan Salei, Joe Nieuwendyk, and Steve Montador scored for the Panthers, who lost their second straight.
Blackhawks 3, Blues 1
At Chicago, Radim Vrbata scored two power-play goals in the first period and Chicago downed St. Louis to end an eight-game losing streak.
Sebastien Caron stopped 24 shots in his debut in goal for Chicago. The Blackhawks signed him as a free agent on Aug. 8. Chicago's Bryan Smolinksi scored a power-play goal into an empty net with 13 seconds left in the third period.
Injury-decimated Chicago hadn't won since defeating Montreal at home on Oct. 18, going 0-7-1 during the slide.
Three of the Blackhawks' top players -- forwards Martin Havlat and Michal Handzus, and top goalie Nikolai Khabibulin -- are out.
Lee Stempniak scored for the Blues, who dropped their third straight and are 1-5-1 in their last seven.
Flames 3, Ducks 0
At Calgary, Alberta, Miikka Kiprusoff stopped 37 shots to earn the shutout and Calgary beat Anaheim to become the first team to defeat the Ducks in regulation this season.
Daymond Langkow and Tony Amonte scored first-period goals for the Flames (6-7-2), who have now won three straight to climb back into the thick of the Western Conference standings. Matthew Lombardi added an empty-netter late in the third.
The Ducks (12-1-4) eclipsed the record previously held by the 1984-85 Edmonton Oilers, who opened the season 12-0-3.
Comments will be moderated. Keep comments relevant to the article. Remarks containing abusive and obscene language, personal attacks of any kind or promotion will be removed and the user banned. Final decision will be at the discretion of the Taipei Times.