Howard takes Player of the Year
OUTSTANDING PLAYER The Philadelphia batting ace was given top honors by his fellow pros thanks to his league-leading 58 home runs and a total of 383 bases
Phillies slugger Ryan Howard, who led the major leagues with 58 home runs and 149 RBI this season, was honored on Wednesday as baseball Player of the Year.
A top candidate for the National League Most Valuable Player Award, Howard also won the NL Outstanding Player Award as voting for the 2006 Players Choice Awards was revealed.
The 26-year-old Howard beat out fellow MVP candidate Albert Pujols of the St. Louis Cardinals for both awards.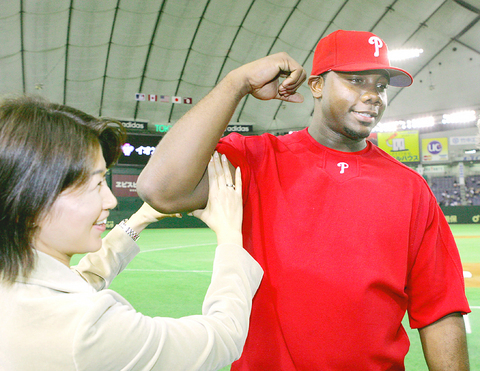 Philadelphia Phillies infielder Ryan Howard reacts as a Japanese reporter touches his upper arm before the start of the Major League baseball All-Stars team's friendly against Japan's Yomiuri Tokyo Giants at the Tokyo Dome in Tokyo last Thursday.
PHOTO: AP
Filling the hole in the middle of the Philadelphia Phillies' lineup when Jim Thome was traded to the Chicago White Sox for center fielder Aaron Rowand, Howard hit .313 while setting a franchise record for homers in a season, surpassing Mike Schmidt's mark of 48 in 1980.
Howard, who also won the home run derby while making his first All-Star appearance, also led the majors with 383 total bases as the Phillies fell just three games shy of an NL wild card berth.
Pujols was named the Marvin Miller Man of the Year. Named in honor of the Players Association's first executive director, the award is given to the player whose on-field performance and contributions to his community inspire others to higher levels of achievement.
Chicago White Sox outfielder Jermaine Dye was named the American League's Outstanding Player. Dye hit a team-leading .315.
Comments will be moderated. Keep comments relevant to the article. Remarks containing abusive and obscene language, personal attacks of any kind or promotion will be removed and the user banned. Final decision will be at the discretion of the Taipei Times.