Unheralded Gomes of Brazil defeats an all-star field at the New York Marathon
Marilson Gomes dos Santos of Brazil ended the African men's decade-long hold on the New York City Marathon title with a stunning debut and Jelena Prokopcuka of Latvia successfully defended her title on Sunday.
Gomes broke away from the lead pack in the last quarter of the race and held off an all-star field of challengers to become the first South American to win the race, man or woman. Gomes finished in 2:09:58.
"It wasn't a surprise, to win a marathon you have to have courage and today I had courage," Gomes said through an interpreter. "I pushed the pace to get less people in the [lead] group. I kept pushing and they kept staying behind."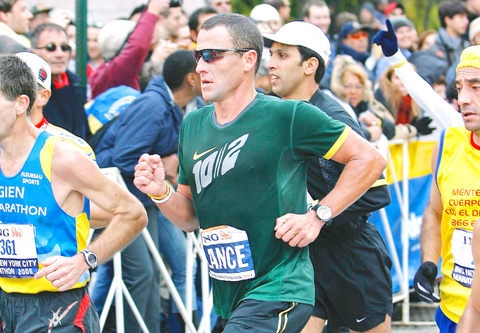 Seven-time Tour de France winner Lance Armstrong, center, runs during the 37th annual New York City Marathon in New York on Sunday.
PHOTO: EPA
Prokopcuka sped away early and ran alone at the end, becoming the first woman in more than a decade to win two straight titles in New York. She won in 2:25:05 and wondered why no one chased her.
And marathon rookie Lance Armstrong thrilled the crowds in what he called "without a doubt the hardest physical thing I have ever done."
Armstrong crossed the finish line in 2:59:36 seconds, barely meeting his goal of breaking three hours. The seven-time Tour de France champion struggled at times, but -- as he has so many times on his bicycle in the Alps -- found enough energy to meet the challenge.
He was battling shin splints and had never before run longer than 26km.
"I didn't train enough for a marathon," he said, his right shin heavily taped as he shuffled into a post-race news conference. "In 20 years of pro sports and endurance sports, even the worst days on the Tour, nothing felt like that or left me the way I feel now."
In the final mile, as the race headed back into Central Park, Gomes surrendered about half the 30-second margin he had built over the Kenyans. He glanced over his shoulder several times, at one point doing a double-take when he saw a figure right behind him. But it was a woman runner, who had started a half-hour before the men.
The women's race became little more than a coronation after Prokopcuka made her bold move away from the lead pack, crushing the hopes of Deena Kastor, who was favored to become the first US woman to win the race since 1977.
Comments will be moderated. Keep comments relevant to the article. Remarks containing abusive and obscene language, personal attacks of any kind or promotion will be removed and the user banned. Final decision will be at the discretion of the Taipei Times.