Sixers down Heat to stay undefeated so far this season
Allen Iverson had 31 points and 13 assists, and Kyle Korver scored 13 of his 22 points in the third quarter to lead the Philadelphia 76ers over the Miami Heat 107-98 in the NBA on Sunday.
Andre Iguodala scored 20 points for the Sixers, who are 3-0 and the only undefeated team in the Eastern Conference.
The Heat (1-2) played without center Shaquille O'Neal, who bruised his left knee on Friday against New Jersey. O'Neal is listed as day-to-day.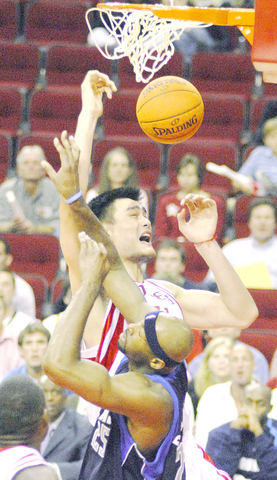 Yao Ming of the Houston Rockets slams the ball through the hoop over the Dallas Mavericks' Erick Dampier during the fourth quarter of an NBA basketball game on Saturday in Houston. Houston won 107-76.
PHOTO: AP
Antoine Walker scored 23 points, Udonis Haslem had 17 points and 16 rebounds, and Dwyane Wade added 20 points for Miami.
Korver rallied the Sixers with 3-point shots in the third quarter and helped them build a 17-point lead midway through the fourth, but Walker cut the gap with a 3-point rampage of his own. Walker sank three straight 3s to pull the Heat within 10.
Iguodala hit an 18-footer and Kevin Ollie made a jumper to push the lead back to 13, and the Sixers held on for the win.
Hawks 95, Magic 82
At Atlanta, Joe Johnson scored 31 points, and Zaza Pachulia added 17 points as Atlanta beat Orlando.
Orlando had only eight assists, matching a franchise-low, as it lost its first game on the road this the season.
Carlos Arroyo returned after missing one game because of a strained right hamstring to lead Orlando with 22 points, including 13 in the final quarter. Arroyo also led Orlando with three assists. Grant Hill added 14 points.
Spurs 103, Raptors 94
At Toronto, Tim Duncan scored 26 points and Tony Parker added 19 to power San Antonio.
Brent Barry made five 3-pointers and finished with 16 points for the Spurs, who shot 50 percent in bouncing back from a loss to Cleveland on Friday.
Chris Bosh had 19 points and 17 rebounds for the Raptors, who dropped to 1-2 on the season.
Hornets 96, Rockets 90
At New Orleans, David West scored 22 points and Chris Paul tied a career high with 16 assists as New Orleans beat Houston for its third victory in three games.
Peja Stojakovic hit five 3-pointers, finishing with 16 points as the Hornets brought the fans in a sellout crowd of 18,202 to their feet in the team's first home opener in New Orleans since Hurricane Katrina.
Shane Battier led Houston with 18 points, while Yao Ming, limited by early foul trouble, finished with 17.
SuperSonics 117, Lakers 101
At Seattle, Ray Allen scored 32 points and Seattle picked up its first victory of the season by beating the Los Angeles Lakers.
The SuperSonics had five players in double figures and avoided their first 0-3 start since 1985, a needed victory with a five-game East Coast road trip starting tomorrow in Miami.
Rashard Lewis added 25 points and Luke Ridnour scored 22 points with seven assists for Seattle (1-2).
In his second game since knee surgery, Kobe Bryant led the Lakers (3-1) with 15 points, but shot just 4-of-10. He added nine assists and was assessed a technical foul.
Comments will be moderated. Keep comments relevant to the article. Remarks containing abusive and obscene language, personal attacks of any kind or promotion will be removed and the user banned. Final decision will be at the discretion of the Taipei Times.