All Blacks thrash England
DAN WITH THE PLAN New Zealand underlined their position at the forefront of world rugby with an easy win over the reigning World Champions
New Zealand coach Graham Henry said the All Blacks were exactly where they wanted to be a year out from the World Cup after their record 41-20 win over struggling reigning champions England at Twickenham.
One of rugby union's longest-running debates has centered around the relative merits of northern and southern hemisphere teams.
But, with Wales and Australia battling out a 29-29 draw in Cardiff on Saturday, now, more than ever, it would appear to be a case of New Zealand versus the rest, even if Henry said that was a "fallacy."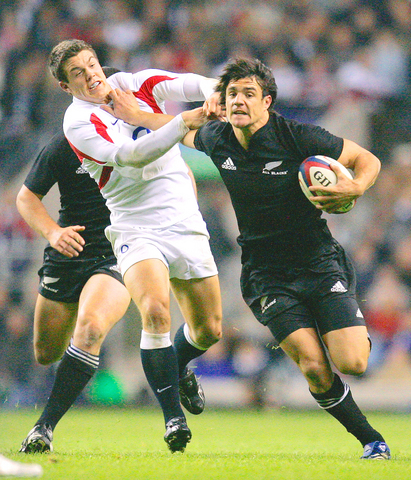 New Zealand's man-of-the-match Dan Carter, right, hands off England's 20-year-old debutant Anthony Allen to run in a try during their rugby union international match at Twickenham stadium in London on Sunday. New Zealand won the match 41-20.
PHOTO: AP
This tour represents New Zealand's final trip to Europe before next year's World Cup in France and, asked if they were now where he wanted them to be, Henry replied: "Yes. We had set some objectives and we got them."
"We have set some objectives for this time and we will tick them off at the end of the tour," the former Wales coach also told reporters.
New Zealand, who scored four tries in all, didn't have to move into top gear during the first match of their tour to inflict what was England's sixth straight loss and their biggest losing margin in a Twickenham Test, surpassing the 18-point gap achieved by South Africa (29-11) in 1997.
The All Blacks' tally featured tries from Aaron Mauger, Joe Rokocoko, Carl Hayman and Daniel Carter, who scored 26 points in all.
Henry was especially pleased by the performance of his sometimes criticized lineout where lock Keith Robinson, returning from more than two years out with injury, masterminded the calls.
"The lineout was the best it has been for a long time," Henry said.
Defensively New Zealand were caught napping at times, although at 28-5 ahead at half-time they had the match won.
England, who had Jamie Noon's try disallowed before the Newcastle midfielder touched down for a second time, also saw World Cup-winning wing Ben Cohen and debutant scrum-half Shaun Perry, with an interception effort, cross the All Blacks' line.
England coach Andy Robinson said New Zealand's remorseless commitment to points scoring and Carter's kicking at goal when the game was over as a contest came as no surprise.
"They are a winning machine, I'm not surprised at all," he said. "He [Carter] can kick the ball from anywhere."
New Zealand now head to France for two Tests, the second in Paris a possible dress rehearsal for the 2007 World Cup final.
Henry has long targeted the matches with the Six Nations champions as the pivotal games of this tour and reiterated on Sunday that he has already selected his side for the Nov. 18 clash at Paris's Stade de France.
Not that Henry was taking France lightly: "France are the best team in the northern hemisphere, they are the Six Nations champions and they've been waiting for us for a couple of years."
Meanwhile Robinson is encouraged by his side's character, their commitment to attacking rugby and the performance of his three debutant backs -- right wing Paul Sackey, inside center Anthony Allen and Perry.
"It [the game] was gone at half-time at 28-5. The important things is how they respond and they did respond. Credit to the new caps, they performed well," he added ahead of Saturday's match against Argentina at Twickenham.
Allen showed glimpses of the Gloucester form that won him England selection, but one of his passes was intercepted for Rokocoko's score before Carter handed him off easily on the way to his try.
However, Robinson said: "I thought Anthony Allen came through well. There was plenty going on in midfield. But we have to put something together for Argentina quickly. That is going to be a huge challenge."
After all the controversy regarding New Zealand's "throat-slitting" haka, the All Blacks instead opted for the traditional version.
During the course of this ritual some sections of the Twickenham crowd, labeled arrogant by All Black hooker Anton Oliver earlier in the week, chose to sing, Swing Low, Sweet Chariot, a favorite of England supporters.
"I thought the England fans were outstanding," Henry said, "apart from singing that song during the haka, which I thought was a bit questionable. That's not the right thing to do."
New Zealand, after their two games in France, conclude their tour against Wales in Cardiff while South Africa, with two Tests, provide the other opponents for England's November program.
Comments will be moderated. Keep comments relevant to the article. Remarks containing abusive and obscene language, personal attacks of any kind or promotion will be removed and the user banned. Final decision will be at the discretion of the Taipei Times.