Rochette rallies to win at home at Skate Canada
Canadian champion Joannie Rochette rallied to win the Skate Canada women's title, beating Japan's Fumie Suguri in the free skate to the delighted cheers of the crowd at Victoria's Memorial Center on Saturday.
In the men's competition, world champion Stephane Lambiel of Switzerland rallied from seventh place after the short program to win the Grand Prix event.
The 20-year-old Rochette, fifth after the short program, made only one error, popping out of a planned triple-loop jump.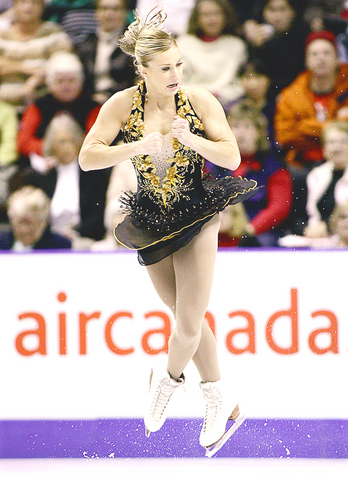 Canada's Joannie Rochette wins the women's title at Skate Canada in Canada on Saturday.
PHOTO: AP
She landed five other triples cleanly and her spins, step sequences and artistry carried her past Suguri.
"I thought, `Do one thing at a time, one element at a time, and just do it for yourself and don't worry about what the others do,"' said Rochette.
Rochette set personal bests in the free skate (118.16) and for her overall total (173.86).
She received a standing ovation after her flamenco routine that was set to music from Felix Gray's Don Juan.
"It felt great, especially since it's in Canada," she said. "Before I went to take my starting pose, I was so nervous because the crowd was really, really loud, but I kept telling myself that every time I have an opportunity to perform at home it's an opportunity to prepare for the 2010 Olympics."
Suguri earned 110.24 points in the free skate to finish with 168.76.
"I wasn't in really good condition before I came here," Suguri said. "I did not know how much I could do at this competition. I think the audience helped me a lot."
South Korea's Kim Yu-na, the 16-year-old star who won the world junior championship last winter, finished third and defending champion Alissa Czisny of the US was fourth.
In the men's event, Japanese champion Daisuke Takahashi, the leader after the short program, finished second after falling twice. Johnny Weir from the US was third.
Comments will be moderated. Keep comments relevant to the article. Remarks containing abusive and obscene language, personal attacks of any kind or promotion will be removed and the user banned. Final decision will be at the discretion of the Taipei Times.