Emphatic Bulls victory spoils Heat's celebration
SEASON OPENER The Bulls thrashed the reigning NBA champions 108-66 on the same day that the Miami players were presented with their championship rings
The Chicago Bulls left the court while Miami received its NBA championship rings, then returned to emphatically spoil what was left of the Heat's celebration on Tuesday.
Kirk Hinrich -- who signed a five-year contract extension just hours before tip-off -- scored 26 points, Chris Duhon added 20 and the Bulls delivered a huge stunner in beating the defending NBA champion Heat 108-66 in the season opener.
It was, by far, the worst loss in NBA history for a defending champion on opening night; the previous low was the Los Angeles Lakers' 132-117 defeat to Golden State in 1982. The Lakers went on that season to win 58 games and return to the NBA finals under coach Pat Riley, the same man guiding the Heat these days.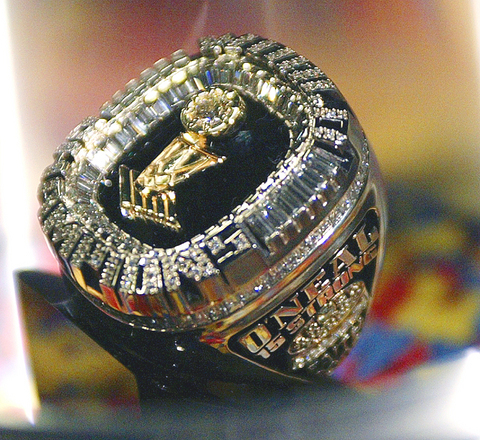 Miami Heat center Shaquille O'Neal's championship ring is shown before the rings were presented to the players prior to their game against the Chicago Bulls in Miami, Florida, on Tuesday.
PHOTO: AP
Chicago seized command with a 37-14 second-quarter burst, a stretch where the Bulls connected on 79 percent of their shots -- compared to 29 percent for the Heat, who simply never got rolling. The lead was 59-30 at halftime and just kept growing.
Dwyane Wade had 25 points before sitting out much of the fourth quarter for Miami, which didn't even have anyone else reach double figures. The Heat turned the ball over 23 times, leading to 32 Chicago points, and were outrebounded 49-29.
Luol Deng had 12 points and Thabo Sefolosha -- the league's first player from Switzerland -- added 11 on 4-of-4 shooting for Chicago.
Antoine Walker had nine for Miami, while Shaquille O'Neal had seven points and five rebounds before sitting out the final 14:01.
The Heat donned the same red uniforms they wore on June 20 in Dallas when they won the franchise's first title, and got their rings in an elaborate pregame ceremony capped by raising the commemorative banner to the ceiling.
"In some cases, the home team gets their rings and goes blub, blub, blub, blub because they're so pumped," said NBA commissioner David Stern, who handed out the jewelry to the Heat players, coaches and staff before the game.
Lakers 114, Suns 106
At Los Angeles, Lamar Odom sparked a comeback and Los Angeles, playing without Kobe Bryant, beat Phoenix in their season opener.
Odom matched his career high with 34 points to go with 13 rebounds and six assists; 19-year-old Andrew Bynum had career-high totals of 18 points and nine rebounds, and Maurice Evans added 17 points in his first game for the Lakers, who outscored the Suns by 27 after falling behind 39-20 in the first quarter.
The Lakers shot 55.4 percent and outrebounded Phoenix 43-29. The Suns shot 51.9 percent -- not bad, but a major comedown after they made 77.2 percent in the first quarter.
Suns reserve Leandro Barbosa scored a career-high 30 points. Shawn Marion had 16 points and seven rebounds and Steve Nash had 15 points and 13 assists for the Suns.
Bryant, the NBA scoring champion with a 35.4-point average last season, didn't play because of soreness in his surgically repaired right knee, and said he also would sit out of last night's game at Golden State.
Comments will be moderated. Keep comments relevant to the article. Remarks containing abusive and obscene language, personal attacks of any kind or promotion will be removed and the user banned. Final decision will be at the discretion of the Taipei Times.