Fatigued Federer opens up old wounds
MASTERS SERIES The withdrawal of the world's top three players from the Paris Masters reignited a debate over major players' willingness to compete in the biggest tournaments
When world No. 1 Roger Federer pulled out of the final Masters Series event of the year in Paris on Monday, he inadvertently opened up old wounds and an even older debate.
For some time now there has been a raging debate over the ability, or maybe willingness, of the top tennis players to compete in the biggest tournaments.
When Federer, who complained of fatigue after his title victory in Basel on Sunday, joined world No. 2 Rafael Nadal and No. 3 David Nalbandian in pulling out of the ninth Masters event, the disappointment among the organizers was palpable.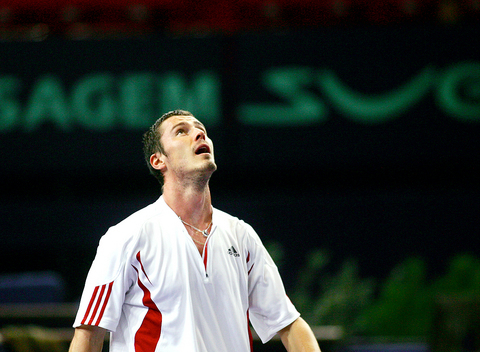 Russia's Marat Safin reacts after defeating France's Nicolas Mahut during their Paris Masters first-round match in the French capital on Monday. Safin won the match 6-1, 7-6 (5).
PHOTO: AFP
It sparked an immediate response from both them and the new ATP chairman Etienne De Villiers.
They must have known it was coming following Federer's comments on Sunday after his Basel victory:
"I'll wait until Monday, I've got to give myself a day of thought," the Wimbledon, Australian Open and US Open champion said.
Spain's Fernando Verdasco returns to France's Michael Llodra during their Paris Masters match on Monday. Llodra won 6-4, 7-6 (4).
PHOTO: AFP
Federer had won his last three events played over the last four weeks -- including 10 matches in a row to lift Madrid Masters and Basel Open in successive weeks.
"I've played a lot. This is my 92nd match of the season, I have to be careful," he said. "It all depends on how I feel."
The Masters Cup in Shanghai begins just a week after Paris ends and for players like Federer, who has won three Grand Slams, four Masters and 11 tournaments in total this season, the season-ending finale figures far higher in his priorities than Paris does.
A look at his reason for withdrawal conjures suspicions at first when comparing him with other players.
Nadal pulled out with a stomach injury and David Nalbandian cited gastroenteritis as his reason for a no-show. Both of them have already qualified for Shanghai, though, and may well be expected to turn up fit and well there.
But while Federer complained of fatigue, that looks a somewhat hollow excuse when comparing his tournament record to someone like Russia's Nikolay Davydenko.
Federer has played in 17 tournaments this year, while Davydenko is lining up in his 31st this week in Paris, and he plays more Davis Cup matches than Federer as well.
But although playing almost twice as many tournaments, Davydenko has actually played four fewer matches and he is approximately 10 clear of anyone else on the tour. Even Nadal has played only 67 matches compared with Federer's 92 in the same number of tournaments.
But it is not just the playing time that is energy-sapping, the travel too can be a burden. And that is where Federer, and Nadal, can cut down compared with their peers.
Assuming Davydenko traveled directly from one tournament to the next, never going home and never having any skewed stopovers, he would have covered 110,000km in flying back and forth to 31 tournaments and Davis Cup matches.
It all points to an incredible amount of endurance needed to be a professional tennis player, physically and mentally, which is why De Villiers is determined to push through changes.
"I am both deeply disappointed and concerned by the depletion in the player field for one of ATP's most prestigious events," he said after Federer's withdrawal.
"Unfortunately this is the third year that withdrawals and injuries have hurt the event and the fans' opportunity to see all their tennis idols," De Villiers said.
"This reinforces my determination to introduce meaningful change to the calendar, the structure, the incentives and sanctions needed to have healthy, motivated top players grace our top events," he said.
That was a more measured response than the gut reaction of tournament co-director Cedric Pioline, who called for players to be suspended if they miss major tournaments.
Meanwhile three-time champion Marat Safin improved his impressive record at the Paris Masters to 22-2 with a 6-1, 7-6 (5) first-round win over Nicolas Mahut of France on Monday.
Safin, the winner in 2000, 2002 and 2004, has failed to make the final only once in five previous visits.
He fired 17 aces past Mahut, a wild card, and completed the victory on a backhand pass which left the Frenchman on the ground after he stretched to reach the ball in the tiebreaker.
Nicolas Almagro of Spain needed three tiebreakers and three hours to beat Jonas Bjorkman of Sweden 6-7 (4), 7-6 (7), 7-6 (2).
Other first-round winners included qualifiers Michael Llodra of France, Daniele Bracciali of Italy and Robby Ginepri of the US.
Llodra, who missed more than two months with a fractured foot, won his fourth match of the season when he beat Fernando Verdasco of Spain 6-4, 7-6 (4).
Shenay Perry has yet to win a WTA Tour singles title, but she is looking forward to the challenge in Quebec.
The 22-year-old American won her opening match on Monday in the WTA Bell Challenge, posting a 6-2, 3-6, 6-3 victory over Hungary's Melinda Czink.
The sixth-seeded Perry is ranked No. 46 in the world, just a few notches below her career-high mark of 40 that she reached in August. Monday's win improved her singles record for this year to 33-16.
The other seeded player to advance on Monday was No. 8 Olga Poutchkova of Russia, who easily dispatched Canada's Valerie Tetreault, 6-0, 6-2.
In the day's first match, the US' Laura Granville defeated Jelena Kostanic of Croatia, 6-4, 6-4.
Other first-day winners in Quebec were Slovakia's Martina Sucha, who ousted the US' Chanda Rubin, 6-4, 6-2, and Canadian Aleksandra Wozniak, who recorded a 6-4, 6-2 victory over Russia's Alina Jidkova.
First prize is US$28,000.
Comments will be moderated. Keep comments relevant to the article. Remarks containing abusive and obscene language, personal attacks of any kind or promotion will be removed and the user banned. Final decision will be at the discretion of the Taipei Times.