Poland defeat Kenya in world volleyball opener
European champions Poland lost one set before fending off a challenge from Africa's top team Kenya on the opening day of the women's event at the world volleyball championships yesterday.
Poland surprisingly dropped the third set but quickly rebounded for a 25-15, 25-17, 20-25, 25-20 victory in the six-team Pool A round robin.
Earlier, two-time world bronze medalists South Korea opened the championships with a comfortable 25-16, 25-15, 25-17 victory over Costa Rica in a match that lasted just one hour.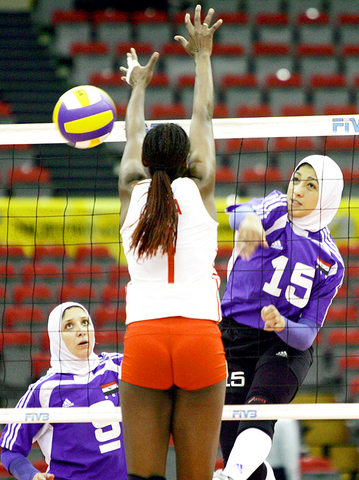 Egypt's Mona Badawy, right, spikes the ball over Peru's Sara Joya Lobaton during the opening Pool D match at the Volleyball World Championship in Nagoya, central Japan, yesterday. Teammate and captain Yosra Selim is at left.
PHOTO: AFP
"It was the very beginning match of the world championships and everybody was a bit nervous," said South Korean captain Kim Sa-nee.
Head coach Kim Myeong-soo said: "I tried to use as many players as possible, because this is the first match and my players must get used to the conditions."
"Fortunately we won today. But we have some players who haven't experienced [worlds] or who haven't fully recovered from injuries. We must regain our best form. It is one of our goals that my players get more experience," Kim added.
Meanwhile, Costa Rica's coach Braulio Godinez said: "We were nervous, because it was the first time for us to play in a big tournament. We haven't ever played any European or Asian teams before, and all of us are amateur."
"But we worked hard for this competition. It is difficult to play against Poland, South Korea and Japan. We are going to take as many points as possible and enjoy playing on a big stage like this," Godinez added.
In Pool C in Kobe, favorites Brazil outgunned Puerto Rico 25-21, 25-15, 25-18, while Peru breezed past Egypt 25-19, 25-6, 25-13 in Nagoya.
In Pool B in Sapporo, Germany defeated the Dominican Republic, 25-17, 25-16, 25-21.
A total of 24 teams are divided into four groups for the preliminary first stage of the championships. The top four teams from each group will advance to the second stage.
Comments will be moderated. Keep comments relevant to the article. Remarks containing abusive and obscene language, personal attacks of any kind or promotion will be removed and the user banned. Final decision will be at the discretion of the Taipei Times.