New York down the Flyers
Peter Forsberg had a goal and two assists, and the Philadelphia Flyers beat the New York Rangers 4-2 on Tuesday for their first victory of the season.
New York, which won a 13-round shootout in Philadelphia on Saturday, lost for the first time (2-1).
Antero Niittymaki bounced back from the weekend loss and made 25 saves for the Flyers (1-1-1).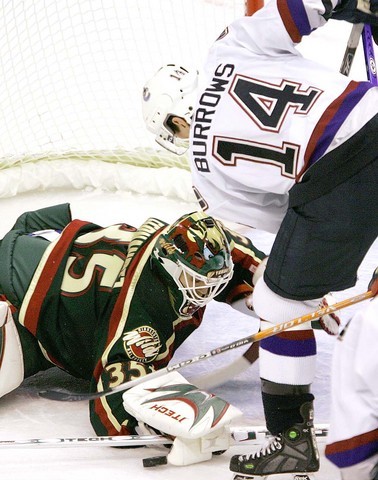 The Vancouver Canucks' Alexandre Burrows, right, tries to get at the puck as Minnesota Wild goalie Manny Fernandez covers it with his glove during the first period of an NHL hockey game in St. Paul, Minnesota, on Tuesday.
PHOTO: AP
Simon Gagne tipped Forsberg's right-circle feed under Henrik Lundqvist's pads on a 5-on-3 power play for his third goal of the season at 12:25 of the second period that made it 4-1.
New Rangers forward Brendan Shanahan scored his third of the season -- all in New York's two home games -- with 29 seconds left in the middle period. It was New York's first power-play goal of the season.
Mike Knuble and Geoff Sanderson scored 59 seconds apart in the middle period to give Philadelphia a 3-1 lead.
Rangers defenseman Thomas Pock scored in the first to tie it at 1.
Wild 2, Canucks 1, SO
At St. Paul, Minnesota, Manny Fernandez made 30 saves, and Petteri Nummelin beat Roberto Luongo with a nifty double-move backhander in the shootout to give Minnesota a victory over Vancouver.
Fernandez stopped two of the four shots he faced in the shootout, and the Wild made Luongo look silly after he was stellar in regulation.
Luongo made 35 saves before the tiebreaker, including a brilliant game-saving stop on a break by Todd White in overtime.
But Mikko Koivu beat him in the second round of the shootout, and after Jan Bulis fired a shot into Fernandez's pads, Nummelin came in slowly, hesitated and lifted a backhander over Luongo's glove to win it.
Luongo saved just one of four shots in the shootout, while Markus Naslund and Brendan Morrison scored for the Canucks.
Taylor Pyatt gave Vancouver a 1-0 in the second period. Brian Rolston tied it in the third.
Kings 4, Islanders 2
At Los Angeles, Brent Sopel scored the go-ahead goal on a power play with 6 seconds left in the second period and Alexander Frolov scored on a power play with 17 seconds remaining in the game for LA.
Michael Cammalleri and Tom Kostopoulos scored first-period goals while Dan Cloutier made 23 saves.
Richard Park and Alexei Yashin scored for the Islanders, who are off to a franchise-worst 0-3 start.
The goal was Sopel's second in three games, matching his entire total in 68 games last season with the Islanders and Kings. Los Angeles acquired him in a trade with New York on March 8, and he played in 11 games for the Kings before undergoing surgery on his right knee in May.
Comments will be moderated. Keep comments relevant to the article. Remarks containing abusive and obscene language, personal attacks of any kind or promotion will be removed and the user banned. Final decision will be at the discretion of the Taipei Times.