Tired Davydenko cruises into second round in Beijing
Ironman Nikolay Davydenko of Russia shook the travel rust out of his game with a spirited 6-3, 6-4 defeat of Dane Kenneth Carlsen yesterday at the China Open.
Little more than 36 hours after arriving in the capital after losing his US Open semi-final on Saturday to Roger Federer, the hardest working player in the game eased his way into the second round.
Second seed Davydenko arrived in China on Monday night after finding himself and his girlfriend re-routed through Tokyo at the ticket counter as they tried to check in.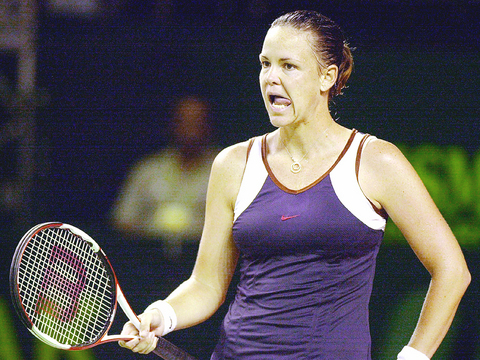 Lindsay Davenport of the US reacts after she won a point during a first-round match of the Wismilak International tennis tournament against Galina Voskoboeva of Russia at Nusa Dua, Bali, Indonesia, on Tuesday. Defending champion Davenport won 7-5, 6-1.
PHOTO: AP
The Russian said in his blog that he watched films the whole way from New York to Japan, then slept for the four-hour hop to Beijing.
His match was postponed a day at his request.
"I feel a little bit tired," he admitted. "I'm glad I was allowed to play today instead of Tuesday night. I would have had no chance then, today I felt like I could win."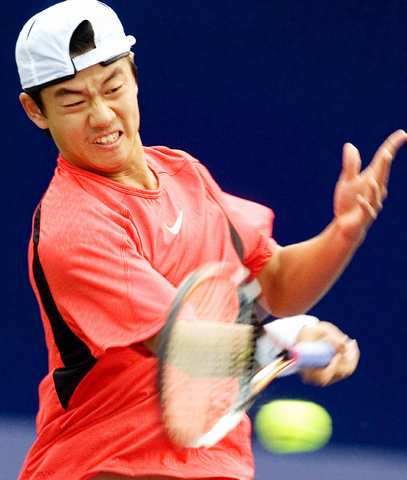 Taiwan's Wang Yeu-tzuoo returns a serve from Marcos Baghdatis in a hard-fought match at the China Open tennis tournament in Beijing yesterday. Baghdatis won 7-6, 6-4.
PHOTO: AP
Davydenko, who has won three titles this season after playing almost every week, next faces Slovenian Luka Gregorc.
The Russian lost a serve in the second set against the 33-year-old Carlsen, but put it down to a lapse.
"It was not such a tough match," Davydenko said, after winning the 16th of his last 19 matches.
"He didn't put any pressure on me. I won easily. But I didn't want to play three sets," he said.
Third-seeded Marcos Baghdatis of Cyprus had a more difficult time in his second round win over Taiwan's Wang Yue-tzuoo (王宇佐).
The Australian Open runner-up was forced to play a first set tiebreaker en route to a 7-6 (4), 6-4 win over the unheralded Wang.
Baghdatis, who suffered a grueling, five-set loss to veteran Andre Agassi in the second round of the US Open last week, was 5-3 down in a tiebreaker on Tuesday before rallying to beat Germany's Denis Gremelmayr in the first round at Beijing.
Slovak fifth seed Dominik Hrbaty gained the first of the quarter-final slots as he ousted Austrian Alejandro Peya 6-1, 2-6, 6-0.
Croatian Ivan Ljubicic is bidding for a return trip to China for November's season-ending Masters Cup.
The Beijing top seed only entered the tournament in the capital after a shock opening-round exit at the Open, where he lost to Spain's Feliciano Lopez.
"After playing so badly at the US Open, this was a great opportunity for me to try and earn points for the Masters," said Ljubicic, who went 1-2 in group play a year ago in Shanghai.
Lindsay Davenport overcame a tough first set on Tuesday to open her Wismilak International title defense with a 7-4, 6-1 win over Russia's Galina Voskoboeva.
Fourth-seeded Ana Ivanovic of Serbia and Slovakian No. 5 Daniela Hantuchova made first-round exits.
Ivanovic, who last month lifted the Montreal trophy, lost an error-filled first set and just managed to win the second before being overwhelmed in the third by Olga Poutchkova who won 6-3, 4-6, 6-2.
Sixth-seeded Frenchwoman Marion Bartoli cruised past local hero Ayu Fani Damayanti of Indonesia, 6-1, 6-0.
Comments will be moderated. Keep comments relevant to the article. Remarks containing abusive and obscene language, personal attacks of any kind or promotion will be removed and the user banned. Final decision will be at the discretion of the Taipei Times.