Wie misses cut at men's event for ninth time
Michelle Wie struggled to an 8-over 79 at the European Masters yesterday, missing the cut at a men's event for the ninth time in 10 attempts.
The 16-year-old from Hawaii, who shot a 78 in Thursday's first round, finished at 15-over 157.
Wie ran up double-bogey sevens on successive par-5s.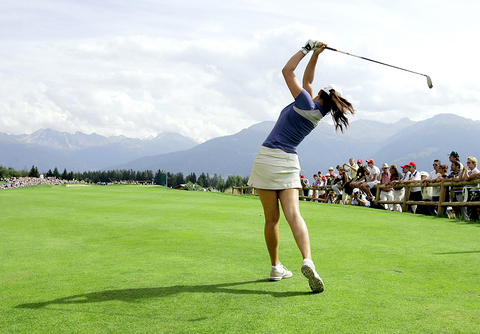 Michelle Wie tees off on Thursday during the first round of the EPGA Golf European Masters in Crans-sur-Sierre, Switzerland.
PHOTO: AFP
"I didn't even know which sport I was playing out there," she said.
"My bunker play was better and I putted better. But I wish I had a little more feel for the game before I came here. It was not my day," she said.
Wie could finish in last place, depending on how other players fared later yesterday.
The only time Wie has survived the halfway cut in a men's event was at the SK Telecom Open in South Korea earlier this year, where she finished 12 shots off the lead.
Laura Davies is the only other woman to play on the European tour, finishing next to last in the 2004 ANZ Championship in Sydney.
Wie will play against the men against next week in the 84 Lumber Classic on the US Tour.
Her previous worst round in a men's tournament came this year in the Sony Open in Hawaii, where she opened with a 9-over 79. She had a 68 in the second round but still missed the cut.
LPGA money leader Lorena Ochoa of Mexico faces a critical moment in her bid to unseat reigning season money queen Annika Sorenstam when they lead the field at the Hammons Classic.
Swedish superstar Sorenstam is the two-time defending champion and seeks her fourth title in the event's six-year history, what would be the 70th crown of her illustrious career.
"Obviously, she's really good," Ochoa said. "When I play with her, I try to learn from her. And when I don't play with her, I just try to play my own game and I'm doing good so far."
Ochoa, like Sorenstam, has won three events this season. Ochoa has won US$1.864 million, followed by US$1.708 million for Australian Karrie Webb, who is idle this week, with Sorenstam third on US$1.576 million.
Ochoa has 12 top-five finishes in 19 starts this season.
"That was my goal at the beginning of the year, just to be more consistent," Ochoa said.
"It's working so far. I work really hard in the offseason and it's nice to see good results. I believed I could catch her and be in the number one position so I am going to keep trying and keep doing my thing," she said.
Sorenstam won last week's State Farm Classic, firing a final-round 10-under-par 62 to win by two strokes, overcoming a five-stroke deficit and matching the lowest-ever last round by an LPGA winner.
A wild card in the fight is American Stacy Prammanasudh, who turns 27 later this month. She is from Oklahoma and would love a breakthrough triumph this year in her home state at this US$1 million event.
Prammanasudh, whose caddie is her 67-year-old father Provat, shared third at the US Women's Open in July and shared second two weeks ago in Dublin, Ohio.
"I've been playing well," she said. "I haven't won, but you keep putting yourself in position, getting yourself up there, you reward yourself on the money list."
England's Justin Rose and US veteran Jim Furyk each fired seven under-par 63s on Thursday to share the lead after the opening round of the US$5 million US PGA Canadian Open.
Furyk, preparing for the Ryder Cup later this month, and Rose, who is not a member of the European holders squad, broke the professional course record set in 1930 by Tommy Armour and were a stroke off amateur Warren Sye's course mark.
Rose trailed eventual winner Tiger Woods by a stroke after the first round of last week's Deutsche Bank Championship before settling for a share of fourth.
"I guess the key for me was I came into this week playing well, having a nice week last week," Rose said. "And it's great to keep that momentum going, really."
Rose bogeyed his second hole of the day but rebounded with three birdies in a row to match clubhouse leader Furyk, ranked third in the world.
Furyk eagled the par-4, 236-yard (215.8m) 12th hole -- his third hole of the round -- by sinking and 9-iron from 121 yards to highlight a bogey-free round.
"I'm real happy, obviously, getting off to a good start. I kept the ball in the fairway most of the day and hit quite a few greens," he said.
"It was nice to get off to a [good] start on the backside and holed a 9-iron on 12. I got to 2-under pretty fast and was able to keep it going," Furyk said.
Damp conditions caused by the remains of Tropical Storm Ernesto made scoring conditions easier, Furyk said.
"I shot a low number, but I was obviously aided by the conditions of the golf course. We were fortunate that it was soft," Furyk said. "When the golf course gets firm and fast, it tends to spread out the field a lot more."
Australian Nathan Green, who eagled the par-5, 550-yard 17th, joined Americans Brandt Jobe and Frank Lickliter in a share of third on 64.
Comments will be moderated. Keep comments relevant to the article. Remarks containing abusive and obscene language, personal attacks of any kind or promotion will be removed and the user banned. Final decision will be at the discretion of the Taipei Times.