Nicol squeaks by in squash Open
Peter Nicol, arguably the most successful player on the world squash tour over the past 10 years, nearly saw his hopes of a climactic finish to his career go up in smoke at the World Open on Friday.
The 33-year-old former world champion wants to finish with another serious challenge here but was within one point of defeat in his opening encounter.
Nicol was down 4-9 in the final game and down 9-10 at match point before winning 11-4, 5-11, 11-9, 9-11, 12-10 against Graham Ryding, the world number 20 from Canada.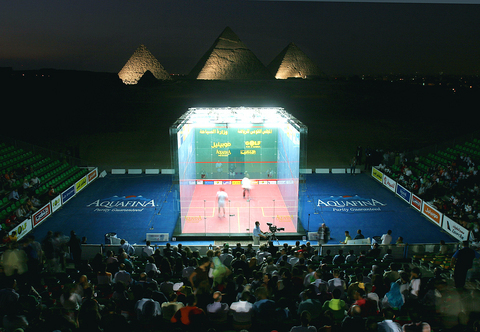 Spectators watch a squash game taking place in a glass court in front of the pyramids, during the opening day of the Al Ahram Squash championships in Cairo, Egypt, on Friday.
PHOTO: AP
The sixth-seeded Briton was only a couple of inches from retirement at that point because, well out of position, he could only watch as Ryding played a backhand drop which just clipped the top of the tin.
"Throughout that rally I just thought `get it back, get it back,'" admitted Nicol.
"But there wasn't much I could do about that one," he said.
"In fact if he had decided not to hit that ball he might even have got a penalty stroke," admitted the Englishman, referring to the fact that he may have been crowding Ryding a little.
"But that was the spirit in which the whole match was played. He played better than I did and I was often just hanging on. He played very well throughout," he said.
However, that was limited consolation for Ryding.
"It was a lot of work to put in and to make a mistake like that," he said.
"It means you are not doing yourself justice," he said.
Nicol may now have a tough task recovering in time for what may be another difficult encounter, against Stewart Boswell, the top-20 Australian.
The winner of this could well play Thierry Lincou, another former world champion, who required a second game blip to accustom himself to the hot, bouncy and rather airless conditions with a 11-4, 7-11, 11-2, 11-6 win over an English qualifier, Alister Walker.
The third-seeded Frenchman is one of the main threats to Amr Shabana, the top-seeded defending champion from Egypt, but runs the risk of a repeat of the World Open quarter-final of last year, when he lost to Nicol.
Earlier there was a minor seeding upset when Mohamed Azlan Iskandar, the 12th-seeded Malaysian, was beaten in four games by Mohamed Abbas, the top-20 Egyptian, which confirmed that several of the local players may prove to be unexpected threats in home conditions.
Anthony Ricketts, the British Open and Super Series champion from Australia, survived to beat the Egyptian wild-card player, Omar Mosaad by 11-7, 11-5, 10-11, 11-3, though he did get a penalty point awarded against him for a gesture to the referee.
Ricketts claimed he was merely blowing a kiss to spectator.
Later, Amr Shabana began the defense of his world title with a slightly shaky start in the first match of the tournament played next to the Giza pyramids.
The top-seeded Egyptian was error-prone for at least 30 minutes against Peter Barker, a qualifier from England, and only started to control the match after going 1-4 down in the fourth game of a 11-7,5-11,11-4,11-6 win.
"I've had a four-month break and you don't know how you are going to play after an interval like that," Shabana said.
"For a second or two I thought it was going to be my last match [of the tournament]. But thank God I had my will to win and hopefully I will play better next time."
Comments will be moderated. Keep comments relevant to the article. Remarks containing abusive and obscene language, personal attacks of any kind or promotion will be removed and the user banned. Final decision will be at the discretion of the Taipei Times.