Greeks take to the streets after semi-final win
Thousands of Greeks danced in the streets, waved flags and honked car horns to celebrate yesterday's 101-95 upset victory over the US at the world basketball championships in Japan.
"This is the biggest thing we've ever done," former Greek star Panayiotis Fasoulas said. "The Americans are the most talented players but we have a better team. Right now we're the best in the world ... Beating the US is more important than the final."
Offices and services came to a standstill as Greeks watched the game and then left their workplace to celebrate. Workers at one downtown office threw hundreds of sheets of paper out of windows onto a celebrating crowd.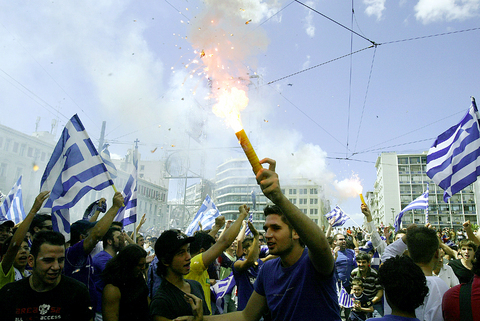 Fans wave Greek flags in Omonia square in Athens to celebrate yesterday's victory over the US at the World Basketball Championship in Japan.
PHOTO: AP
Prime Minister Costas Karamanlis cut short scheduled meetings to watch the end of the game, played in Saitama, and expressed gratitude to the Greek team.
"I wonder if a `thank you' is enough, but I feel the need to say it twice over to [coach] Panagiotis Yannakis and his guys," Karamanlis said in a statement.
Chanting "Lift the cup," fans waved Greece's blue-and-white flags, blared car horns as midday parties sprang up in Athens and Thessaloniki, Greece's second largest city.
Traffic information screens flashed the final score, as motorists abandoned their cars to join celebrating crowds. Teenagers set off firecrackers and waved flags on mopeds as they headed to the center of Athens.
Thanassis Mallios, a kiosk owner in Athens' central Syntagma Square, sold Greek flags to passing fans. A few meters away, revelers wrapped a flag around the shoulders of a presidential guard on duty outside parliament.
The Greek team can add a world title to the European championships it won last year and in 1987 with a victory in tomorrow's gold medal game.
Comments will be moderated. Keep comments relevant to the article. Remarks containing abusive and obscene language, personal attacks of any kind or promotion will be removed and the user banned. Final decision will be at the discretion of the Taipei Times.