Aging Agassi overpowers Baghdatis
US OPEN The 36-year-old Agassi turned in one of his grittiest performances as he battled back pain to defeat Baghdatis in a match which lasted almost four hours
Andre Agassi wasn't ready to take his final bow. It would probably hurt too much anyway.
The eight-time major title winner overcame an ailing back and advancing years to beat eighth seeded Marcos Baghdatis 6-4, 6-4, 3-6, 5-7, 7-5 on Thursday and reach the third round of the US Open.
The 36-year-old Agassi's pre-match treatment for his crippling back included a painful cortisone shot that reduced the inflammation long enough to allow him to play Thursday's three-hour, 48-minute marathon and put retirement on hold for another day.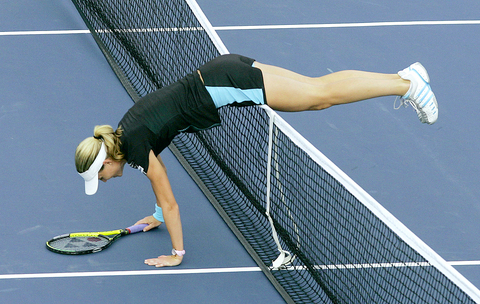 Meghann Shaughnessy of the US falls over the net during her match against Amelie Mauresmo of France at the US Open in New York on Thursday.
PHOTO: AP
This has to rank up there as one of Agassi's grittiest performances in two decades of US Open matches. He took a two-set lead then stumbled in the middle two before pulling it out in the fifth set.
"I have been living a dream for 21 years and tonight is another example of moments that are not guaranteed in life," Agassi said. "And believe me I take it all in."
Playing in front of a boisterous crowd of 23,712 at Arthur Ashe Stadium, the Las Vegas showman gave them what they asked for. Many came thinking they were going to see a last look at the legend and left wanting more.
PHOTO: REUTERS
They will get that when Agassi faces Germany's Benjamin Becker in the third round today.
"I felt so good today. What a time to feel it," Agassi said.
Baghdatis, who looked nervous at the outset, had injury problems of his own.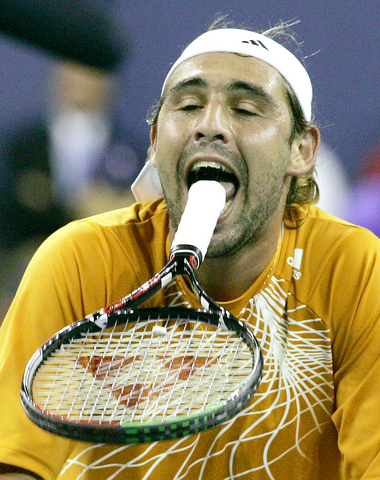 Marcos Baghdatis holds his racquet in his mouth during his match against Andre Agassi at the US Open in New York on Thursday.
PHOTO: AP
The 21-year-old Cypriot hurt his left wrist in the eighth game of the first set when he skidded for a low shot. The doctor was back in the fifth set to treat him for leg cramps which had him hobbling around the court like a wounded animal.
Agassi is currently ranked 37th in the world -- his lowest ranking in eight years. He came out looking more relaxed than his first game on Monday and with more fire, using his precision forehand to put Baghdatis back on his heels.
Baghdatis fought a heroic battle but at times he seemed his own worst enemy, finishing with 86 unforced errors.
Agassi -- bad back in all -- was especially potent from the baseline, wearing Baghdatis down with a good variety of shots and smattering of thundering forehands and backhands.
Agassi is bidding for another storied run to the final, as he did last year before falling to Roger Federer. He announced on June 24 that he would retire after the US Open.
Agassi said he will get more treatment on his back prior to his match against Becker.
"It was difficult for me to recover from my last match," Agassi said.
"Believe me I will exhaust all possibilities short of taking risks for the long term. I knew I would be able to fly a few hours but for me the question is how the body responds. I will be able to tell you in a few hours," he said.
Meanwhile, the top women's seeds steamrollered their way into the third round on Thursday as the string of one-sided matches served to highlight the lack of depth in the women's game.
Most of the women favorites won in under 70 minutes but no one was quicker than three-time Grand Slam champion Lindsay Davenport, who crushed Jelena Kostanic 6-0, 6-0 in just 40 minutes.
Justine Henin-Hardenne, Maria Sharapova, Amelie Mauresmo and 2004 US Open finalists Elena Dementieva and Svetlana Kuznetsova also reached the third round with easy victories over weak opponents.
The only exception was eighth seed Martina Hingis who fell 6-2, 6-4, to 112th-ranked Virginie Razzano of France in the opening night match.
Almost all the top women seeds could say the same thing on Thursday as they barely stayed long enough on the court to work up a sweat.
Henin-Hardenne, the reigning French Open champion, also romped with a 6-1, 6-2 thrashing of 17-year-old American Vania King in 63 minutes.
The women's field is wide open this year after defending champion Kim Clijsters was forced to pull out with a left wrist injury.
Henin-Hardenne, Mauresmo of France, Sharapova, American Davenport and Dementieva are all a threat for the title.
The 24-year-old Henin-Hardenne moved another step closer to reclaiming the title she won here in 2003 as she hammered 22 winners and converted 15 of 20 break point opportunities in the 63-minute match.
Henin-Hardenne has reached the final of every Grand Slam event this year, capturing her fifth career major title at Roland Garros.
Seven-time Grand Slam winner Serena Williams rallied to win a grudge match against 17th seeded Daniela Hantuchova 7-5, 6-3.
Russian beauty Sharapova wasted little time despatching France's Emilie Loit, 6-0, 6-1.
The 2004 Wimbledon champion advances to the round of 16 where she will face compatriot Elena Likhovtseva, who beat Australian veteran Nicole Pratt 6-3, 6-2.
Top seed Mauresmo made short work of American Meghann Shaughnessy winning in straight sets 6-4, 6-3.
Comments will be moderated. Keep comments relevant to the article. Remarks containing abusive and obscene language, personal attacks of any kind or promotion will be removed and the user banned. Final decision will be at the discretion of the Taipei Times.