Guillen hits for cycle as Tigers top Rays
American LeagueCarlos Guillen hit for the cycle and rookie Justin Verlander won his seventh consecutive decision to become the major leagues' first 14-game winner, leading the Detroit Tigers over the Tampa Bay Devil Rays 10-4 on Tuesday.
Guillen is the 10th Detroit player, and third since 1951, to complete the cycle. He had a RBI triple in the second, a solo homer in the third, a single in the sixth and a double in the eighth.
The last two Tigers to accomplish the feat were Damion Easley in 2001 and Travis Fryman in 1993.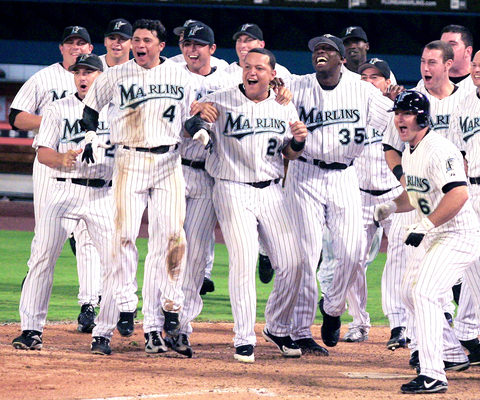 The Florida Marlins wait at home plate for Josh Willingham after he hit a walk-off two-run game-winning home run against New York Mets pitcher Billy Wagner in the bottom of the ninth inning on Tuesday in Miami, Florida. The Marlins won 6-5.
PHOTO: AP
Verlander (14-4) gave up three runs, eight hits, two walks and four strikeouts over five innings. Over his past nine starts, Verlander is 7-0 with a 2.04 ERA. His last loss was on June 7.
The American League Central-leading Tigers (71-35) matched their win total from last season.
Starting pitcher J.P. Howell (0-1), third baseman B.J. Upton and shortstop Ben Zobrist all made their debuts this year with the Devil Rays after being recently called up from Triple-A Durham.
Indians 6, Red Sox 3
At Boston, C.C. Sabathia pitched eight solid innings and Casey Blake hit his third homer in two games as Cleveland snapped a three-game losing streak.
Yankees 5, Blue Jays 1
At New York, right fielder Bobby Abreu, making his New York debut, worked out a nine-pitch walk that loaded the bases in the fourth inning, and Bernie Williams followed with a tiebreaking, three-run double.
Orioles 2, Mariners 0
At Baltimore, Rodrigo Lopez took a three-hitter into the eighth inning, Melvin Mora and Nick Markakis each had a RBI for Baltimore.
Rangers 9, Twins 0
At Minneapolis, Gary Matthews Jr hit his second grand slam this season to highlight an eight-run fourth inning, and Adam Eaton pitched Texas past Minnesota. Michael Young also homered for Texas.
Making his second start since having surgery on the middle finger of his pitching hand, Eaton (1-1) threw six impressive innings for his first win with the Rangers.
White Sox 7, Royals 5, 10 innings
At Kansas City, Missouri, Joe Crede went 4-for-5 with a homer and singled in the go-ahead run in a three-run 10th inning for Chicago.
Angels 3, Athletics 2
At Anaheim, California, Maicer Izturis scored the go-ahead run on an infield hit by Orlando Cabrera and Los Angeles capitalized on two errors to beat Oakland, pulling within a half-game of the first-place Athletics in the AL West.
National League
Pinch-hitter Josh Willingham hit a two-run homer off Billy Wagner with one out in the bottom of the ninth inning, and the Florida Marlins rallied to beat the New York Mets 6-5 on Tuesday.
Miguel Olivo singled on the first pitch to start the ninth and reached second on a sacrifice. Willingham pulled the first pitch over the scoreboard for his 16th homer and his first pinch hit of the season, snapping New York's four-game winning streak.
Carlos Beltran hit his fifth home run in three games for the Mets and Jose Reyes had a tiebreaking shot in the seventh inning. Wagner (3-2) blew a save for the fifth time in 27 chances. Matt Herges (1-2) pitched a scoreless ninth for the win.
Braves 4, Pirates 2
At Pittsburgh, John Smoltz won his fifth straight decision and Adam LaRoche homered twice as Atlanta broke a four-game losing streak.
Dodgers 10, Reds 4
At Cincinnati, Rafael Furcal drove in four runs and Wilson Betemit added a two-run homer as Los Angeles extended its winning streak to four games.
Cubs 9, Diamondbacks 3
At Chicago, Rich Hill pitched eight solid innings for his first major league win and Aramis Ramirez hit one of Chicago's four homers.
Phillies 5, Cardinals 3
At St. Louis, Chase Utley extended his hitting streak to 33 games with a 2-for-5 night and Ryan Howard hit his NL-best 36th homer and had three RBIs for Philadelphia.
Brewers 1, Rockies 0
At Denver, David Bush allowed five singles over six innings and Damian Miller had an RBI single in the seventh inning. It was the major league-leading 11th shutout at Coors Field and the fourth 1-0 game in the stadium's 12-year history, three of which have come this season.
Comments will be moderated. Keep comments relevant to the article. Remarks containing abusive and obscene language, personal attacks of any kind or promotion will be removed and the user banned. Final decision will be at the discretion of the Taipei Times.