World Cup: Swiss defeat hard to take for angry South Koreans
GOING HOME Dick Advocaat's players were angry after the referee overruled his linesman to allow Alexander Frei's goal, effectively ending the Red Devils' cup hopes
South Korea vented their frustration at the match officials after a 2-0 defeat by Switzerland on Friday eliminated them from the World Cup.
The Korean players were furious at Argentine referee Horacio Elizondo for allowing Alexander Frei's 77th-minute second goal for the Swiss after his linesman had flagged for offside.
Elizondo overruled his assistant after spotting that the ball had come off the outstretched leg of a South Korea defender but that cut little ice with the losers.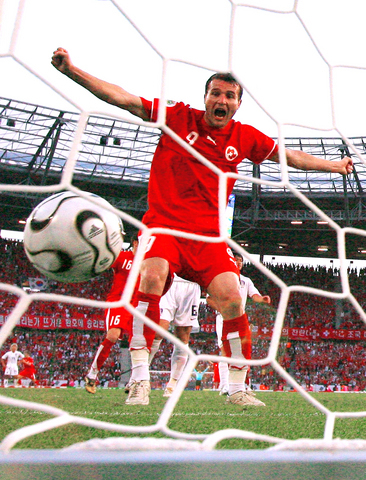 Swiss player Alexander Frei celebrates as Philippe Senderos' (not pictured) header hits the net during the Group G match between Switzerland and South Korea in Hanover on Friday.
PHOTO: EPA
"The defenders saw the linesman had raised his flag so we stopped playing," playmaker Park Ji-sung said. "But the referee continued play.
"I asked the linesman why he put his flag up but he just answered [me] that I should carry on. He did nothing. I'm very upset about the situation."
Defender Philippe Senderos had given Switzerland the lead in the 23rd minute.
South Korea reached the semi-finals of the 2002 World Cup when beaten opponents Italy and Spain complained bitterly the officiating favored the co-hosts.
ANGRY PLAYERS
On Friday, Korean players remonstrated angrily with Elizondo after Frei's controversial second goal effectively killed off any hope they had of reaching the last 16.
"I thought the referee was very quick to change the decision," said South Korea coach Dick Advocaat, whose side finished third in Group G with four points. "Maybe I was too chauvinistic about it. People told me it wasn't offside."
The Dutchman also claimed Korea should have had a penalty when defender Patrick Mueller handled in the area in the first half.
"I thought it was a clear penalty," shrugged Advocaat. "I thought most of the decisions went against us today. We deserved more than nothing today but in the end Switzerland deserved to win."
South Korea's players slumped to the turf in tears at the final whistle as they heard that France's 2-0 win over Togo had sealed their fate.
"We're very shocked because we really wanted to get to the second round," said Park, instrumental in the 2-1 win over Togo and 1-1 draw with France in their first two games. "We couldn't quite get the results we needed. It's shocking for us."
The loss against Switzerland also made it evident for the 2002 World Cup semi-finalist that there is still plenty of work remaining.
South Korea failed in its bid to advance out of the group stage for the first time in six World Cups outside Asia. And Dick Advocaat's team also could not dispel critics who claimed the Koreans only reached the final four in 2002 because they were playing at home.
milestones
Still, their Germany 2006 run had some milestones.
Ahn Jung-hwan's game-winning goal against Togo handed South Korea its first-ever World Cup victory on foreign soil. And the Red Devils drew 1-1 with 1998 world champion France -- just five years after losing 5-0 to Les Bleus.
"South Koreans can be very proud of this team," Advocaat said after the disappointing loss.
"We gained four points at the World Cup outside our country. We showed to many more people that we are getting better," Korea's Lee Young-pyo added.
All optimism aside, South Korea is still far from matching the global powerhouses in world soccer. Coach Advocaat said talent is there, but it needs to be developed. And that must start in the domestic K-league competition.
"There is a lot of talent in Korea. The first thing they have to do is improve the league. If not, then a lot of players will go abroad. They have enough talent to improve the national team," Advocaat said.
Comments will be moderated. Keep comments relevant to the article. Remarks containing abusive and obscene language, personal attacks of any kind or promotion will be removed and the user banned. Final decision will be at the discretion of the Taipei Times.