World Cup: Time for England to get serious
LEGACY Enough of the gormless performances. England needs to perform with more flair to beat an Ecuador side with ambition and growing momentum
Sven-Goran Eriksson's legacy and a place in the World Cup quarter-finals will be at stake today when England attempt to overcome Ecuador as the business end of the tournament gets underway.
For Eriksson the equation is simple. Win, and England's dream of a first World Cup for 40 years is still alive. Lose, and the Swede will be remembered as the man who squandered the talents of the so-called "golden generation."
Failure to reach the last eight will be regarded as a disaster by almost anyone associated with England, but Eriksson is not entertaining thoughts of defeat at Stuttgart's Gottlieb Daimler Stadion.
England's David Beckham, center, addresses the media at the team's quarters at Buehlerhoehe on Friday.
PHOTO: EPA
"It's a football match and in 90 minutes anything can happen," he said. "But, with all due respect to Ecuador, I strongly believe we will go through."
Eriksson's bullish stance comes at the end of a week which has seen his worst fears realized with the sickening injury to striker Michael Owen that has further weakened England's already threadbare attacking options.
With Owen out of the tournament, the onus up front is likely to fall on the recovering Wayne Rooney, who played 68 minutes in England's final Group A match, the 2-2 draw against Sweden, but is still short of full fitness.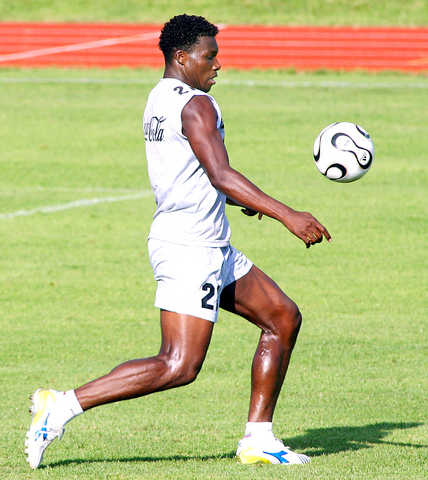 Ecuador forward Carlos Tenorio controls the ball during a training session in Bad Kissingen, Germany, on Friday.
PHOTO: AFP
Typically, Eriksson has not given anything away about his tactics for Ecuador, but he is expected to field a 4-5-1 formation with Rooney operating as a lone striker, supported by in-form Steven Gerrard in an advanced role.
"Rooney can play like that, no doubt," Eriksson said. "He can play wherever you want him to play. I'm sure he could play right back and be world class, because he has everything."
The alternative for Eriksson is the tried-and-trusted 4-4-2, with Rooney partnering the Liverpool lighthouse Peter Crouch.
The superb performance of Owen Hargreaves in the holding role against Sweden however, and the freedom it offers Gerrard and Frank Lampard to push forward, means a five-man midfield is more likely.
While Eriksson has been fretting over his forward options, he has also been given a headache from an unexpected problem area -- his defense.
Two clean sheets in their opening two matches had given rise to heady talk of England having the best back four of the tournament.
That reputation was shredded in 45 minutes of second half madness against Sweden, when the composure of England's defense went walkabout.
Sweden's two goals came from a corner and a long throw, and they also hit the woodwork twice and had a shot cleared off the line after set pieces.
Eriksson admitted to being baffled by the defensive lapses but promised it was an aberration.
"I'm quite sure that it will never happen again," he said. "I don't know what happened. We defended poorly. It happens in football sometimes. But if it had to happen it's good that it happened in this game."
Eriksson has faced an anxious wait to see if center half Rio Ferdinand can recover from a groin strain in time for today. If not, his place is likely to be taken by Sol Campbell, even though the Arsenal stopper looked well off the pace when he appeared as a substitute against the Swedes.
With Gary Neville still on the mend from a calf injury, Liverpool's Jamie Carragher will continue to deputize at right back.
Eriksson is not reading anything into Ecuador's final Group A game against Germany, which ended in a 3-0 defeat after they rested several key players.
"I think the game they played against Germany was not the real Ecuador," he said. "They are a good side -- very organized, two good strikers, they hold the ball well, very fit. They keep things very simple, play the ball well."
Ecuador, meanwhile, are eyeing another shock after confounding expectations by reaching the second round for the first time.
The team that were said to only be a threat when playing their home matches at altitude have thrived in the rarefied air of World Cup tournament soccer.
Ecuador coach Luis Suarez insists his team will not be intimidated by the prospect of tackling England.
"What we have done is not all," Suarez said. "There is more to come. The World Cup has not ended for Ecuador."
"There is no reason for us to feel beaten before the match. If we are going to lose, let it be during the match, not before," he said.
Ecuador looked impressive when beating Poland 2-0 and Costa Rica 3-0 in their opening matches and Suarez is confident his side can recover that form.
"The team are happy about what they've done so far," he said. "We have already earned respect. I hope we continue to make history."
Comments will be moderated. Keep comments relevant to the article. Remarks containing abusive and obscene language, personal attacks of any kind or promotion will be removed and the user banned. Final decision will be at the discretion of the Taipei Times.