World Cup: French and Swiss cancel each other out in 0-0 draw
GOALLESS STREAK The 1998 world champions have not scored a Cup goal since they won the Cup and they didn't look like doing it against the Swiss
Group G

France 0, Switzerland 0France was held to a 0-0 draw by Switzerland on Tuesday, bringing back memories of its early exit from the last tournament four years ago.
The last time the French team scored in a World Cup game was when they beat Brazil 3-0 in the 1998 final. Switzerland also held France to draws in two qualifying games.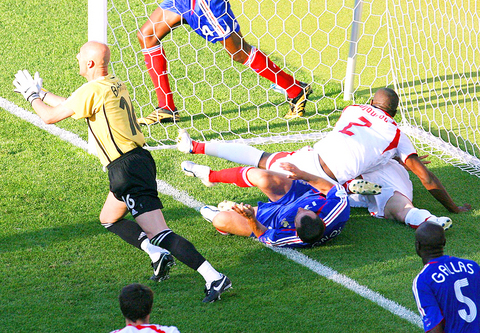 France's Willy Sagnol, center, and Johan Djourou (No. 2) and Xavier Margairaz, hidden, of Switzerland lie on the ground while French goalkeeper Fabien Barthez gestures during the Group G match between France and Switzerland in Stuttgart on Tuesday.
PHOTO: EPA
"We know that team all too well," France coach Raymond Domenech said. "It's the sort of match we expected. We could have beaten them in the first half. They could have won the match in the second half."
"This was a high-level match from both teams," he said.
Despite being forced to play as a lone striker, Thierry Henry went close with three shots and a header in the first half, while Zinedine Zidane's deft touches set up the best French moves.
Hit the post
Switzerland almost went ahead in the 23rd minute, however, when Tranquillo Barnetta sent a free kick into the area but Philippe Senderos and Alexander Frei both failed to get a touch and the ball hit the post.
Fabien Barthez, one of five players who won the World Cup with France in 1998, rescued Les Bleus with a near-post block to keep out a header from Switzerland substitute Daniel Gygax in the 65th minute.
Domenech gave Henry some help by sending on Manchester United striker Louis Saha with 20 minutes to go.
"We knew it would not be easy, but we managed to take two points off a direct rival," Domenech said. "I regret that we did not score when had the chance but we are always at the mercy of these things."
"The refereeing was not always understandable, even though it is top-level refereeing. It's a shame, but we have to put up with it," Domenech added.
Domenech left striker David Trezeguet on the bench throughout the game although his other striker, Vikash Dhorasoo, almost scored with two minutes to go.
Zidane and Saha set up the opening and Dhorasoo sent a well-timed shot past the far post.
"I can live with a draw," Frei said. "What is positive is that we won a point. It's no coincidence that in all the qualification games the French played with one No. 6 [defensive midfielder], and today with two. It's a sign that they treat us with respect."
Big disappointment
Henry was a big disappointment, however.
He headed the ball over the bar in the fifth minute and also fired two weak shots at goalkeeper Pascal Zuberbuehler as the French opened up the opposing defense.
Patrick Vieira, a former teammate of Henry's at Arsenal, also missed two chances, firing over the bar in the first half and well wide of the target in the second.
Franck Ribery had a shot blocked by the left hand of Patrick Mueller, although it would have been harsh to have given a penalty against the Switzerland defender.
"Once again the referee didn't see it and it came at a moment in the match when we were really on top," Henry said. "I know that the rule is hand-to-ball, but if the ball hits the hand and it stops it going in, that should be a penalty."
There were danger signs at the other end when the Swiss hit the post and Barthez saved from Gygax.
France defender Eric Abidal was forced to clear for a corner after Barnetta's run and cross almost set up Frei in front of goal in the 65th minute.
France lost to Senegal and Denmark at the last World Cup and left after the first round. It next faces South Korea on Sunday.
"It's like during the World Cup qualifiers again. We have it all to do. South Korea will qualify if they beat us, so we have to be ready," Domenech said.
Comments will be moderated. Keep comments relevant to the article. Remarks containing abusive and obscene language, personal attacks of any kind or promotion will be removed and the user banned. Final decision will be at the discretion of the Taipei Times.