World Cup: Kaka strike downs brave Croatia
MOMENT OF GENIUS The midfield maestro only needed a second to score the winner and deny the European team the draw that their display deserved
Group F

Brazil 1, Croatia 0Croatia deserved better than the 1-0 defeat they suffered at the hands of world champion Brazil in their World Cup opening match, coach Zlatko Kranjcar said on Tuesday.
Croatia was not expected to surprise five-time world champions Brazil and although it didn't get any points, the team had the mighty Brazil worried. Croatia came agonizingly close to grabbing a point.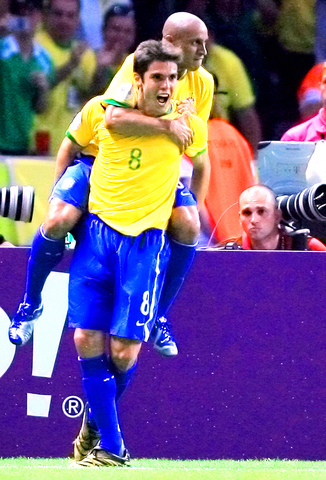 Brazilian midfielder Kaka, front, is congratulated by teammate Roberto Carlos after scoring a goal during the Group F game against Croatia in Berlin on Tuesday.
PHOTO: AFP
"Croatia did not deserve to lose," coach Zlatko Kranjcar said. "We demonstrated some great play, only the result did not go our way."
Croatia shared possession and had just as many chances as Brazil, if not more. But Croatia failed to convert any of their chances and Brazil did.
Split second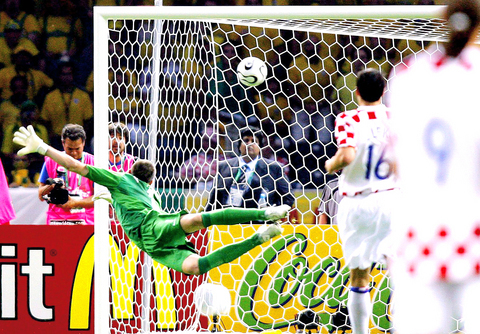 Croatian goalkeeper Stipe Pletikosa dives as Kaka's shot hits the net during Brazil's 1-0 win against Croatia at the Olympic Stadium Berlin, Germany, on Tuesday.
PHOTO: EPA
Kaka needed about an arm's length in room and a few split seconds. He found it in the 44th minute on the edge of the penalty area, measuring the shot which proved be the winner into the top corner.
"One shot changed the match," Kranjcar said, adding that no team can afford to give players of Brazil's caliber such space. "You can't let someone like Kaka get into that position, you know he will punish you."
The Croatians had several chances. Dado Prso had the best chance five minutes after the interval, when he turned Juan and drilled a low shot at Dida. The Brazilian goalie got down quickly and pushed away the danger.
Croatian supporters light flares in the stands during the match between Brazil and Croatia in Berlin on Tuesday.
PHOTO: AFP
Ivan Klasnic followed moments later, but his powerful drive went straight into the Dida's arms.
"I should have shot left or right, anywhere would have been a goal, not directly at him. That's soccer, you don't have time to think, sometimes it goes in, sometimes it doesn't," said Klasnic.
Chances
Darijo Srna, Marko Babic, Niko Kranjcar and substitute Ivica Olic all created scoring chances, but their shots were either too tame, wide or directly into Dida.
"It's a shame. We devoted a lot of energy to the match and we deserved at least a draw, but we have nothing to show for it," Prso said.
The Croatians were dealt a heavy blow after captain Niko Kovac, a cog in the defense, was substituted due to a rib injury following a tackle with Adriano. Kaka scored only three minutes later.
Although disappointed, defender Josip Simunic said the team would not dwell on the loss too long.
"We have to take the negatives out of this game, turn them into positives, and bring them into our next game against Japan," he said.
"We thought it might come to this and that our last game against Australia would be like a final for us," he said.
Comments will be moderated. Keep comments relevant to the article. Remarks containing abusive and obscene language, personal attacks of any kind or promotion will be removed and the user banned. Final decision will be at the discretion of the Taipei Times.