World Cup: FIFA tackle Mexico coach over touchline cigarette
Football is tense enough especially if your job depends on it, but Mexico's chain-smoking coach Ricardo Lavolpe has been firmly told that cigarettes are not the answer.
While FIFA have stepped in and declared that the 54-year-old Argentinian cannot be seen to be smoking on the touchline, his only option other than to quit is to be summarily dismissed to the stands where the spectators are allowed to puff on the old weed.
"We looked at the tape and in fact we realized he did smoke," FIFA's head of communications Markus Siegler told a daily press briefing after reviewing the match between Mexico and Iran.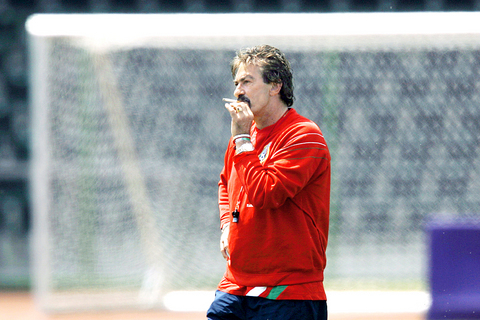 Mexico's national soccer coach, Ricardo Lavolpe from Argentina, smokes after a training session in Goettingen, Germany, on June 9.
PHOTO: AP
"An official letter will be sent to the Mexican federation underlining that neither the coaches nor anyone else on the sidelines is allowed to smoke," added Siegler.
The present FIFA officials would have been aghast had they been around at the 1990 World Cup and witnessed Italy's Gianluca Vialli having been substituted lying below the bench puffing away on a cigarette soon afterwards.
It is hard for a man like Lavolpe, who learned from the master of the habit Cesar Luis Menotti as he sat with him in the dugout during Argentina's march to the 1978 World Cup title at home -- Menotti was captured endlessly on film lighting one cigarette after another.
Twenty-eight years on he has fallen prey to the permanent battle to stub out the habit that kills millions every year.
"It is a bad habit yes, but it is one that I indulge in and enjoy for my sins," said Lavolpe, who guided his side to an opening 3-1 victory over Iran in their Group D clash.
"It may be bad for you but hell it is not as if I am drinking on the job, which would make you incapable of performing your tasks. That would be a case for dismissal but smoking? I don't believe the last time I looked somebody had either been dismissed or arrested for being smoked out and disorderly," Lavolpe added.
Comments will be moderated. Keep comments relevant to the article. Remarks containing abusive and obscene language, personal attacks of any kind or promotion will be removed and the user banned. Final decision will be at the discretion of the Taipei Times.