Nadal, Federer on the advance
ROUND 3 Rafael Nadal got his 55th consecutive victory on clay, extending his Open era record at the slam meet
The biggest excitement in Rafael Nadal's latest French Open victory came when he took off his shoe.
The defending champion caused a stir when he asked for a trainer during a changeover, but Nadal merely was bothered by the tape on his right foot and he went on to beat Kevin Kim of the United States 6-2, 6-1, 6-4 on Friday.
Top-ranked Roger Federer won in the final match of the day, beating No. 32-seeded Nicolas Massu of Chile 6-1, 6-2, 6-7 (4), 7-5.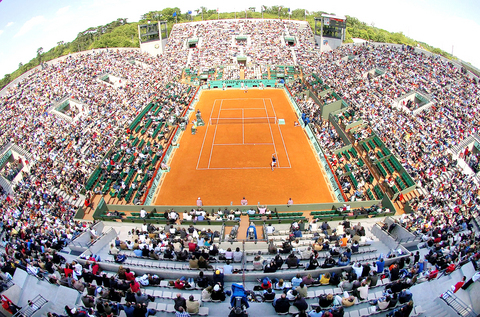 The Court Suzanne Lenglen during the men's second round match between Rafael Nadal of Spain and Kevin Kim of the US during the French Open at Roland Garros in Paris, Friday.
PHOTO: EPA
Nadal moved into the third round with his 55th consecutive win on clay, extending his Open era record. Among those impressed was Kim, ranked 97th.
"It felt like you're in the Sahara and you just see the hills and there's no ending," Kim said. "I was just running a lot to grab whatever points I can get."
Their match was one of 10 postponed or suspended on Thursday when rain backed up the schedule. Sunshine returned on Friday, and temperatures climbed into the mid-70s for the first time since the tournament began.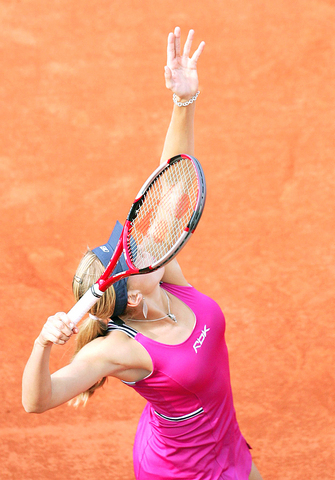 Nicole Vaidisova of the Czech Republic serves to Aravane Rezai of France during their third-round match at the French Open in Paris, Friday.
PHOTO: EPA
The better weather seemed to suit No. 8-seeded James Blake, who rallied past clay-court specialist Nicolas Almagro of Spain 6-7 (5), 6-2, 6-4, 6-4. Blake is the lone American left in the men's draw.
"As long as we have one, that's a good sign," he said. "It's an interesting role."
Blake trailed when the match was suspended after one set on Thursday night, and overcame a 4-1 deficit in the third set to take the lead. He's the first American man to reach the third round since 2003.
"I definitely feel so much more comfortable on the surface now," Blake said. "I'm not going into the clay-court part of the year with dread. It's exciting at 26 years old to be getting better."
No. 11 Venus Williams advanced to the fourth round by beating Karolina Sprem 7-5, 6-3. Sprem upset Williams two years ago in the second round at Wimbledon.
Williams will next play No. 7 Patty Schnyder, who rallied past Julia Vakulenko 2-6, 7-5, 6-0.
Martina Hingis and Kim Clijsters won easily after their second-round matches were delayed a day. No. 4 Maria Sharapova reached the fourth round by beating Alicia Molik of Australia 6-0, 7-5.
Top-ranked Amelie Mauresmo, bidding for her second successive Grand Slam title, defeated Jelena Jankovic of Serbia-Montenegro 6-3, 6-3.
"It's getting better and better with the blue sky, the sun and a game that improves with every round," Mauresmo said. She next plays 17-year-old Czech Nicole Vaidisova, who beat French qualifier Aravane Rezai 6-1, 6-7 (6), 6-0.
In a center-court showdown between former champions, No. 10 Gaston Gaudio beat No. 24 Juan Carlos Ferrero 7-5, 7-5, 7-6 (7). Gaudio had lost five consecutive matches against Ferrero on clay.
"I haven't been playing at this level in a long time," said Gaudio, the 2004 champion. "Let's see if step by step I can start thinking bigger.''
Gaudio next plays No. 6 Nikolay Davydenko, who beat 1998 champion Carlos Moya 6-1, 7-5, 6-3. Gaudio's Argentine countryman, No. 3 David Nalbandian, rallied to defeat No. 31 Dmitry Tursunov of Russia 6-4 in the fifth, and No. 7 Tommy Robredo eliminated Lukas Dlouhy of the Czech Republic in straight sets.
Nadal advanced unimpeded after calling for a trainer trailing 2-1 in the third set. The Spaniard was sidelined for three months in 2004 by an injury to his left ankle.
"This is not the bad foot," Nadal said, adding that he merely wanted help with the tape.
When he closed out the win seven games later, he walked to the net with a smile, then hopped into a celebratory uppercut. In the first round he broke the Open-era record he shared with Guillermo Vilas for the longest clay-court winning streak, and he's now 9-0 at Roland Garros.
Comments will be moderated. Keep comments relevant to the article. Remarks containing abusive and obscene language, personal attacks of any kind or promotion will be removed and the user banned. Final decision will be at the discretion of the Taipei Times.