Cincinnati gives Villanova a challenge
AMERICAN BASKETBALL It was no cakewalk for the second-ranked Wildcats as they struggled to defeat the Bearcats by two points and boost their Big East record to 12-1
Pick. Pass. Layup. Villanova's winning basket came just that easy.
Nothing else did.
Randy Foye had 25 points and Dante Cunningham scored off an inbounds play with 3.2 seconds left, leading No. 2 Villanova to its 11th straight win on Thursday night, 74-72 over Cincinnati.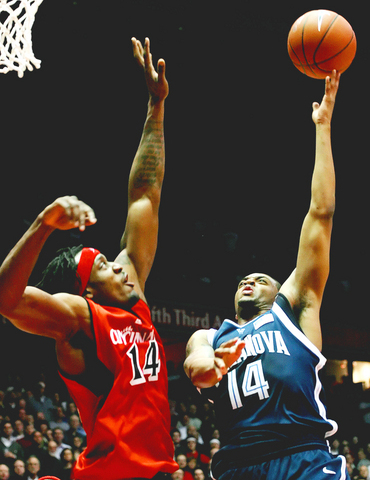 Villanova's Kyle Lowry, right, shoots over Cincinnati's Cedrick McGowan during the first half in Cincinnati, Ohio, on Thursday.
PHOTO: AP
The Wildcats (22-2, 12-1) wasted a 12-point lead down the stretch before pulling out a win that kept them in control of the Big East and gave them a taste of what comes next.
Playing with a No. 2 ranking for the first time in 10 years, Villanova also extended a few notable streaks. The Wildcats matched the best start in school history -- they also did it in 1937-1938 -- and set a school record with their 11th straight win in the Big East.
"Teams play at another level against us, and we're learning to handle that," coach Jay Wright said.
They had to fight off the temptation to look past this one. The Wildcats go to Connecticut on Sunday for a rematch with the third-ranked Huskies, the team they beat on Feb. 13 to take control of the Big East.
Their rematch shapes up as a game to decide the regular-season title, and the Wildcats know what to expect.
"Cincinnati plays as hard as any team in the Big East, and this environment is as difficult as any in the Big East," Wright said. "We're going to see the same thing Sunday. It's like we set this up for perfect preparation."
On the other side, this one meant a lot to Cincinnati (18-10, 7-7), which went into a nosedive after forward Armein Kirkland tore a knee ligament on Jan. 9. Four wins in the last six games put the Bearcats back in the running for an NCAA tournament berth.
A victory over Villanova -- the highest-ranked opponent to play in Cincinnati's 17-year-old arena -- would have underscored their worthiness.
With a late 16-4 run led by power forward Eric Hicks, the Bearcats showed they had enough to keep up, not quite enough to pull it out.
"Either they're overrated or we're underrated, one of the two," Cincinnati point guard Devan Downey said.
Hicks, playing on two sprained ankles, made a pair of free throws and a putback that gave Cincinnati its first lead since the opening minutes, 72-70. Foye's free throws tied it with 53.9 seconds left, and Downey was called for a charge on Shane Clark.
On an inbounds play under the basket, Cunningham broke free and made an uncontested layup from the right side for only his second basket of the game.
"That's a play we run all the time," said Foye, who added a career-high 14 rebounds. "We have plays for 7 seconds left and plays for 4 seconds left. We just ran the play, and they left Dante wide open."
He came off a pick and had no one guarding him.
"It was a simple screen and we handled it poorly," interim coach Andy Kennedy said. "All five guys mishandled it and, as a result, we gave up a layup."
Hicks' 3-pointer at the buzzer was too hard. He finished with 21 points. Allan Ray added 19 points for Villanova.
For most of the game, it didn't figure to be so close. At the outset, the Bearcats struggled under the pressure -- some self-imposed, most of it from Villanova's energetic, four-guard lineup. Cincinnati made only three baskets in the first 12 minutes, going 3-for-17 from the field while Villanova pulled ahead by 11 points.
Foye and Ray had 13 apiece in the first half, which ended with Villanova up 40-34.
Cincinnati started taking advantage of Villanova's defense by hitting pull-up jumpers in the second half. Muhammad's floater cut it to 40-36 at the outset.
Ray's fall-away 3-pointer -- his back hit the floor as the ball met the net -- blunted the comeback and set up a back-and-forth pace that held until midway through the half.
Foye made a three-point play and a 17-foot jumper that helped Villanova pull ahead 66-54 midway through the half. Forward James White, Cincinnati's top scorer and defender, picked up his fourth foul on Foye's three-point play, leaving the Bearcats in deep trouble.
Down, but not yet out.
Hicks' three-point play sparked an 11-0 run that cut it to 68-67. Moore's 3-pointer from the right corner made it a one-point game with 4:07 left.
Both teams lost key players to fouls -- Cincinnati's White and 6-foot-8 forward Will Sheridan, the only big man in Villanova's lineup. With Sheridan gone, Hicks asserted himself and brought the Bearcats the rest of the way back.
With the Bearcats' makeshift lineup staying close in the second half, fans stood and cheered "Hire Andy!" during a second-half timeout. Kennedy has held the Bearcats together throughout a chaotic season that started with Bob Huggins' ouster in August.
No. 19 UCLA 78, Oregon St. 60
UCLA was desperately looking for another scorer after losing two straight games for the first time this season.
But after trailing Oregon State at halftime, the 19th-ranked Bruins relied on the same old pair.
Jordan Farmar scored 17 of his 21 points in the first half and Arron Afflalo had 13 of his 20 in the second half in a 78-60 victory over Oregon State Thursday night, keeping the Bruins in a first-place tie in the Pac-10.
UCLA trailed by double digits in the first half but went on a 20-0 run midway through the second and led by as many as 19 down the stretch. The Bruins shot 75 percent (18-for-24) in the second half.
"That's the most fun I've had playing as a Bruin in a long time," Afflalo said of the run. "We came out of the locker room playing selfless and focusing on what was important."
Afflalo and Farmar, the team's top two scorers on the season, came out strong for the second half. Farmar missed all three of his 3-point attempts in the first half, but made all four in the second. Afflalo went 1-for-3 from behind the arc in the first half, and 3-for-4 in the second.
"It was a great second half," said UCLA coach Ben Howland. "I can't wait to watch that again. We came out and played with passion."
Farmar shot 8-for-13 from the field, and Afflalo went 6-for-11.
"They demonstrated why they are two of the elite guards in the country," Oregon State coach Jay John said.
With the victory, the Bruins (21-6, 11-4) kept pace in the Pac-10 with California, which beat Washington State earlier Thursday. Both teams are a game ahead of No. 17 Washington.
The Bruins had played only two games in the two weeks before Thursday's game and had lost both: to Southern California on Sunday and to Washington on Feb. 11.
Dirk Nowitzki had 31 points and Jason Terry scored 23 to spark two key runs that pushed the Dallas Mavericks to a 97-87 victory over the Memphis Grizzlies on Thursday for their franchise-record 13th straight win at home.
Pau Gasol and Bobby Jackson each had 18 points for Memphis, which had a four-game winning streak snapped.
The Mavericks (43-11), with the best record in the Western Conference, haven't lost at home since Dec. 30 against Golden State and have won 17 of 18 overall.
Howard sprained his right ankle in the first quarter.
Pistons 88, Pacers 83
At Auburn Hills, Michigan, Rasheed Wallace scored 11 of his game-high 28 points in a key fourth-quarter surge to lift Detroit over Indiana.
With Detroit leading 70-64 early in the fourth, Wallace hit four straight shots -- three from 3-point range -- in 97 seconds to put the game away.
The win was Detroit's first at home against Indiana since April 4, 2004. Indiana won both meetings at the Palace last year -- the first ended early by the infamous brawl and the second delayed by a bomb threat aimed at the Pacers locker room.
Stephen Jackson led the Pacers with 15 points and Peja Stojakovic added 14.
Lakers 106, Kings 85
At Los Angeles, Kobe Bryant scored 11 of his 36 points in the fourth quarter and added a season-high 10 assists to lead the Los Angeles Lakers over Sacramento for their third win in four games.
Lamar Odom had 19 points, six rebounds and nine assists, and Devean George had 15 points and nine rebounds for the Lakers (28-26), who snapped a three-game losing streak to the Kings.
Mike Bibby scored 25 points, Brad Miller added 16 and Ron Artest had 15 points, six rebounds and seven assists for the Kings (25-30), who fell 3 games behind the Lakers in the battle for the eighth and final playoff spot in the Western Conference.
Oklahoma State basketball coach Eddie Sutton underwent successful surgery on Thursday that his doctor said should help address the coach's chronic hip and back problems.
Surgeon James Rodgers said earlier this week that he would perform a lumbar spinal decompression on Sutton, which would create more room for the nerves in the 69-year-old coach's back.
Rodgers said the surgery went as planned. Sutton is "recovering comfortably" from the procedure and should be discharged from the hospital in the next two days to continue his recovery at home, Rodgers said in a statement released by the university.
Rodgers said Sutton should be able to begin physical therapy in 10 to 12 days.
"Then we will monitor his progress to determine when it would be appropriate for him to enter a treatment center" for his alcoholism, Rodgers said.
Sutton was hospitalized after suffering injuries in an automobile accident on Feb. 10 and took a medical leave of absence two days later. On Feb. 15, Sutton -- who underwent treatment for alcoholism in 1987, when he was the coach at Kentucky -- acknowledged drinking alcohol before the accident and said he would be entering a treatment center.
Last Friday, he was charged with misdemeanor aggravated drunk driving, speeding and driving left of center. A court affidavit showed Sutton's blood-alcohol level tested at .22, or nearly three times the legal limit in Oklahoma.
Sutton cracked bones in his lower back when he was bumped and fell on an airport escalator in Los Angeles in July 2004. Two months later, he cracked his tailbone in five places when he jumped into a ditch to avoid being hit by a vehicle.
Rodgers said Sutton has been treated with medicine and lumbar epidural steroid injections.
Comments will be moderated. Keep comments relevant to the article. Remarks containing abusive and obscene language, personal attacks of any kind or promotion will be removed and the user banned. Final decision will be at the discretion of the Taipei Times.