Lucky Ligety secures gold
ROUNDUP With Bode Miller disqualified in his first run in the slalom, American teammate Ted Ligety won the event after Benjamin Raich of Austria slid off the course
American hopes for gold in the Alpine combined seemed to evaporate when Bode Miller straddled a gate in his first slalom run. Ted Ligety rescued them with a come-from-way-behind win.
After building up a commanding lead in the downhill section of the Alpine combined, Miller was disqualified in the first of two slalom races that complete the event.
But in one of the biggest shocks of the Turin Games, Miller's fellow countryman Ligety rose from a sluggish downhill to twice negotiate the treacherous slalom course for victory.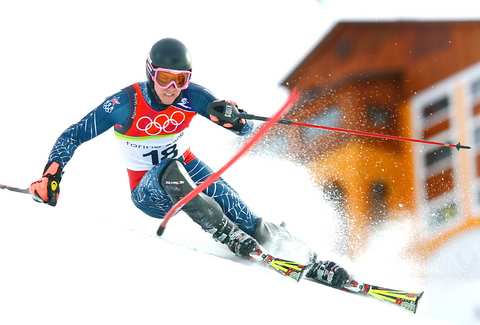 Ted Ligety of the US during the slalom portion of the men's combined in Sestriere Colle, Italy, on Tuesday.
PHOTO: AP
His path to the podium was eased by the disqualification of Miller and -- right near the end -- title favorite Benjamin Raich of Austria sliding off course and failing to finish.
"It's incredible. I can't believe it [happened] in combined because I'm not very good in downhill," Ligety said.
Elsewhere, Sweden swept the men's and women's golds in the cross-country team sprints, Sven Fischer gave Germany it's second biathlon gold of the games in the 10km sprint and Sylke Otto led a far-from-surprising German sweep of the medals in the women's luge.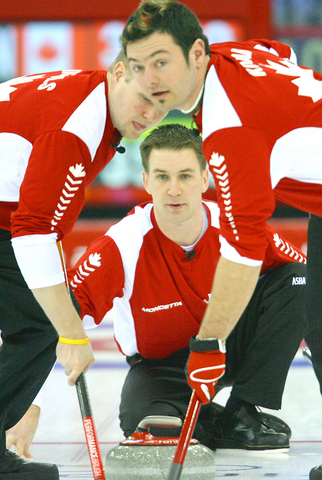 Canada's skip Bradley Gushue, center, releases the stone during their curling match against Sweden in Pinerolo, Italy, on Tuesday. Sweden defeated Canada 8-7.
PHOTO: AFP
Svetlana Zhurova won the women's 500m, giving Russia its first Olympic speedskating gold medal since 1994.
Not so great
Despite the drama in the Alps, the arrival of embattled Canadian ice hockey general manager Wayne Gretzky threatened to overshadow the sports.
Gretzky is embroiled along with his actress wife Janet Jones in a betting scandal in the US. Gretzky denies any wrongdoing and said he would not talk about the scandal in Turin, where he aims to guide the Canadians to a repeat of their Salt Lake City gold.
"Quite frankly, this is the last time I'm going to talk about it," said Gretzky. "I've stood forward each and every day, and I'll talk hockey all day long, take any questions about the hockey team or the Olympic games. But, quite frankly, it's over and done with."
In the absence of defending Alpine combined champion Kjetil Andre Aamodt, who pulled out injured, Miller -- reigning silver medalist in the event -- powered to the lead after the downhill stage, while Raich struggled to 10th place.
But about three-quarters of the way through his first slalom run Miller, who ended a disappointing fifth in the downhill final on Sunday, pinned a red gate with his left ski and the post popped up between his feet, ending his challenge.
"It's not the first time I've hooked a tip," Miller said. "I've straddled probably more times than most people have finished the slalom."
With Raich failing on the second slalom run, the way was clear for slalom specialist Ligety.
"I would prefer to win standing up to him," Ligety said.
The 21-year-old from Utah had a combined time of 3 minutes, 9.35 seconds, for the downhill and two slalom runs. Ivica Kostelic of Croatia won the silver medal, 53-hundredths of a second behind the American. Rainer Schoenfelder of Austria took bronze.
biathlon
In the 10km sprint, two-time defending Olympic champion Ole Einar Bjoerndalen faltered, giving the Germans their second men's biathlon gold of the games.
Bjoerndalen came to Turin as a favorite in all five events after sweeping all four gold medals in 2002. After taking silver in his first outing -- the 20km on Sunday -- he slumped to 12th in the 10km.
Otto retained her women's luge crown in 3 minutes, 7.979 seconds, hoisting her hands as she slid across the finish. Silke Kraushaar and Tatjana Huefner were second and third. There have been 36 medals awarded in women's Olympic luge history; 27 have been won by Germans.
Zhurova, who left speedskating in 2003 to have a child, skated a combined time of 1 minute, 16.57 seconds, edging China's Wang Man-li and Ren Hui into second and third.
Sweden's double triumph in the inaugural men's and women's cross-country team sprints gave the country its first Winter Olympic golds since 1994 and its first cross country gold since the 1988 Calgary Olympics.
Lina Andersson and Anna Dahlberg took the women's event. After watching their victory celebrations, Bjoern Lind and Thobias Fredriksson went out and made it a Swedish sweep.
"It's totally fantastic," Andersson said. "After 18 years, we had two medals in 20 minutes. I don't know what's happening. ... It's unbelievable that we won the gold medal, and then the boys."
CURLING
Host Italy earned its first Olympic curling victory and a country that's played the sport quite a bit longer continued to dominate.
The British women -- hailing from Scotland, the birthplace of curling -- joined their countrymen with perfect 2-0 records by beating Switzerland 5-4 in the second day of play. The Swedish men are the only other unbeaten team, at 3-0 after an 8-7, extra-end victory over Canada.
Just as tense was Italy's win over Germany in 11 ends. The Italian crowd lingered, broke into frequent "I-Tal-Ia!" chants and saw the hosts stack rocks in the target area only to have Germany knock them away.
On the hammer, three Germans swept furiously as it slid toward the target, only to nick a guarding stone in front, leaving a rock in the center untouched. The crowd jumped to its feet, waving Italian flags, while two curlers hugged at the center of the sheet.
The crowd cheered again when the 9-8 victory was announced -- new to the sport, they seemed to need the confirmation. Alternate Antonio Menardi came over and planted a big kiss on the cheek of team leader Joel Retornaz.
"Any victory is good for Italian curling," Retornaz said. "We are probably not the favorites for the medal. Our goal is to show people curling. If we win some, that is OK."
In the other women's night matches, host Italy delighted the crowd by playing Denmark tough for six ends, before the Danes posted a three in the seventh and won 10-7. Canada needed its last rock to beat Russia 6-5, a surprisingly close match.
Equally unexpected were Norway's struggles against Switzerland, which needed just seven ends to coast to a 9-2 victory. A regulation curling match is 10 ends but a team can concede when a comeback becomes improbable.
WOMEN'S HOCKEY
Michaela Lanzl had a goal and an assist and Jennifer Harss made 21 saves in Germany's 2-1 victory over Switzerland.
Lanzl, who plays at Minnesota-Duluth, scored early in the second period before setting up Christina Oswald's power-play goal several minutes later.
Germany (1-2), which finished sixth in Salt Lake City, won for just the second time in its two trips to the Olympics.
"Switzerland is our rival," Lanzl said. "Three or four of our national team players play in Switzerland. It feels so good to beat our rivals."
Tina Schumacher scored Switzerland's first Olympic goal during the second period. Patricia Elsmore-Sautter made 29 saves for the winless Swiss, who were shut out by the US and Finland in their first two Olympic matches.
Switzerland's Kathrin Lehmann got a game misconduct penalty for slashing after the third-period buzzer.
"You don't do things like that," German coach Peter Kathan said. "She plays [professionally] in Germany, and I can't understand why she gets so mad at us at the end."
Comments will be moderated. Keep comments relevant to the article. Remarks containing abusive and obscene language, personal attacks of any kind or promotion will be removed and the user banned. Final decision will be at the discretion of the Taipei Times.