Tony Parker receives All-Star embrace
AMERICAN BASKETBALL NBA coaches recognized the French import's talent, voting him to the Western Conference All-Star team
Tony Parker worked the red carpet two weeks ago and appeared on Oprah this week with his companion, the actress Eva Longoria. He is a budding rapper in France, his home country, and has won two NBA championships in his first four seasons as the San Antonio Spurs' point guard.
But something was missing from his sudden success and celebrity. At age 23, Parker sought validation that he belonged among the league's elite.
Oprah Winfrey might not have been interested in Parker's points in the paint, but the NBA coaches recognized his burgeoning talent on Thursday, voting him to the Western Conference All-Star team for the first time.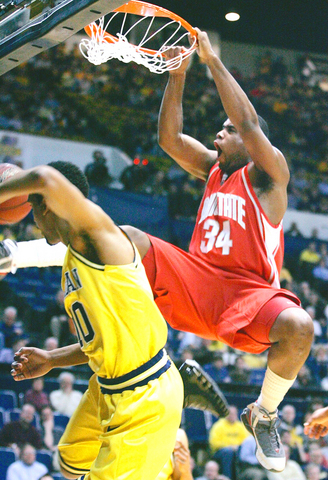 Ohio State forward Terence Dials, right, dunks over Michigan guard Hayes Grooms during the second half of a Big Ten conference game in Ann Arbor, Michigan, on Thursday. Dials ended the night with 9 points as the Buckeyes defeated the Wolverines 94-85.
PHOTO: AP
Parker beamed while taking congratulatory cell phone calls over a cup of tea at the Four Seasons in Manhattan as the Spurs rested before Friday night's game against the Nets. He was ready to celebrate the achievement of a goal he set during last year's All-Star Weekend. He was in Las Vegas, where he was feeling left out and losing money at the casinos.
"I was hurt, deep inside," Parker said. "I never talk about it because I was kind of sad because the whole coaching staff went and I was the only one of the big three left out." His teammates Tim Duncan and Manu Ginobili were on the All-Star team.
"I wanted to make sure this year that I played well enough that there was no discussion," Parker added. "They had to take me."
Fans voted Kobe Bryant and Steve Nash as starters for the All-Star Game on Feb. 19 in Houston, and Parker's 19.7 points and 5.9 assists made him an obvious choice to be a reserve. Parker is second in the league with a .551 field-goal percentage, boosted by his signature teardrop layup. He averages 12.2 points in the paint, sixth best in the league, according to the Elias Sports Bureau.
With Duncan and Ginobili struggling with injuries, Parker's consistency has kept the Spurs (38-10) in the hunt for the top spot in the West. "He's having a phenomenal year," Nets coach Lawrence Frank said Wednesday. Although every scouting report says the 6-foot-2 Parker will penetrate, "he's still able to do it," Frank said. "He's lightning quick."
Parker's determination and cleverness in driving to the basket despite the obstacles provide a window into his NBA career. After winning two titles, Parker still wanted to prove his value to the Spurs. Last summer, they hired a shooting coach, Chip Engelland, and sent him to Paris to work on Parker's outside shot.
"He told me the Spurs had some concern whether I would still improve or stay the same player and if I was hungry enough," Parker said, adding that they were worried that dating Longoria would hurt his motivation.
"I told Chip right away that I'm ready to work because I want to get to that next level," Parker recalled saying. "I want to go to the All-Star Game. The championship is great, but I want recognition, too, as a basketball player."
General Manager R.C. Buford was not surprised that Parker got that recognition Thursday.
"It's an indication of the hard work and time that he's put in to improve his game," Buford said by telephone. "For someone who's had the early success he's had, he's not resting on what he's accomplished. This kid has left us no reason to doubt his resolve at any time."
Spurs coach Gregg Popovich was unavailable Thursday. But Parker said: "Pop told me: `You deserve it, you worked hard. But it's just the beginning. You can be the best point guard in the league."'
Parker listed John Stockton, Steve Nash and Jason Kidd as standard-bearers. That did not make it any easier in 2003, when the Spurs recruited Kidd, who was then a free agent. They wanted Parker and Kidd to play together.
"I saw it slowing down my improvement as a point guard," Parker said. "There was no way; I would have to be traded."
Kidd stayed, and the Spurs extended Parker's contract for six years and US$66 million.
"If you're Jason Kidd, why don't you want to come to San Antonio Spurs?" Parker said. "They're going to give you US$120 million for to play with Tim Duncan. I'd sign right away. Seriously, I'm surprised Jason didn't come. I'm sure he's regretting it now."
Parker said he was grateful for the Spurs' faith in him and for his life in San Antonio. He has been dating Longoria for a year and a half. They met in the Spurs' locker room, where she visited with her father after a game.
"She's been great, helping me understand my life and bringing the best out of me," Parker said. "When you date a girl like that, it's a lot of responsibility and making sure she's happy. She's worth it."
Popovich has allowed Longoria on the team plane for some trips and allowed Parker to surprise her at the Screen Actors Guild Awards on Jan. 29, an off-day. That is a testament to the trust Parker and Popovich have developed, Buford said.
"I just think it's part of his maturation," Buford said. "Eva's been very supportive of him, and she has not been a distraction to him."
If anything, Parker's outside interests have allowed him a break from thinking nonstop about basketball. At All-Star Weekend, Parker will unveil five songs from his album, due in September, and perform with the rappers Fabolous and Booba. The three collaborated on one song, "Top of the Game." Now Parker can say he belongs there.
Thad Matta has been hoping for a big road victory since he came to Ohio State two seasons ago.
Jamar Butler scored a career-high 20 points and had two of the No. 19 Buckeyes' season-high 15 3-pointers in a 94-85 victory over No. 22 Michigan on Thursday night.
The win, the Buckeyes' first at Crisler Arena since 2002, moved Ohio State (17-3, 6-3) into a three-way tie with Michigan State and Illinois for second place in the Big Ten. The teams trail Iowa by a half-game.
"We haven't beaten a top-20 team on the road in the year-and-a-half since I've been here," Matta said. "That's a goal we've always had and it's nice to see it happen."
Chris Hunter's three-point play gave Michigan a 73-70 lead with 8:45 to play, but Ohio State answered with a 14-2 run, during which it was 7-for-7 from the field, to go ahead for good.
Center Courtney Sims had 26 points, a career-high 16 rebounds and four blocks for the Wolverines (16-5, 6-4), who lost consecutive games for the first time this season. He was not a factor late in the game, however, as the Buckeyes made it hard for him to get the ball in the post.
"We had some critical turnovers late in the game," Michigan coach Tommy Amaker said, "and some of those were when we were trying to get the ball to Courtney."
Ohio State scored 10 points off Michigan's 15 turnovers. Four of them came on breakaway dunks during the Buckeyes' decisive run.
Michigan guard Dion Harris had 14 points before spraining his right ankle with 8:29 to play. He never returned to the game and Ohio State seized on Michigan's instability in the backcourt.
"He was having a great game," Buckeyes guard Ron Lewis said of Harris, "but after he left, we knew we had to keep pressuring them. We forced some turnovers and got some baskets."
Harris, who was helped off the court, was scheduled to be evaluated early yesterday.
The Wolverines led 21-8 early in the game before the Buckeyes heated up. Ohio State hit 12 of 16 3-pointers in the first half, including nine of its last 10, and led 49-43 at the half. Matta called a timeout when the lead hit double digits to calm his team down.
"We told the players to relax and do what we do," he said. "Don't panic."
The Big Ten's second-best 3-point shooting team didn't, and promptly got itself back into the game.
"They were good shots," Matta added. "Even the long ones were good looks and we were able to get them to go in."
In the second half, Ohio State was 19-for-27 (70 percent) from the floor as it got better production in the frontcourt.
The Buckeyes' 15 3-pointers were their most this season and marked the second time in as many games Michigan surrendered more than 10. Iowa made 13 3-pointers in Saturday's 94-66 win over the Wolverines.
Je'Kel Foster added 17 points for the Buckeyes, who also got 14 from Lewis and 13 from J.J. Sullinger.
Michigan forward Brent Petway left the game nine minutes into the second half after aggravating a ribcage injury. He did not return and is day-to-day.
The Wolverines also were without swingman Lester Abram, who missed his second straight game with an injured left ankle. Amaker said he will not play Saturday at Purdue.
Daniel Horton had 15 points and 10 assists for Michigan and Ron Coleman scored 15 points.
Detroit was rewarded on Thursday night for one of the best starts in National Basketball Association history when four Pistons were selected for the midseason All-Star Game as reserves.
Chauncey Billups, Richard Hamilton, Ben Wallace and Rasheed Wallace all were picked for the Eastern Conference team that will be led by Detroit coach Flip Saunders. Tayshaun Prince was the lone Pistons starter not chosen in voting by East head coaches.
"I would just like to thank the coaches in the league for recognizing our players," Pistons president of basketball operations Joe Dumars told AP on Thursday night.
The Pistons became the first team with four players in an All-Star Game since the Los Angeles Lakers sent Shaquille O'Neal, Kobe Bryant, Eddie Jones and Nick Van Exel to the 1998 game in New York.
Comments will be moderated. Keep comments relevant to the article. Remarks containing abusive and obscene language, personal attacks of any kind or promotion will be removed and the user banned. Final decision will be at the discretion of the Taipei Times.