Boeheim shows Knight zone defense
NCAA DIVISION I Syracuse shut down Texas Tech's offense with a stifling team effort as coach Jim Boeheim got his fourth consecutive victory over Bobby Knight
Bobby Knight was the coach at Indiana when the Hoosiers defeated Syracuse in the 1987 NCAA championship game. Since then, Jim Boeheim has been exacting some revenge, but never quite like this.
In a game in which two Hall of Fame coaches were the center of attention, No. 16 Syracuse defeated Knight and Texas Tech 81-46 in the semifinal round of the Coaches vs. Cancer Classic. It was Boeheim's fourth straight victory over a Knight-coached team since the two first faced off, in 1987.
Knight said Syracuse played "zone defense the best of anybody I've ever seen play zone defense."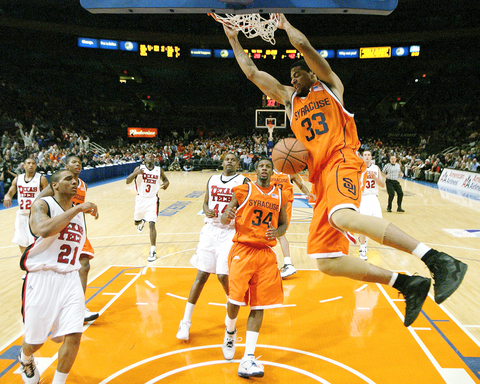 Syracuse's Terrence Roberts dunks the ball against Texas Tech during the second half at Madison Square Garden in New York on Thursday. The Orange won 81-46.
PHOTO: AP
"I don't think our kids elevated themselves in their own thinking in how good a team they'd be playing tonight," he said. "I'm really disappointed in how we competed. But we got beat by a much better team. We got beat by a team that, realistically, I'm not sure we could play evenly under any circumstances."
Syracuse will play Florida in the Classic final Friday night. The Gators defeated No. 19 Wake Forest, 77-72, in the other semifinal Thursday night.
Almost from the opening buzzer, the Syracuse-Texas Tech game was hardly a contest. The Orange took control in the opening minutes, going ahead by 11-0 on a slam dunk by Darryl Watkins with 13 minutes 33 seconds remaining in the first half. Syracuse extended its lead to 17-2 and 20-4 before taking a 34-22 lead into halftime. With 8:31 left in the game, Boeheim started emptying his bench.
The occasionally volatile Knight was subdued once the game started to get out of hand. The Red Raiders' biggest problem was their shooting; they were 17 for 59 from the floor (29 percent).
"We're nowhere near that good, and they're nowhere near that bad," Boeheim said. "That's what happens when one team makes shots and the other one doesn't."
Syracuse was coming off one of its poorest performances in a while, a 67-62 victory over Cornell in which the Orange made just 1 of 19 3-point attempts. Syracuse shot 51.6 percent last night.
Gerry McNamara led the Orange (3-0) with 12 points and added nine assists. Dior Lowhorn topped Texas Tech (2-1) with 11 points.
No. 19 Florida 77, Wake Forest 72 In the opener, Florida's Taurean Green played the best game of his collegiate career in the Gators' victory over Wake Forest, finishing with 23 points and five assists. His previous career best in points was 13.
Green probably does not remember much of his father's time in New York with the Knicks. He was 2 when his father, Sidney, first suited up for the Knicks in 1988 and 4 when the elder Green moved on to the Orlando Magic. But Green, a sophomore point guard who, at 6 feet, is 9 inches shorter than his father, now has some of his own fond memories of Madison Square Garden.
"My father told me to go out and have fun and enjoy the moment," Green said. "My teammates joke around with me and ask me how come I'm so short. I got my mother's genes."
Green said his mother is 5 feet 6 inches.
With the Gators leading by just four points with 3:01 remaining, Green hit a 3-pointer that put Florida ahead 61-54. Wake Forest scratched its way back to cut the deficit to four with 1:38 remaining, but Florida held on.
Two other players for Florida are sons of professional athletes. Joakim Noah's father, Yannick, won the 1983 French Open, and Al Horford's father, Tito, played in the NBA. Noah had five points Thursday night, and Horford had 11.
Wake Forest (2-1) is having problems replacing last season's point guard, Chris Paul, now with the New Orleans Hornets. The Demon Deacons were forced into overtime before beating George Mason 83-78 in their last game and had problems putting away Mississippi Valley State in their season opener. Justin Gray, the shooting guard last season, is still adjusting at point guard. He had 10 turnovers against George Mason and seven Thursday night.
"These self-inflicted wounds are the ones that are most disconcerting" Wake Forest coach Skip Prosser said. "But you have to give Florida a lot of credit for what happened."
Comments will be moderated. Keep comments relevant to the article. Remarks containing abusive and obscene language, personal attacks of any kind or promotion will be removed and the user banned. Final decision will be at the discretion of the Taipei Times.