Park holds lead as Wie confronts bees
PRO GOLF TOUR While Michelle Wie used obscure rules to scratch her way up the leaderboard, Grace Park did it the old-fashioned way -- with skill and, well yes, grace
Michelle Wie moved into contention with a career-best 7-under 65 at the Samsung World Championship Friday, pulling within two shots of second-round leader Grace Park, who overcame a four-putt double bogey to shoot 66 for her best round of the year.
Wie's day included a fortuitous ruling that gave her relief from a desert bush where a few dozen bees were hovering.
Park, who was at 11-under 133, will be paired with Wie in the final group today.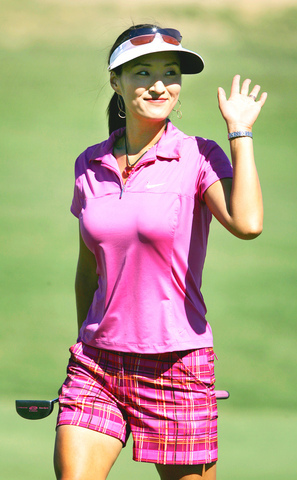 Grace Park smiles and waves after making a putt for par on the 17th hole during the second round of the LPGA Samsung Championship at Bighorn Golf Club in Palm Desert, California, on Friday. Park finished the second round with a score of 11-under-par 133.
PHOTO: AP
Annika Sorenstam bogeyed her final two holes for an even-par 71 and joined the group at 135 that included Wie and 19-year-old Paula Creamer.
Wie's tee shot on the par-4 15th lodged at the base of a Gold Lantana plant, and it appeared Wie would have to take a one-shot penalty for an unplayable lie. Instead, she recalled a tournament she watched on television when a player got relief because of fire ants, and summoned rules official Jim Haley.
"They're just honey bees," Haley said when he stooped to inspect the situation.
"I got bit by a honey bee once," Wie replied, then under her breath muttered, "My foot got all swollen."
Haley gave her a free drop under the "Decisions of Golf," which allows for relief when "it is unreasonable to expect the player to play from such a dangerous situation" such as a rattlesnake or bees' nest.
Wie blasted out of the lie where green grass met desert sand, onto the green and escaped with a par.
Sorenstam hit her tee shot into a desert bush on the 18th hole and got relief from a scoreboard between her and the flag. But with the ball above her feet, needing to play a right-to-left shot, Sorenstam wanted more room to drop her ball and was denied by the rules official.
"I don't know how many times you hit a straight shot in golf," she said.
Park, who has missed time on the tour this year to back and neck injuries, had six birdies on the back nine, chipping in on No. 12 and making birdies from inside 2 feet on the 16th and 17th holes.
"I kept telling myself it's never too late to start playing well," Park said. "I'm glad I'm turning it around."
Briny Baird had an "accidental" hole-in-one on his way to a 5-under 66 and a two-shot lead midway through the Michelin Championship.
Two courses, the par-72 TPC at Summerlin, and the par-71 TPC at The Canyons, were used the first two days. The final two rounds will be played at Summerlin.
Baird, one stroke in front beginning his day at The Canyons, was 15 under through two rounds.
Tour rookie Ryan Moore, the 2004 US college and US Amateur champion and 2005 college player of the year while attending the University of Nevada at Las Vegas, birdied six of his first nine holes at The Canyons and finished with an 8-under 63 that pulled him into a five-way tie for second.
US Masters and PGA champion Phil Mickelson failed to make the cut, which came at 6 under. He followed his opening 67 with a 71 to finish at 5-under 138.
Mickelson said coming into the Las Vegas event that he planned to use the tournament to work on some things in his game, and that it was hard to get motivated for regular tournaments after playing the majors.
In the group with Moore at 13 under were Kevin Stadler (66), Paul Goydos (65), Shigeki Maruyama (65), and Bart Bryant (65). Goydos and Maruyama played at Summerlin, the others at The Canyons.
Baird shook his head and smiled as he replayed his ace -- on what he thought was a poor shot -- on the 145-yard 12th hole at the TPC at The Canyons.
Jay Haas got off to a fast start in his bid to win consecutive Champions Tour events, shooting a 7-under 65 on Friday for a share of the first-round lead with Des Smyth and Morris Hatalsky in the Administaff Small Business Classic.
The 51-year-old Haas, still active on the US PGA Tour, won the Greater Hickory Classic on Sunday in North Carolina for his first victory on the 50-and-over tour.
Haas, a nine-time winner on the regular PGA Tour who will receive the US Golf Association's 2006 Bob Jones Award for distinguished sportsmanship, had an eagle and five birdies in his bogey-free round on the Augusta Pines course. He eagled the par-5 second hole and played the back nine in 5-under 31 with birdies on Nos. 10-13 and 18.
"It's a relaxed feeling for me," Haas said. "Obviously, I'm playing well so I have an attitude to be patient and let it happen."
Smyth, a two-time winner this year, also had a bogey-free round. He made 35- and 25-foot birdie putts on Nos. 10 and 11.
Hale Irwin was a stroke back along with Brad Bryant, Bobby Wadkins and Mark McNulty, and Mike Sullivan, Danny Edwards, Dave Barr and Gil Morgan opened with 67s.
The 60-year-old Irwin, a four-time winner this year and the tour's career leader with 44, made a 72-foot par putt on the final hole.
Raphael Jacquelin shot his second consecutive 64 to take a three-stroke lead as Spaniard Ivo Giner delighted the home gallery with an 11-under 60.
The 31-year-old Jacquelin, who has had four runner-up finishes but has never won on the European tour, started on the back nine and birdied Nos. 11-14, but took two bogeys on the front, including on the closing ninth, for a 14-under 128 on the 6,967-yard, par-71 Club de Campo course.
England's Gary Emerson matched the French leader's 64 and was three strokes back with Northern Ireland's Darren Clarke, who shot 67.
Giner, a former Spanish youth champion from Barcelona, also started on the back. He opened birdie-bogey, added three more birdies before making the turn and then birdied Nos. 2-3, eagled the 518-yard, par-5 fourth and closed with birdies on four of the last five holes.
His only par was at the 384-yard eighth, where his 14-foot birdie attempt was just short.
Comments will be moderated. Keep comments relevant to the article. Remarks containing abusive and obscene language, personal attacks of any kind or promotion will be removed and the user banned. Final decision will be at the discretion of the Taipei Times.