Flyers rally to win in OT
PRO ICE HOCKEY Sidney Crosby, John LeClair, Ryan Malone and Dick Tarnstrom scored for Pittsburgh, but Mike Rathje got the winning goal in an overtime period
Mike Rathje scored 3:17 into overtime, leading the Philadelphia Flyers to a 6-5 victory over the Pittsburgh Penguins on Friday night.
Maxime Talbot's fluke goal with 8:03 completed Pittsburgh's rally from a four-goal deficit, but the Penguins (0-1-4) couldn't pull out their first victory in their fourth consecutive overtime game.
Shortly after the Penguins killed Philadelphia's two-man advantage in the extra session, Rathje took a slap shot that appeared to bounce in off the crossbar.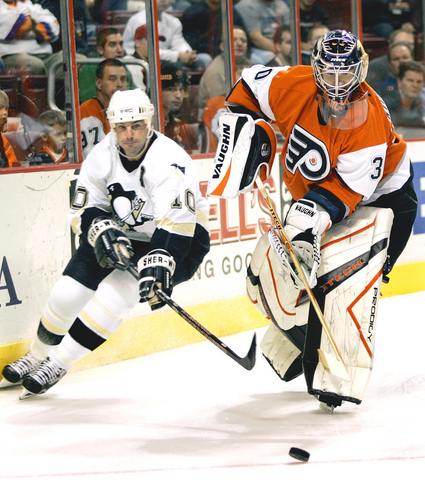 Flyers goalie Antero Nittymaki, right, clears the puck from behind the net as Penguins John LeClair closes in during the first period in Philadelphia on Friday. Philadelphia defeated Pittsburgh 6-5 when Mike Rathje scored 3:17 into overtime.
PHOTO: AP
Simon Gagne had two goals and two assists, and Keith Primeau, Joni Pitkanen and Derian Hatcher also scored for Philadelphia, which won for the second time in four games.
Sidney Crosby, John LeClair, Ryan Malone and Dick Tarnstrom also scored for Pittsburgh.
Maple Leafs 9, Thrashers 1
At Atlanta, Jeff O'Neill scored a goal in each period for his second hat trick against Atlanta in two seasons and Toronto routed the Thrashers and rookie goalie Michael Garnett.
O'Neill scored his 200th career goal to give the Maple Leafs a 1-0 lead in the first period. His second goal was the first of three for Toronto in the middle period, and he added a third when the Maple Leafs blew the game open with four goals in the final period.
O'Neill also had a hat trick in a 4-3 win over Atlanta on Jan. 16, 2004, while playing with Carolina.
The Maple Leafs scored seven goals in 14 power-play chances.
Canucks 5, Wild 3
At St. Paul, Minnesota, Richard Park had the go-ahead goal and two assists against his old team, leading Vancouver past Minnesota.
On an assist from new linemate Markus Naslund, Park fired an uncontested wrist shot from the back of the left circle that got past goalie Dwayne Roloson early in the third period.
Naslund, Anson Carter and Ryan Kesler also scored for the Canucks, who came back with a spirited effort after a sluggish, embarrassing 6-0 loss here to the Wild here two nights ago.
Blackhawks 3, Avalanche 2, SO
At Denver, Nikolai Khabibulin played his best game in goal since signing with Chicago, and the Blackhawks scored on all three chances in a shootout to beat Colorado.
Colorado's Joe Sakic matched Tyler Arnason on the first shot of the shootout, but rookie Marek Svatos missed the net after Chicago's Tuomo Ruutu scored at the other end. Pavel Vorobiev sealed the Blackhawks' second win of the season by beating Colorado goalie Peter Budaj to the glove side.
Jaroslav Spacek scored in the first period and Kyle Calder put the Blackhawks up 2-1 with six minutes left in regulation, lifting in a rebound after Budaj made a difficult save against Arnason.
But Chicago, just like it had all game, couldn't keep players out of the penalty box. John-Michael Liles put a hard slap shot past Khabibulin with 2:03 left in regulation.
Sakic had given Colorado a 1-0 lead in the first period with his 544th career goal that tied him with Maurice Richard for 21st on the NHL list.
Stars 3, Oilers 2
At Edmonton, Alberta, Steve Ott scored his first goal of the season with 8:15 left in the third period and Johan Hedberg turned aside 33 shots for Dallas.
Hedberg was solid in his season debut as Stars coach Dave Tippett gave starter Marty Turco the night off.
Jussi Jokinen and Bill Guerin also had goals for the Stars, who beat the Flames in Calgary on Thursday and swept consecutive games in Alberta. Jason Smith and Jani Rita scored for Edmonton, and Jarret Stoll added two assists.
Mighty Ducks, 4, Blue Jackets 3
At Anaheim, California, Keith Carney's goal with 2:36 to play carried Anaheim over Columbus.
Carney ripped a slap shot past Blue Jackets goalie Pascal Leclaire just 1:31 after Jan Hrdina scored his second goal of the game to lift Columbus into a tie.
Anaheim's Joffrey Lupul gave the Ducks a 3-2 lead with 12:31 left before Hrdina tied it. Bryan Berard scored a power-play goal earlier in the third period to get the Blue Jackets even at 2. Columbus was just 1-for-24 with the man advantage before Berard connected.
Comments will be moderated. Keep comments relevant to the article. Remarks containing abusive and obscene language, personal attacks of any kind or promotion will be removed and the user banned. Final decision will be at the discretion of the Taipei Times.