Weis quickly gets into college spirit
NCAA DIVISION I-A Notre Dame coach Charlie Weis is succeeding where many others that have tried to make the transition from pro to collegiate football have failed
It was tricky to tell if the NFL's Charlie Weis was college material when his communication with the galaxy beyond Planet Bill Squared was relegated to pantomime.
Who knew the resonance of Weis' rah-rah when neither Bill Parcells nor Bill Belichick allowed their coaching staffs to speak? For years, Weis was among the Blue Man Group of assistants under the two Bills, performing without talking.
Now just try to stop him at Notre Dame. Weis is effusive, positive and motivating. He is Tony Robbins, but funny. And just in case Weis hasn't told Touchdown Jesus, he has earned four Super Bowl rings that he doesn't mind bragging about if it means landing a blue-chip prospect - and he has already wowed many.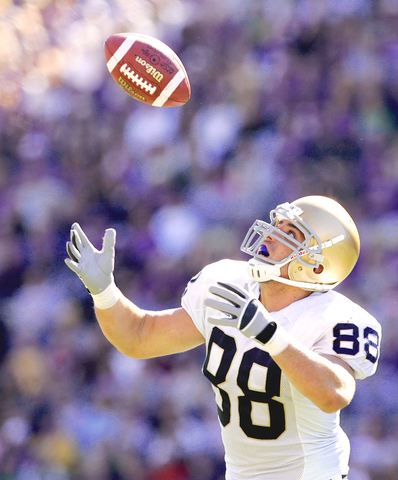 Notre Dame's Anthony Fasano reaches for a pass during the first half against Washington in Seattle, Washington, on Sept. 24. Fasano caught six passes as the Fighting Irish defeated the Huskies 36-17. Notre Dame is now 4-1 under new head coach Charlie Weis
PHOTO: AP
In the right place, used the right way, ego can be a recruiting tool. Pride may be the most important character trait Weis brought with him from New England.
"Sometimes, people perceive you to be arrogant," Weis said after Notre Dame's practice Wednesday. "OK, my word is confident."
He apparently recruits boosters well, too. Totally smitten, the Notre Dame faithful believe they have found their four-leaf clover in Weis. After wrongfully firing Ty Willingham, after shamelessly chasing Urban Meyer, the Irish officials were lucky to land Weis as head coach.
They may not know how fortunate they are. It is still early, but thus far Weis has morphed into an increasingly uncommon find: an NFL guru whose persona has transferred well to the college atmosphere.
Southern California's Pete Carroll is another. He will stand opposite Weis when his No. 1-ranked Trojans meet the ninth-ranked Irish tomorrow. But Carroll stands out in another way as well. Of the 10 former NFL head coaches in Division I-A, Carroll is the only one who has a team currently ranked in the top 25.
Virginia's Al Groh has enjoyed success in the past, and so has South Carolina's expert of the NFL hokey-pokey, Steve Spurrier, but several others have struggled to adjust to the pompom society.
Not every big name is the right name. But each year, in the frantic pursuit of a glamour coach -- in an effort to appease chief executive alumni -- college presidents and athletic directors pour millions into sexy hires whose NFL pasts may not fit the college program.
There is a Who's Who of who's disappointing, like Rich Brooks of Kentucky and Bobby Ross of Army. No one believed Dave Wannstedt would make his debut with a 2-4 record at Pittsburgh, and ask Nebraska boosters if they have warmed to the prickly pro approach of Bill Callahan.
Callahan has connection issues. He couldn't communicate with the Oakland Raiders players once his 2002 Super Bowl season hubris began to create fissures in the locker room. He was imperious and detached until the day he was fired.
Still, Nebraska officials fell over themselves to nab him. Upon his arrival, carrying his West Coast offense into a wishbone world, Callahan freighted his players with an eight-pound playbook -- the largest textbook in their dorm rooms.
Didn't he get it? College football is big business, but its players are not free-agent adult acquisitions. Many are teens who worry about grades, exams and social pressures. Many need a coach who can relate to them on a human level.
"I think that's important," Weis said, speaking generally. "I don't think this is for everybody. For example, I think the biggest question mark when a guy from the NFL comes to college is, will he be able to recruit? That's always the biggest question mark."
It was the same for Weis. But his personality has sold well in South Bend. Players, boosters, everyone is buying. And to think, he hardly said a word during his NFL career as an assistant.
"It's, `Well, he has no personality,'" Weis said. "How would they know? I never talked the whole time I was in New England. Now, I'm here. And I think my personality meshes well with this school. It might not fit in every school. It might not be the best fit in a lot of places. I just think I'm a good fit here."
The right interlocking of personality and program is the same for Carroll. All energy all the time, he breathes the college scene. Once mocked for taking the Jets bowling during the 1994 season, his kumbaya style goes down easy at USC. Every program wants their own Carroll, sparking a spike in the collegiate hiring spree of NFL coaches.
"Pete is the bar, and everyone knows that," Weis said.
Carroll is true to himself. And so is Weis. It was just hard to get to know him behind the wall established by Belichick and Parcells.
"People were always in your ear saying you're being held back because people don't know who you are," Weis said. "You're not out there. The flipside of that -- especially now that I'm a head coach -- I understand more why they did what they did. The flipside is, it kept the staff more unified because there was that one-voice approach."
He might have to share stage space with the Irish's lucky charm, Regis Philbin, but Weis is the voice of the Notre Dame program. Who knew he had just the right touch of rah-rah?
Comments will be moderated. Keep comments relevant to the article. Remarks containing abusive and obscene language, personal attacks of any kind or promotion will be removed and the user banned. Final decision will be at the discretion of the Taipei Times.