Bergeron heads up Bruin scoring spree
NATIONAL HOCKEY LEAGUE Patrice Bergeron filled in for Joe Thornton, who is undergoing treatment for a sore back, and Boston logged five goals in their victory
Patrice Bergeron, centering Boston's top line in place of the injured Joe Thornton, had a goal and an assist to lead the Bruins to a 5-2 victory over the Florida Panthers on Thursday night.
Florida goalie Roberto Luongo, the NHL's defensive player of the week, was pulled after Bergeron's goal made it 3-0 at 5:26 of the second period.
Glen Murray, Tom Fitzgerald and Brad Isbister also scored for the Bruins, who have won three straight since losing their first two games of the season. P.J. Axelsson added an empty-net goal in the final minute.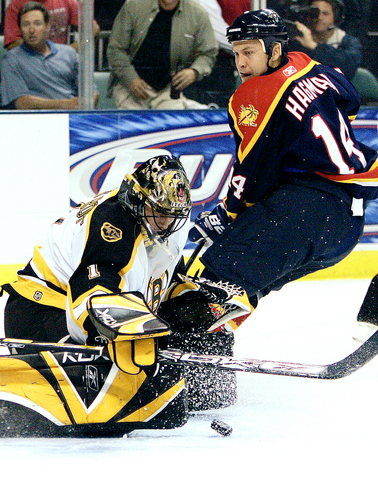 Bruins goalie Andrew Raycroft, left, makes a save against Niklas Hagman of the Panthers during the first period in Sunrise, Florida, on Thursday. Boston defeated Florida 5-2 as Patrice Bergeron, Glen Murray, Tom Fitzgerald and Brad Isbister scored for the Bruins.
PHOTO: AP
Andrew Raycroft made 33 saves for the Bruins.
Thornton didn't make the trip, remaining in Boston for treatment of his ailing back.
Nathan Horton and Juraj Kolnik scored for the Panthers, who have scored more than two goals only once this season -- Monday's 3-1 victory over the New York Islanders, which included an empty-netter.
Islanders 5, Capitals 3
At Washington, Jason Blake and Petteri Nokelainen both had a goal and an assist and Oleg Kvasha added three assists to lead the Islanders.
Alexei Yashin, Trent Hunter and Mark Parrish also had goals for New York, which scored on its first two shots of the game. The Islanders, who have won two of three overall, had been 1-12-2 in their last 15 games at MCI Center.
Matt Bradley scored twice and Steve Eminger added a goal for the Capitals, who were playing their sixth game in nine nights. Washington has lost two straight and four of five.
Islanders goalie Rick DiPietro left the game 11:09 into the second period after being shaken up while making a headlong dive to stop a drive down the slot by Jeff Halpern.
Rangers 4, Devils 1
At New York, Martin Rucinsky and Ville Nieminen scored 17 seconds apart in the first period and Rangers goalie Henrik Lundqvist made 20 saves for his first NHL victory.
Blair Betts and Jaromir Jagr also scored for New York, which ended a three-game losing streak against its local rivals.
Brian Gionta scored for New Jersey, which is 24-4-11 against the Rangers since the 1997-98 season.
Sabres 4, Lightning 3, SO
At Tampa, Florida, Daniel Briere and Thomas Vanek scored in the shootout to give the Sabres a victory over the Lightning.
Buffalo won the shootout 2-0 as goalie Ryan Miller stopped Martin St. Louis and Brad Richards.
Maxim Afinogenov's waist-high deflection of Toni Lydman's shot got Buffalo even at 3 with 8:47 left in the third period. Briere and Paul Gaustad also scored for the Sabres, who began a three-game road trip.
Buffalo played the final 1:46 of overtime with a two-man advantage after the Lightning received three minor penalties. The Sabres got only one shot during the stretch.
Tampa Bay got goals from Richards, Vincent Lecavalier and Vinny Prospal.
Stars 3, Flames 2, OT
At Calgary, Alberta, Philippe Boucher scored with 55 seconds left in overtime to give Dallas a victory over Calgary, spoiling the Flames' home opener.
It was the third straight loss for Calgary, which raised the 2003-2004 Western Conference championship banner before the game in front of a sellout crowd.
Mike Modano had three assists for Dallas, which also got goals from Jere Lehtinen and Martin Skoula. Steve Reinprecht and Chuck Kobasew scored for the Flames, with Matthew Lombardi assisting on both goals.
Miikka Kiprusoff, who led the Flames on their run to the Stanley Cup finals in 2004, had 19 saves.
Predators 5, Coyotes 4, SO
At Glendale, Arizona, Paul Kariya scored the only goal in the shootout to keep Nashville unbeaten.
Kariya, the third Predator in the shootout lineup, slipped the puck into the net just inside the left corner past goalie David LeNeveu. Ladislav Nagy missed on his attempt for Phoenix, giving Nashville (4-0-0) the victory.
Ottawa (4-0-0) is the only other unbeaten team in the NHL.
Steve Sullivan had two goals for Nashville.
Nagy's power-play goal tied it at 4 with 1:04 left in the third period. Paul Mara's one-timer on a pass from Shane Doan went in off Nagy. The goal was originally credited to Mara but was given to Nagy after the game.
The Predators killed 17 straight power plays to start the season before Peter Nedved, activated after missing three games with a groin injury, scored at 6:35 of the opening period. It was the first of four power-play goals, two by each team.
Red Wings 5, Kings 2
At Los Angeles, Kirk Maltby and Jiri Fisher scored short-handed goals in the third period, and Detroit, with Steve Yzerman playing his first game of the season, beat the Kings 5-2.
Jeremy Roenick tied the score 2-all with 5:45 to play, shrugging off a check by newly acquired Detroit defenseman Jason Woolley in front of the crease and stuffing his third goal of the season past Manny Legace. Dustin Brown set up the play by carrying the puck around All-Star defenseman Chris Chelios and slipping the puck in front.
But Detroit regained the lead just 53 seconds later when Johan Franzen chased down a loose puck in the middle of the left circle and sent a wrist shot past rookie goalie Mathieu Garon for his first NHL goal.
Henrik Zetterberg and Fischer closed it out with empty-net goals in the final 48 seconds, Fischer's coming during a Los Angeles power play.
The NHL investigated a claim that Kings forward Sean Avery directed a slur toward Edmonton's Georges Laraque during Tuesday's game, but decided not to take action because of a lack of evidence.
Laraque, who is black and a French-Canadian, made the allegation to Edmonton team officials, who then contacted the league office Wednesday.
NHL vice president Colin Campbell talked to both teams and determined that no player on either side, or any official, heard a slur. Avery also denied the allegation.
Campbell informed the teams that the league couldn't corroborate either player's story and therefore wouldn't take action, and Laraque apparently has elected to not pursue the matter by filing a complaint.
Avery and Campbell could not be reached for comment, but Kings general manager Dave Taylor said he spoke with Avery and Campbell and that the Kings consider the issue finished.
"We looked into it and we took it seriously," Taylor said.
"We talked to Sean and he told us he didn't make any comments, and the league looked into it as well."
Laraque, one of the few black players in the NHL, is a native of Quebec.
VOTED DOWN
The NHL players' association is conducing an informal poll of all 30 teams to gauge support for a rule making visors mandatory for all players. The Kings took their vote Tuesday and unanimously were in opposition to mandatory visors, players said Wednesday.
"I think it should be an option, but not mandatory," said Pavol Demitra, who started wearing a visor after a potentially career-ending eye injury in 2000. "A lot of guys hate them. I used to hate them. I almost lost my eye so I started wearing one, but I would still feel more comfortable without it."
Team owners would like to see visors made mandatory, but collective-bargaining rules prohibit them from unilaterally making it a rule. Among the Kings' 21 active skaters and one injured skater, eight are wearing visors this season.
"If I was a GM and I was paying a guy a lot of money, I'd definitely want to make it mandatory," said Craig Conroy, who does not wear one. "But as a player, I don't think anyone should be forced to wear one."
Comments will be moderated. Keep comments relevant to the article. Remarks containing abusive and obscene language, personal attacks of any kind or promotion will be removed and the user banned. Final decision will be at the discretion of the Taipei Times.