Spartans upend the Irish
NCAA DIVISION I-A Michigan State joins conference partner Purdue (1954-1962) as the only opponent to win five straight at Notre Dame Stadium and its 12 wins at Notre Dame are the most by an Irish opponent
Jason Teague took an option pitch 19 yards for a touchdown in overtime to give Michigan State a 44-41 victory over No. 10 Notre Dame on Saturday, the Spartans' fifth straight win at Notre Dame Stadium.
The Fighting Irish (2-1) rallied from 21 points down in the third quarter to tie the score, but had to settle for a 44-yard field goal by D.J. Fitzpatrick on their OT possession and couldn't make it stand up.
The Spartans (3-0) spoiled the home debut of coach Charlie Weis, who became just the third Notre Dame coach to lose his home opener since 1913, joining Elmer Layden in 1934 and Lou Holtz in 1986.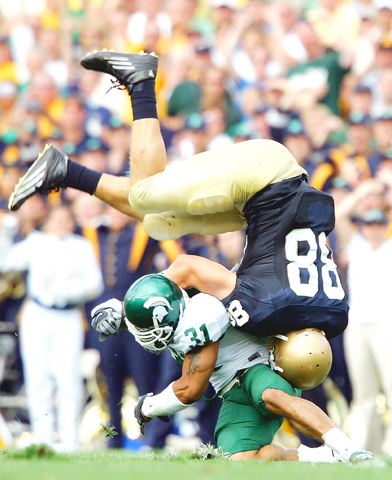 Tight end Anthony Fasano, right, of the Notre Dame Fighting Irish is tackled by cornerback Jaren Hays of the Michigan State Spartans at Notre Dame Stadium in South Bend, Indiana on Saturday. Michigan State defeated Notre Dame 44-41 in overtime.
PHOTO: AFP
Brady Quinn passed for a school-record five touchdowns and a career-high 487 yards, the second highest total in Notre Dame history.
Drew Stanton threw for three touchdowns and ran for another as the Spartans amassed 488 yards total offense against the Irish. Stanton was 16-of-27 for 327 yards.
No. 13 Miami 36,
Rhett Bomar, right, of the Oklahoma Sooners fumbles the ball on the goal line under pressure from the UCLA Bruins at the Rose Bowl in Pasadena, California, Saturday. The Bruins defeated the Sooners, who are No. 21 in the AP rankings, 41-24.
PHOTO: AFP
No. 20 Clemson 30, 3OT
In Clemson, South Carolina, Tyrone Moss' 25-yard touchdown run in the third overtime lifted Miami to a victory over Clemson and helped the Hurricanes avoid their first 0-2 start in 27 years.
Moss bounced out to the right side for his scoring run and safety Kenny Phillips intercepted Charlie Whitehurst when the Tigers (2-1, 1-1 Atlantic Coast Conference) got their chance in the third extra period.
Moss finished 139 yards rushing and three touchdowns, two in overtime. His 1-yard touchdown in the fourth quarter put Miami up 20-10, while his 3-yard scoring run gave the Hurricanes (1-1, 1-1) a brief 27-20 lead in the first overtime.
It was Clemson's first OT defeat after coming in 5-0, including a 24-17 victory at the Orange Bowl over Miami a year ago.
No. 6 Florida 16, No. 5 Tennessee 7
In Gainesville, Florida, Florida held Tennessee scoreless in the second half, took advantage of three special teams errors and gave coach Urban Meyer a victory in his Southeastern Conference debut.
The Gators had lost three of the last four against the Volunteers, including two in a row at Florida Field. They ended that streak and got an early edge in the Eastern Division race.
Since the SEC adopted its 12-team, two-division format in 1992, the winner of the Tennessee-Florida game has won the East nine times and advanced to the championship game.
Erik Ainge was 14-of-29 passing for 147 yards with a touchdown for Tennessee after replacing starter Rick Clausen.
Chirs was 17-of-26 for 179 yards. He also ran eight times for 33 yards and was sacked five times.
UCLA 41, No. 21 Oklahoma 24
In Pasadena, California, Drew Olson threw for 314 yards and three touchdowns, UCLA held Adrian Peterson to 58 yards rushing, and the Bruins beat the struggling Sooner.
After playing in the last two BCS national championship games, Oklahoma is 1-2 for the first time since 1997 and its offense continued to look lost, fumbling six times.
UCLA recovered three of the fumbles and turned them into 17 points.
The Bruins (3-0) pulled away from a 20-17 lead with two Olson touchdown passes and Maurice Drew's scoring run in the fourth quarter and beat the Sooners for the first time.
Redshirt freshman Rhett Bomar completed 20 of 29 passes for 241 yards and ran for a 16-yard score for Oklahoma, but fumbled four times.
Peterson, who began the game on the sidelines after being disciplined during the week for missing classes, carried 23 times and scored on an 11-yard run.
No. 1 USC 70, Arkansas 17
In Los Angeles, Matt Leinart passed for 381 yards and four touchdowns and ran for another TD in less than three quarters, and Reggie Bush scored the first two times he touched the ball for Southern California.
The win was the 24th straight for USC -- one shy of the school and Pac-10 record and the longest active winning streak in the country. Playing their home opener before an ecstatic crowd of 90,411 at the Los Angeles Coliseum, the Trojans (2-0) won their 22nd consecutive home game. Arkansas dropped to 1-2.
USC had the ball for only 1:32 in the first quarter, but gained 246 yards on eight plays -- four of them touchdowns -- for a 28-7 lead.
Leinart, the reigning Heisman Trophy winner, completed 18 of 24 passes before coming out of the game after throwing his fourth TD pass with 6:26 left in the third period, giving USC a 56-10 lead. The Trojans scored nine touchdowns on their first 10 possessions and finished with 736 yards of total offense.
Bush, fifth in the Heisman voting last year, gained 125 yards on eight carries and had three receptions for 70 yards.
No. 8 Florida State 28,
No. 17 Boston College 17
In Boston, A.J. Nicholson intercepted two passes, scoring on a 19-yard return on the first play of the game, and Greg Carr caught two TDs to help Florida State spoil the Eagles' Atlantic Coast Conference debut.
Nicholson's interceptions sparked the Seminoles (3-0, 2-0) to a 14-0 lead in the first five minutes before BC scored 17 unanswered points to take the lead.
The Eagles (2-1) nursed the lead -- thanks to a great play by Mathias Kiwanuka -- until quarterback Quinton Porter left with an ankle injury and Florida State took advantage.
Drew Weatherford was 20-for-38 for 243 yards and two touchdowns for Florida State. Porter was 20-for-31 with one touchdown and two interceptions before leaving late in the third quarter, and Matthew Ryan was 7-for-11 for 89 yards, most of it on the last drive.
No. 2 Texas 51, Rice 10
In Austin, Texas, freshman Jamaal Charles ran for 189 yards and three touchdowns in his first career start to lead Texas to another win over Rice.
Charles had a pair of 25-yard scoring runs in the first quarter and added another 4-yard TD in the second as Texas (3-0) built a 42-0 lead by halftime.
Texas has won 38 of the last 39 meetings in a rivalry that dates back to 1914.
Vince Young was 8-for-14 for 101 yards with one interception, no touchdowns and 77 yards rushing.
No. 7 Georgia 44,
Louisiana-Monroe 7
In Athens, Georgia, Danny Ware rushed for 109 yards and Martrez Milner caught three passes for 79 yards and a touchdown as the backups led Georgia past Louisiana-Monroe.
D.J. Shockley completed 13 of 20 passes for 246 yards and a touchdown and added a 28-yard touchdown run while playing three quarters for Georgia.
Ware started at tailback for Thomas Brown, who was held out with a slightly separated shoulder.
Milner filled in at tight end for Leonard Pope, who did not play for undisclosed disciplinary reasons. Georgia also was without injured starting linebacker Jarvis Jackson, but the Bulldogs (3-0) still gained 543 yards in the easy win over the Indians (0-3).
Brandon Coutu kicked a 58-yard field for Georgia, tied for the third-longest in school history.
No. 11 Louisville 63, Oregon St. 27
In Louisville, Kentucky, Brian Brohm threw for 368 yards and five touchdowns and Louisville topped 50 points for the ninth time under coach Bobby Petrino.
Mario Urrutia caught seven passes for 175 yards with two touchdowns for Louisville (2-0), which tied an Oregon State record for points by an opponent.
Louisville linebacker Brandon Johnson blocked a punt and returned an interception for a score and defensive end Elvis Dumervil set an American college record with his ninth sack in consecutive games.
Matt Moore finished 25-for-48 for 317 yards for Oregon State (2-1), which lost to a ranked opponent on the road for the seventh straight time.
No. 12 Purdue 31, Arizona 24
In Tucson, Arizona, Jerod Void carried 18 times for 107 yards, scored three touchdowns and recovered a muffed punt return, helping Purdue hold off Arizona.
Brandon Kirsch passed for 140 yards and ran for 54 for the Boilermakers (2-0), who took advantage of the muffed punt return and a failed fake punt by Arizona to score 10 decisive points in the third quarter.
Richard Kovalcheck completed 23 of 40 passes for 287 yards and three touchdowns for the Wildcats (1-2).
No. 14 Michigan 55, E Michigan 0
In Ann Arbor, Michigan, Max Martin ran for two touchdowns, then Chad Henne threw two TD passes to Jason Avant as Michigan tied a school record with 28 points in the first quarter.
A week after losing to Notre Dame, the Wolverines (2-1) recorded their most lopsided win since beating Indiana 58-0 in 2000. They led 54-0 early in the fourth quarter after scoring on nine of 10 possessions and shut out a team for the first time since a 38-0 victory over Notre Dame two years ago.
The Eagles were handed their biggest loss since a 56-0 setback at Wisconsin in 1994.
After leading 38-0 at halftime, Michigan rested Henne, who was 13-of-19 for 147 yards with three TD passes. Martin, starting in place of the injured Mike Hart (hamstring), had a career-high 117 yards rushing.
No. 16 Georgia Tech 28, Connecticut 13
In Atlanta, Redshirt freshman Taylor Bennett, playing for Reggie Ball, threw a touchdown on his first college pass and Georgia Tech defeated Connecticut.
Ball, coming off a career-best 320 yards passing the previous week, began feeling ill Friday and was taken to the hospital Saturday morning, school officials said. He was undergoing tests and scheduled to be kept overnight.
Bennett finished 11-of-30 for 142 yards. Tashard Choice rushed for 89 yards and two touchdowns, and P.J. Daniels had his third straight 100-yard game this season, gaining 114 on 25 carries. Georgia Tech is 3-0 for the first time since 2001.
No. 18 Arizona State 52, Northwestern 21
In Tempe, Arizona, Sam Keller passed for 409 yards and four touchdowns and freshman Keegan Herring ran for 197 yards and two scores for Arizona State.
The Sun Devils (2-1) rebounded from a 35-31 loss to No. 3 LSU last week by accumulating a school-record 773 yards, 532 in the first half.
Rudy Carpenter, Keller's backup, ran 2 yards with 2:30 left to push the total past the 743 yards the Arizona State had against Stanford in 1981.
Northwestern fell to 2-1.
No. 19 Texas Tech 80,
Sam Houston State 21
In Lubbock, Texas, Cody Hodges threw for 356 yards and four touchdowns in the first half to lead Texas Tech to its highest scoring game in 52 years.
The fifth-year senior who led the nation in total offense coming into the game, added 80 yards passing and another TD throw in the third quarter to put Tech up 56-7 before backup quarterback Graham Harrell took over.
Hodges finished 26-for-37 for 436 yards.
Tech's point total was the largest since October 1953, when they put up 71 points against New Mexico A&M, now New Mexico State.
No. 22 Iowa 45, N. Iowa 21
In Iowa City, Iowa, Drew Tate returned from a concussion to throw two touchdown passes and Albert Young ran for two more scores, leading 22 Iowa to a victory.
In tying a school record with its 20th straight win at home, Iowa (2-1) got some of its confidence back after a 23-3 loss at Iowa State.
Tate showed no problems from the concussion that knocked him out of the Iowa State game, completing 15 of 18 passes for 247 yards and no interceptions. He threw touchdown passes of 11 and 71 yards to Clinton Solomon in three quarters or work.
Iowa finished with 496 yards against Division I-AA Northern Iowa (2-1).
No. 25 Virginia 27, Syracuse 24
In Syracuse, New York, Connor Hughes kicked a 19-yard field goal as time expired, and No. 25 Virginia escaped the raucous Carrier Dome.
Marques Hagans, who gained 110 yards rushing and was 16-for-26 for 145 yards passing, shook off three interceptions to lead the Cavaliers (2-0) on their winning drive.
Comments will be moderated. Keep comments relevant to the article. Remarks containing abusive and obscene language, personal attacks of any kind or promotion will be removed and the user banned. Final decision will be at the discretion of the Taipei Times.