Federer slips into semis
QUARTERFINALS Roger Federer methodically took apart David Nalbandian in a 1-hour, 40-minute sweep
Roger Federer sure knows how to kill a party.
Federer's quiet brilliance tranquilized US Open fans one night after they roared nonstop for Andre Agassi and James Blake.
Watching Federer, the defending champion and top seed, roll past Argentine David Nalbandian 6-2, 6-4, 6-1 Thursday night was like watching a rerun of a mediocre movie that has one star, no plot and no drama.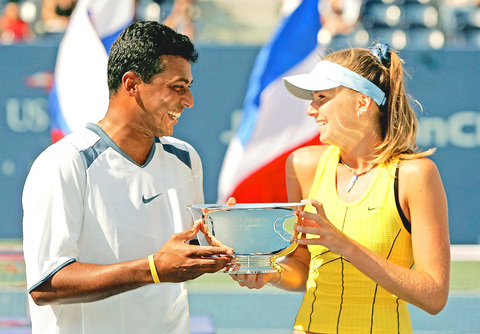 Mahesh Bhupathi, left, of India, and Daniela Hantuchova of Slovakia after being awarded the championship trophy for winning the mixed doubles final against Katarina Srebotnik of Slovenia and Nenad Zimonjic of Serbia and Montenegro at the US Open in Flushing Meadows, New York, Thursday. Hantuchova and Bhupathi won the match 6-4, 6-2.
PHOTO: AFP
Federer was too good -- too strong with his serves, too quick with his returns, too sharp on his groundstrokes and volleys -- to let the match become anything more than a predictable step into the semifinals against Lleyton Hewitt, a winner earlier in the day in five sets against Finland's Jarkko Nieminen.
Federer beat Hewitt in the Open final last year and has won their last eight matches, four in Grand Slam events, going back to the 2004 Australian Open.
"Maybe we had enough men's tennis over the last few days," said Federer, the only semifinalist who did not play five sets in the quarters.
Federer didn't shy away from saying that he couldn't play much better than he did against the 11th-seeded Nalbandian in a 1-hour, 40-minute sweep.
"I played great last year and it's just looking great again," Federer said. "It's exactly the way I should be playing at this stage of tournament because the opponents are only getting tougher. The result really shows it. I've been struggling a little bit over the last few days, but this is a great rhythm I got against David. I'm surprised it went so quick."
So was Nalbandian.
"When he plays like this, it's really tough to beat him," Nalbandian said. "That's why he's No. 1 in the world and he loses just a few matches during the year."
Federer was as enthralled by the Agassi-Blake match as the fans who stayed past 1am to watch it.
"I came back from dinner and I thought, `It's looking good for James,' and suddenly it turned around," Federer said. "What a thriller. I was up until 1:30am myself. Maybe it wasn't the best preparation, but I enjoyed it."
Hewitt, ragged at the start, virtually flawless at the end, dodged danger in yet another five-setter to keep up his bid for a second US Open title.
The third-seeded Australian, who won the Open in 2001, advanced with a 2-6, 6-1, 3-6, 6-3, 6-1 victory over the unseeded Nieminen, the first player from Finland to reach a Grand Slam quarterfinal.
Hewitt made only two unforced errors in the fifth set while putting away 15 winners to end the threat from the left-handed Nieminen. In the first set, Hewitt racked up 16 unforced errors.
"I was just struggling a little bit with my movement," Hewitt said. "Just felt a step slower, a bit sluggish out there."
Hewitt seemed flat much of the match, never even trying to rally himself with his usual cries of "Come on!" after a winner in the first four sets. Instead Nieminen generated noise from the crowd, inspiring chants of "Let's go, Jarkko!" from fans pulling for an upset by the underdog.
"I felt that he's not that confident on the court because he doesn't show those emotions that he's usually showing," said Nieminen, who had won only one match in three previous years at the Open. "Maybe he was a little bit surprised after the first set."
An Open semifinalist for the fifth time on a hard court similar to the kind he grew up on in Adelaide, Hewitt had come off an easy straight-sets victory against No. 15 Dominik Hrbaty in the fourth round. But Hewitt struggled before winning a five-setter against No. 25 Taylor Dent in the third round.
Daniela Hantuchova and Mahesh Bhupathi added to their Grand Slam titles.
The two won their first mixed doubles championship Thursday, beating Katarina Srebotnik of Slovenia and Nenand Zimonjic of Serbia-Montenegro 6-4, 6-2 in the US Open. It's the fourth title for Hantuchova, the ninth for Bhupathi.
"I feel fantastic," said Hantuchova, a Slovakian who now has doubles titles in each of the Grand Slam tournaments. "It's something really special. Now I can concentrate on my singles career."
Hantuchova and Bhupathi had never played together before the Open, but it hardly mattered. Bhupathi, from India, has now won five mixed doubles titles, all with different partners.
"The first match we were down match point in the super tiebreaker," Bhupathi said. "The fact that we fought hard and came out of that, we knew we were a good team. Since then we got better with every match."
fatwa
A Muslim organization has issued an edict demanding India's teen tennis sensation Sania Mirza cover up during matches, describing her short skirts and sleeveless shirts as "un-Islamic," newspapers reported Friday.
The 18-year-old Muslim tennis player, the first Indian woman to break into the top 50 WTA rankings, dismissed the fatwa, as the edict is known. "I have nothing to say about that," she was quoted as saying by the Hindustan Times newspaper.
A top cleric of the little-known Sunni Ulema Board said he issued the fatwa against the 18-year-old tennis player because of her "indecent dressing" on the court and in advertisements, the Hindustan Times said.
"The dress she wears on the tennis courts not only doesn't cover large parts of her body but leaves nothing to the imagination," the newspaper quoted, Haseeb-ul-hasan Siddiqui, the cleric, as saying.
He said Islam did not permit women to wear skirts, shorts and sleeveless tops in public and that she should cover up.
Mirza was ousted last week from the US open in the fourth round -- the first Indian woman to make it that far in any Grand Slam event -- and has a growing following across India. She's been profiled by the major papers, and there are several Web sites dedicated to her by fans in India, where Muslims account for about 130 million of the country's 1 billion people, most of whom are Hindu.
Siddiqui said he was worried Mirza was becoming a role model for younger generations of Muslim girls.
"She will undoubtedly be a corrupting influence on these young women, which we want to prevent," the Hindustan Times quoted him as saying in the southern Indian city of Hyderabad.
Siddiqui said Mirza should follow the example of Iranian women who wore long tunics and headscarves to play in the Asian Badminton Championship in Hyderabad earlier in the week.
Comments will be moderated. Keep comments relevant to the article. Remarks containing abusive and obscene language, personal attacks of any kind or promotion will be removed and the user banned. Final decision will be at the discretion of the Taipei Times.