Davenport, Coria advance at US Open
CHASING THE TITLE While Lindsay Davenport knocked Nathalie Dechy out in 57 minutes, it took more than four hours for Guillermo Coria to overpower Nicolas Massu
Lindsay Davenport reached the quarterfinals of the US Open in straight sets on Monday, while eighth-seeded Guillermo Coria needed more than four and a half hours to subdue Chile's Nicolas Massu in the longest match of the tournament.
The No. 2-seeded Davenport took 57 minutes to dispatch 15th-seeded Frenchwoman Nathalie Dechy, 6-0, 6-3, while Massu needed to rally to beat Massu, 6-4, 2-6, 6-7 (5), 6-2, 6-2 in a match that saw the two exchange words in the final set. No. 7 Andre Agassi and fellow American James Blake also advanced.
Agassi beat back Belgium's Xavier Malisse 6-3, 6-4, 6-7 (5), 4-6, 6-2 to become the first man over 35 to reach the quarterfinals at the US Open in 14 years, while Blake upset No. 19 Tommy Robredo of Spain, 4-6, 7-5, 6-2, 6-3 to claim his third seeded victim.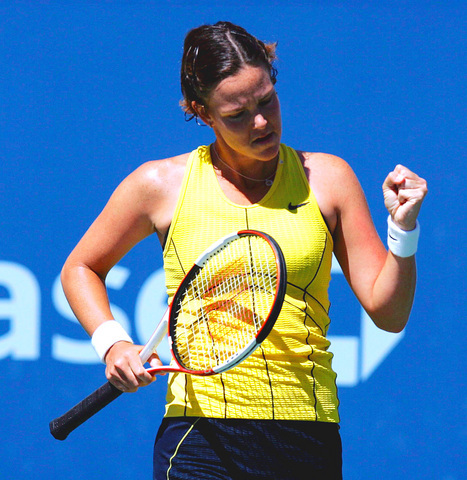 Lindsay Davenport of the US celebrates her win over Nathalie Dechy of France in the fourth round at the US Open tennis tournament at the US Tennis Center in Flushing Meadows, New York, on Monday.
PHOTO: EPA
In other women's play, third-seeded Amelie Mauresmo of France defeated No. 19 Elena Likhovtseva 6-1, 6-4, and Mary Pierce avenged her loss in the French Open final to Justine Henin-Hardenne, beating the seventh-seeded Belgian 6-3, 6-4 to complete the quarterfinal field.
Davenport, who next plays No. 6 Elena Dementieva -- last year's runner-up and a 6-4, 6-3 winner over No. 11 Patty Schnyder, hasn't lost a set since the tournament began, hasn't had a match last longer than 71 minutes and has lost only 18 games in four rounds.
"Today was the best match I've played since Wimbledon," Davenport said. "It's the kind of tennis I want to play."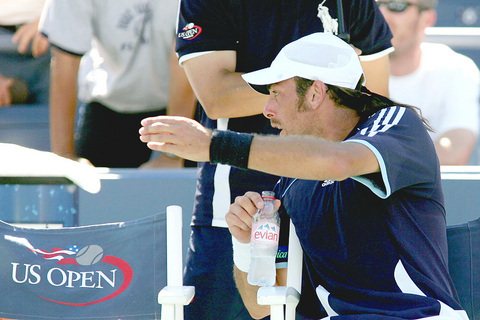 Nicolas Massu of Chile argues with Guillermo Coria of Argentina during a break in the fifth set of their US Open match in New York on Monday.
PHOTO: AFP
Davenport, who won the US Open in 1998, made only eight unforced errors in reaching the quarterfinals for the 11th time in 12 events this season. She is seeking her third final this year in a Grand Slam.
"I want to win this title again," Davenport said. "I think that you are really, at the end of the day, judged on how many Grand Slam titles you have, and probably how many titles you have."
Coria required 4:32 to prevail over Massu, breaking the Chilean twice in the final set. He celebrated by thrusting his arms upward, bending to one knee and putting a finger in the air to resemble Chilean and former River Plate striker Marcelo Salas, and hopping the net to shake Massu's hand.
The handshake appeared more like a hand slap after the two exchanged words during the changeover following the third game of the final set. Coria gestured at Massu from his chair, causing the Chilean to walk toward him. An official stepped between them, Massu did not encroach past the umpire's chair, and eventually sat down while Coria continued to speak to him.
"There were no words exchanged," Coria said. "I had an injury with three of my toenails, he implied that I was faking it, and I told him to go sit. In four and a half hours, that was it. There were no bad words."
Coria broke Massu in the next game to go up 3-1 and broke him again in the final game.
"I have not had any problems with Guillermo," Massu said. "I never felt we had a rivalry. But he was showing an attitude I didn't like. He should know if he did right or wrong. I hope it was just a misunderstanding, and if it was, we can talk about it later. If he wants to apologize, that's fine."
The victory sent Coria to a quarterfinal meeting against unseeded Robby Ginepri, who outlasted No. 13 Richard Gasquet of France 6-3, 3-6, 6-7 (8), 6-4, 6-0 to reach the quarters of a Grand Slam event for the first time.
Agassi was two points from a straight-sets win, lost the third-set tiebreak and then "appeared like the wheels were starting to come off a little bit," he said.
"I kept my head down and kept wanting to make him earn it," Agassi said. "In the third and fourth set, I felt I was a bit living on the edge with my serve. But then in the fifth, I settled down a little bit on my service games and put enough pressure on him to get that break."
With the crowd chanting his name, Agassi broke Malisse in the sixth game of the final set, then stunned the Belgian with three aces in a row to lead 5-2. He grabbed two quick points on Malisse's serve, then capped the afternoon on double-match point.
"It felt great," said Agassi, who is playing in his 20th straight Open.
"It means a lot more than the 19th and a lot less than the 21st," he said.
Agassi is the first player over 25 to get this far since Jimmy Connors made his run to the semifinals as a 39-year-old in 1991.
Dementieva said that she was thrown by the Coria-Massu marathon, which preceded her match on the No. 2 Amstrong Stadium court.
"I did my warmup, had my lunch, then fell asleep. Then I start it all over again," Dementieva said. "I was completely out of focus and it was very difficult to get into the match and just to play good."
Comments will be moderated. Keep comments relevant to the article. Remarks containing abusive and obscene language, personal attacks of any kind or promotion will be removed and the user banned. Final decision will be at the discretion of the Taipei Times.