White Sox chalk up win over Red Sox
BASEBALL Chicago cut Boston's American League East Division lead to three games with a 5-3 win, while Chipper Jones led Atlanta to a 4-2 victory over New York
Brandon McCarthy pitched seven innings of shutout ball and Paul Konerko homered off Curt Schilling to lead the Chicago White Sox over the Boston Red Sox 5-3 on Monday for their fifth consecutive win.
Juan Uribe had a single, a double and a homer in the makeup of an Aug. 14 rainout.
Boston lost for just the third time in 24 home games, and its American League East Division lead over the second-place New York Yankees was cut to three games.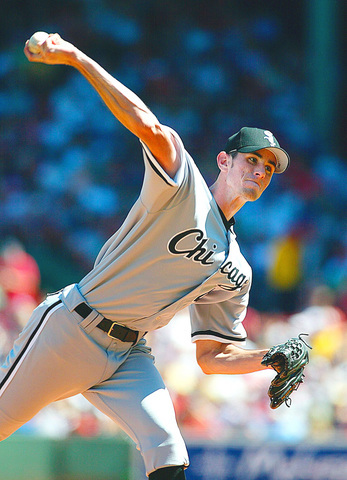 Chicago White Sox starting pitcher Brendan McCarthy delivers a pitch in the first inning against the Boston Red Sox at Fenway Park in Boston, Massachusetts, on Monday.
PHOTO: EPA
McCarthy (2-1) allowed three hits and a walk, striking out seven.
Mariners 2, Athletics 0
In Oakland, California, teenager Felix Hernandez (3-2) allowed four hits in seven innings, struck out five and walked one, dropping Oakland 1.5 games back of the Los Angeles Angels in the AL West and 1.5 games behind the New York Yankees, who lead the wild-card race.
Seattle scored in the sixth against Joe Blanton (8-11) on Adrian Beltre's sacrifice fly and Greg Dobbs' run-scoring single.
Indians 2, Tigers 0
In Detroit, Scott Elarton (8-7) allowed four hits in 6 1-3 innings as Cleveland pulled within 1.5 games of the AL wild-card lead. He had been 0-2 in five starts since Aug. 2.
Jose Hernandez homered to help send Detroit to its fifth straight loss. The Tigers haven't scored in 19 innings.
Rangers 7, Twins 0
In Minneapolis, David Dellucci hit a three-run double to back Kameron Loe (8-4), who allowed five hits in eight innings, the longest of his three starts this season.
C.J. Wilson pitched a one-hit ninth as Texas won for the 11th time in 15 games.
Minnesota made two errors that led to five unearned runs and dropped 5.5 games behind the Yankees.
Blue Jays 6, Orioles 2
In Baltimore, Gustavo Chacin (12-8) gave up one run, four hits and a walk in 6 1-3 innings to earn his first win in seven starts since July 31.
Shea Hillenbrand scored a run and drove in one. Bruce Chen (11-9) allowed two runs and five hits in six innings.
Chipper Jones hit a tiebreaking, two-run homer in the eighth inning and drove in three runs, leading the Atlanta Braves over the New York Mets 4-2 on Monday.
Andruw Jones hit his Major League Baseball-leading 45th homer for the Braves, who improved to 49-20 against the Mets at Turner Field, including 5-1 this year.
Chipper Jones hit an RBI double that tied the score in the first and homered in the eighth against Steve Trachsel (1-1).
Nationals 5, Marlins 2
In Washington, Livan Hernandez (15-6) didn't allow a hit until the fifth inning, took a shutout into the ninth, and drove in a run with one of his two singles as Washington won its third straight, all against clubs ahead of it in the tight National League wild-card standings.
Hernandez left after allowing Miguel Cabrera's two-run homer. Mike Stanton got Carlos Delgado to fly out, and closer Chad Cordero recorded the final two outs.
Cardinals 6, Cubs 4
In St. Louis, Albert Pujols hit a go-ahead, three-run homer in the eighth off Roberto Novoa (3-5), and Jim Edmonds followed with a home run off Will Ohman.
Jeff Suppan didn't allow any earned runs in six innings, and five relievers finished as St. Louis stopped the Cubs' three-game winning streak.
Jason Isringhausen forced in a run in the ninth with a bases-loaded walk to Jerry Hairston Jr, and Julian Tavarez allowed pinch-hitter Jose Macias' sacrifice fly before getting Derrek Lee to hit a game-ending double play grounder for his fourth save.
Astros 4, Phillies 3
In Philadelphia, Andy Pettitte pitched 5 2-3 scoreless innings and Lance Berkman hit a three-run homer for Houston, which moved into first place in the NL wild-card standings.
The Astros moved a half-game ahead of Philadelphia and one game ahead of Florida with their 10th consecutive win over the Phillies. Washington is 1.5 games behind Houston, while the New York Mets trail by three games.
Pettitte (14-9) allowed three hits, struck out five and walked none. Brad Lidge pitched the ninth for his 33rd save, although he gave up one run and had the tying run at third and the winning run at second before getting the final out.
Berkman's 17th homer off Brett Myers (12-7) in the first gave Houston a 4-0 lead.
Brewers 6, Reds 1
In Cincinnati, J.J. Hardy singled with the bases loaded in the eighth inning to drive in the go-ahead run and Geoff Jenkins tied his career-high with five hits for Milwaukee.
Hardy singled against Matt Belisle (3-7) with one out and pinch-hitter Jeff Cirillo followed with another single. The Brewers added three runs in the ninth.
Jenkins went 5-for-5 to outhit the Reds, who had four hits. Jenkins had five hits -- two doubles -- for the third time in his career, second this season.
Tomo Ohka (10-7) needed 74 pitches to get through seven innings, allowing three hits and one run with six strikeouts. Rookie Dana Eveland pitched the last two innings for his first career save.
Adam Dunn of the Reds tied the game in the fourth with his 36th homer of the season and first in 30 at-bats since Aug. 26.
Giants 3, Dodgers 1
In Los Angeles, Julio Ramirez scored the go-ahead run on a throwing error by third baseman Mike Edwards in the eighth inning, helping San Francisco to its sixth straight victory.
LaTroy Hawkins (2-5) earned the victory despite facing one batter and giving up the game-tying sacrifice fly to pinch-hitter Ricky Ledee. Hawkins came on with the bases loaded and one out. Ledee's fly ball to center scored Jose Cruz Jr., but Jason Werth was thrown out trying to advance to third.
Armando Benitez pitched the ninth for his 12th save.
Reliever Yhency Brazoban (2-8) gave up one run and one hit in the Dodgers' fourth straight loss.
Ramirez was running for pinch-hitter Lance Niekro, who led off the eighth with a single. He was sacrificed to second. With two outs, Moises Alou hit a grounder that Edwards fielded in the hole and threw wildly past second base, allowing Ramirez to score.
Comments will be moderated. Keep comments relevant to the article. Remarks containing abusive and obscene language, personal attacks of any kind or promotion will be removed and the user banned. Final decision will be at the discretion of the Taipei Times.