Small comes up big for NY Yankees
PRO BASEBALL Starter Aaron Small, won for the second time in as many tries after he was brought up from the minors to aid a depleted pitching staff
Aaron Small won his second straight start since the Yankees brought him up from the minors and Gary Sheffield drove in four runs, leading New York over the Minnesota Twins 6-3 Thursday.
"We can get it done regardless who's out of the lineup," Sheffield said. "I don't know what the rotation is. I don't know who's pitching or when."
Small (2-0) hadn't started a major league game since 1996 before last week, when the 33-year-old right-hander helped New York to an 8-4 victory at Texas -- his first big league win in seven years.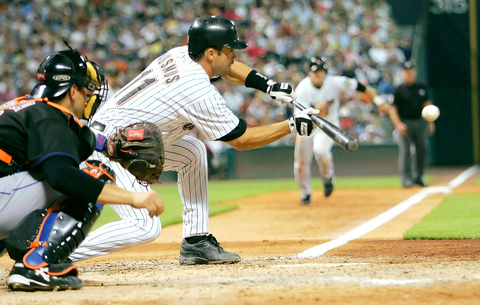 Houston Astros' Brad Ausmus, center, reaches to bunt the ball on a suicide-squeeze play as teammate Eric Bruntlett, right, runs toward home plate during the seventh inning in Houston, Texas on Thursday. Mets catcher Mike Piazza, left, waits for the pitch. Bruntlett scored on the play to tie the game at 2-2. Houston won the game 3-2 for their fifth straight and their 11th victory in 12 games.
PHOTO: AP
"Until we see something that makes us uncomfortable, you certainly want to keep looking at him," Yankees manager Joe Torre said. "Right now he seems very confident in what he does, and it's taken him a long time. And guys who stay with it to this point, the determination is there, the know-how, the intelligence on how to pitch."
He gave up three runs and six hits in seven innings, walked none and struck out one, retiring his final 12 batters.
Hideki Matsui played in his 425th consecutive game Thursday, setting a US Major League Baseball record for a player at the start of his career.
Matsui, who joined New York in 2003 after playing 10 seasons with the Yomiuri Giants in Japan, broke the record set by Ernie Banks with the Chicago Cubs from 1953-1956, according to the Elias Sports Bureau.
Rangers 2, Orioles 1
At Baltimore, David Dellucci hit a tiebreaking ninth-inning homer, and Alfonso Soriano also connected to lead Texas past Baltimore.
The Rangers took three of four from the sinking Orioles, who lost starting pitcher Sidney Ponson with a bruised right thumb. Baltimore has dropped eight of nine and is one game over .500 for the first time since April 14.
Dellucci snapped a 1-all tie with his 18th homer, a two-out drive on a 1-2 pitch from Chris Ray (0-2).
Ricardo Rodriguez pitched seven-plus innings for Texas, allowing one run and six hits. Kameron Loe (5-3) worked out of a jam in the eighth and Francisco Cordero got three outs for his 24th save.
Blue Jays 2, Angels 1, 18 innings
At Toronto, Orlando Hudson's RBI single in the 18th inning ended the longest game of the season and the longest in Toronto history as the Blue Jays beat Los Angeles.
Toronto's previous record was 17 innings, done three times previously. The last was April 19, 2001, a 6-5 loss to the New York Yankees.
Alex Rios singled off Scot Shields (6-6) with one out before stealing second and advancing to third on a wild pitch. Hudson singled to right past a drawn-in, five-man infield to end it.
Pete Walker (4-3) pitched three innings for the victory.
The game, which was 0-0 after eight innings, took 4 hours, 50 minutes, the longest in the majors this season.
Indians 6, Mariners 5
At Seattle, pinch-hitter Jose Hernandez hit a two-out RBI single in the eighth inning and Cleveland beat Seattle.
Jeff Liefer led off the eighth with a double to center off J.J. Putz (4-4). Brandon Phillips pinch ran and moved to third on Aaron Boone's sacrifice bunt. Jeff Nelson struck out Casey Blake, but Hernandez -- hitting for lefty Ben Broussard -- grounded a single to left off lefty Ron Villone to score Phillips.
Bobby Howry (6-2) got the last out of the seventh and pitched the eighth for the win. Bob Wickman worked the ninth for his 26th save.
Rookie Jeff Francoeur homered twice, Marcus Giles hit a two-run double in a three-run fourth inning, and the Atlanta Braves beat the Washington Nationals 5-4 to complete a three-game sweep.
Francoeur, who had three hits and drove in the go-ahead run with an eighth-inning double Wednesday night, had his first multihomer game.
With the sweep, the Braves stretched their lead over Washington to three games in the Major League Baseball's National League East Division after the teams entered the series tied for first place.
Cardinals 11, Padres 3
In San Diego, Chris Carpenter became the NL's first 15-game winner, Jim Edmonds hit a three-run homer and tied his career high with five RBIs, and St. Louis routed San Diego.
Albert Pujols had three hits and two RBIs and Abraham Nunez added three singles for the Cardinals, who took two of three in the matchup of division leaders.
Carpenter (15-4) held San Diego to three runs and five hits in seven innings to join Jon Garland of the Chicago White Sox as the only 15-game winners in MLB.
Diamondbacks 6, Cubs 0
In Chicago, rookie Brad Halsey pitched six innings of four-hit ball, and Luis Gonzalez and Chad Tracy homered to lead Arizona.
Halsey (7-7), acquired from the New York Yankees in the Randy Johnson trade during the offseason, won his third straight decision by striking out two and allowing just one intentional walk.
Reds 6, Dodgers 1
In Los Angeles, Jason LaRue drove in five runs with a pair of homers and Brandon Claussen pitched seven sharp innings, helping Cincinnati split the four-game series.
Claussen (5-8) won for the first time since June 21, allowing a run and four hits while striking out five. The left-hander retired 14 consecutive batters after giving up a leadoff homer in the first inning to Cesar Izturis and single by Milton Bradley one out later.
Marlins 3, Pirates 0
At Miami, Dontrelle Willis threw seven shutout innings for his first win in four starts, outdueling Kip Wells and lifting Florida over Pittsburgh.
Florida scored twice in the seventh, on Juan Encarnacion's RBI double and Mike Lowell's sacrifice fly, and that was enough for Willis (14-6). The All-Star allowed 23 earned runs in his last 13 innings coming in, but held the Pirates to three hits and struck out seven.
Wells (6-11) was just as stingy until the seventh, when he allowed a leadoff single to Jeff Conine -- just the third hit by the Marlins. Encarnacion's double came on a crisp shot down the third base line three batters later. Lowell's fly ball brought home Paul Lo Duca with the second run.
Giants 3, Brewers 0
At Milwaukee, Brad Hennessey pitched seven scoreless innings and took care of the offense with a three-run home run, leading San Francisco over Milwaukee.
Milwaukee starter Victor Santos (3-11) took a no-hitter into the fifth inning before Hennessey hit a 2-0 pitch for his first home run in 30 career at-bats.
Hennessey (4-3), one of the team's first round draft picks in 2001, rebounded from the worst outing of his short career, when he gave up eight runs in 4 1-3 innings in a 16-4 loss to Florida on Saturday. The right-hander limited the Brewers to three hits and one walk while striking out seven in his 16th major-league start.
Astros 3, Mets 2
At Houston, Brad Ausmus singled to right-center with one out in the bottom of the ninth, giving Houston a victory over New York and -- much to the delight of their fans -- ruining Carlos Beltran's return to Minute Maid Park.
Orlando Palmeiro began the winning rally with a single off Roberto Hernandez (5-4), then moved to second on a sacrifice by Adam Everett. Ausmus, who drove in the Astros' previous run on a safety squeeze bunt, solidly smacked the first pitch he saw high over the second baseman's head, leaving Beltran to jog after it, knowing the game was lost.
Dan Wheeler (1-2) pitched 1 2-3 scoreless innings for the win -- Houston's fifth straight and 11th in 12 games. The victory also moved the Astros into a tie with Washington (55-47) for the lead in the NL wild card.
Phillies 8, Rockies 5
At Denver, pinch-hitter Tomas Perez drove in the tiebreaking run with a two-out infield single in the ninth inning, and Chase Utley homered and had a career-high five RBIs to help Philadelphia beat Colorado.
Utley went 3-for-5 with his career-best 15th home run and Kenny Lofton scored two runs and drove in two for Phillies, who snapped a three-game losing streak.
Ugueth Urbina (1-0) worked the eighth inning and Billy Wagner pitched the ninth for his 22nd save in 24 chances.
David Bell doubled to left leading off the ninth against Mike DeJean (4-2), and moved to third on Ramon Martinez's sacrifice bunt. After Jimmy Rollins was walked intentionally, Perez hit the ball in the hole between first and second but second baseman Aaron Miles couldn't throw him out.
Central League leader Hanshin Tigers pounded out 11 hits at the Tokyo Dome on Thursday to crush the Yomiuri Giants 9-1.
Akihiro Yano, Tomoaki Kanemoto and Makoto Imaoka each homered off Scott Mullen in the second inning batting spree. Imaoka sparked the rout with a run-scoring single after Yano's solo shot as the Tigers sent 10 batters to the plate in the inning.
Andy Sheets delivered a two-run single before Kanemoto belted a three-run shot and Imaoka homered to the left.
Yuya Ando (5-5) threw a four-hitter and struck out nine without a walk to pick up his career first complete game.
At Jingu Stadium, Alex Ramirez and Norichika Aoki drove in four runs together as Yakult Swallows beat Hiroshima Carp 6-2.
Ramirez hit a two-run bases-loaded single with two out in the fifth and Aoki added a safe margin with his two-run double in the sixth.
Hirotoshi Ishii picked up his 21st save.
Pacific League
Tomochika Tsuboi fired a tie-breaking single, triggering an eight-run offensive in the seventh as the Nippon Ham Fighters overwhelmed the front-running Rakuten Eagles 12-2.
Satoru Kanemura (9-7) scattered nine hits and struck out four with no walks to pick up his first win in a month. Hisashi Iwakuma (7-9) took the loss after giving up eight runs and 13 hits in 6 1/3 innings.
The Yankees' Hideki Matsui played in his 425th consecutive game Thursday, setting a Major League Baseball record for a player at the start of his career.
Matsui, who joined New York in 2003 after playing 10 seasons with the Yomiuri Giants in Japan, broke the record set by Ernie Banks with the Chicago Cubs from 1953-1956, according to the Elias Sports Bureau.
Matsui went 1-for-4 in the Yankees' 6-3 win over the Minnesota Twins and is hitting .309 with 17 homers and 78 RBIs.
Comments will be moderated. Keep comments relevant to the article. Remarks containing abusive and obscene language, personal attacks of any kind or promotion will be removed and the user banned. Final decision will be at the discretion of the Taipei Times.