British Open experiences a big chill
PRO GOLF TOUR The weather dictated events, with Jeong Jang of China battling the conditions best to achieve a 68, four under par for the 6,463-yard course
Leading the teenage takeover of women's golf, Michelle Wie and Paula Creamer lie seven shots off the lead going into the second round of the British Open.
Don't count them out yet.
"I don't think I'm that far behind with the conditions like this," said Wie, the 15-year-old Hawaiian amateur who is expected to dominate women's golf for years to come. "I have three more days to go. We're not finished yet."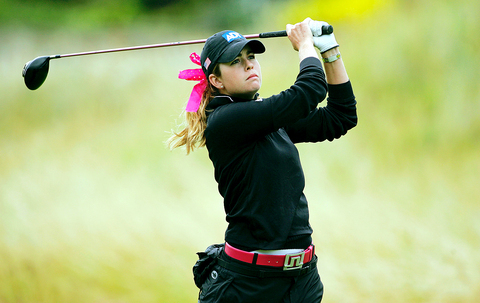 Paula Creamer of the US tees off on the sixth hole, on the first day of the Women's British Open at the Royal Birkdale course near Southport, England, Thursday.
PHOTO: AP
Creamer, 18-year-old winner of last week's Evian Masters in France, is confident of a low second round after she also carded a 3-over 75. "Tomorrow I'll be out early so I'll try to go as low as I can," she said.
She believes that whereas Thursday's early starters had better weather at the start of their rounds than she did in the afternoon, she would have that advantage Friday by beginning early.
She may be wrong. The rain, wind and chilly weather that caught the players Thursday is forecast to hang around for another day at least.
The weather dictated events Thursday, with Jeong Jang of China battling the conditions best to seize the lead on 68, four under par for the 6,463-yard course.
Sophie Gustafson, the 2000 winner here, was one behind, followed by Chile's Nicole Perrot.
Wie took Thursday's weather as a positive.
"When the wind and the rain start flying like this, the golf course becomes really different," she said. "It's really exciting. It was a new experience for me."
Tiger Woods' two dominant runs came to a startling halt.
Woods followed up his five-shot victory at the British Open and eight straight rounds in the 60s at Warwick Hills with a 1-under 71 in the first round.
"It's been a while where I didn't get anything out of my round, not one shot," Woods said.
Nick Watney, whose only previous notable moment was playing with Michelle Wie earlier this month, headed into Friday's second round at 8 under, one shot ahead of Vijay Singh and Jason Bohn.
The 24-year-old rookie has missed seven straight cuts, breaking 70 only once, after his season-best 11th-place finish at the Wachovia Championship.
"I was pretty low there for a while, so it was nice to have a round like this," he said.
Watney was in Wie's group at the John Deere Classic, where he finished six shots behind the 15-year-old phenom.
Jim Furyk (66) and five others went into the second round two shots behind the unlikely leader.
"I'm in a position right now that I think about trying to stay at the top, and not just to make the cut," Watney said.
Woods had his worst round at the Buick Open since his first in 1997, and ended his tournament-record tying streak of eight straight rounds in the 60s. Woods won here in 2002, then tied for second and third the past two years.
"I didn't play awful, that's the great thing," Woods said. "I'll just go ahead and handle my business [Friday] and if I get something out of my round, I'll be fine."
If Woods doesn't, he will be in danger of missing the cut for the second time this year. He missed the cut in May at the Byron Nelson Championship, the first time in more than seven years he left a tournament before it ended.
The cut at the Buick Open is usually between 2 under and 4 under.
Marc Cayeux of Zimbabwe shot an 8-under-par 63 to take a one-stroke lead after the opening round of the 1.6 million euros (US$1.92 million) Scandinavian Masters.
It's the first time the 27-year-old English-born Cayeux has been in the lead of a European Tour event, and his score would have tied the Kungsangen's King's Course record but for the soggy course that resulted in preferred lies.
Cayeux won twice on the European Challenge Tour last year to earn his European card for this season but found it tough to adjust to playing on the regular European circuit.
"It was a whole reality check for me at the start of the season," he said. "I've watched these guys on TV for years and then I come out and play with these guys ...
"But I've been working with psychologist John Pates and he reminds me that I've earned the right to be here."
Sweden's Niclas Fasth, who won last week's European Tour event in Germany, was Cayeux's closest challenger after playing the first 11 holes in 5 under par.
But the former Ryder Cup player duffed his approach to the third, his 12th hole, and four-putted from about six meters to run up a triple bogey seven. Fasth also took a double bogey on the sixth and eventually finished with a 2-under 69.
England's Barry Lane was alone in second place after a 64.
Mark Hensby of Australia, who tied for fifth in the US Masters in April and shared third in the US Open, shot 65 and shared third with Sweden's Robert Karlsson.
Adam Scott, another Aussie ranked seventh in the world and the 2003 winner of the tournament at Barseback in Sweden, shot 70.
Jesper Parnevik, a two-time British Open runner-up and three-time Ryder Cup player who grew up a short drive from the course, shot a 71 in his first competitive round in two months.
Arnold Palmer's competitive golfing days are rapidly sifting away.
After fading to a bleak 14-over 85 on Thursday in the opening round of the US Senior Open, Palmer said he planned on playing in only three more Champions Tour events.
"I just played awful," the 65-year-old said.
He played his first nine holes in 6-over 41 and parred the next two holes, but then played the final seven in 8 over.
"I will play next week, for a lot of reasons, in Minneapolis, and I'll play Houston because of my association there, and probably the First Tee at Pebble Beach. And that's it. That's all I'll play," he said.
Asked if he had put any thought into playing on tour in 2006, he said, "I have no intentions of playing at all -- maybe a few charity events -- and that will be it."
Pressed about not playing in any Champions Tour events, Palmer backed off.
"Well, I won't say no, but it's not likely that I'm going to play very much," he said.
Palmer, who turned pro 50 years ago, won 62 US PGA Tour events. He energized the game, providing panache, emotion and color to a staid gentleman's game. Palmer's rivalry with Jack Nicklaus in the 1960s brought golf into the mainstream of American sports.
Now he finds it nearly impossible to avoid the frustrations that dog most high-handicappers at muni courses.
Comments will be moderated. Keep comments relevant to the article. Remarks containing abusive and obscene language, personal attacks of any kind or promotion will be removed and the user banned. Final decision will be at the discretion of the Taipei Times.