Hackett smashes Thorpe's record
SECOND GOLD The big Australia impressed friend and foe alike with his performance in the 800m freestyle, in which he broke Ian Thorpe's four-year-old record
Grant Hackett is used to swimming in the shadow of others. First, Kieren Perkins. Then, Ian Thorpe. Now, Michael Phelps.
It's time to give the big Aussie his due.
Hackett bumped off one of the sport's most enduring world records on Wednesday night, leaving everyone else in his wake on his way to eclipsing Thorpe's mark in the 800m freestyle.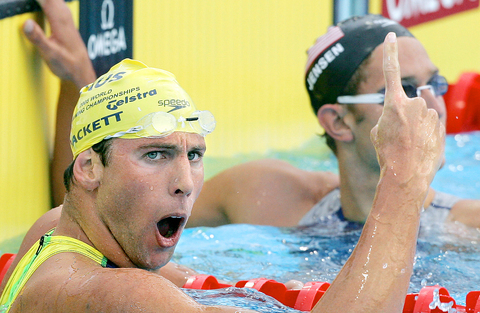 Grant Hackett of Australia reacts after winning the men's 800m freestyle final on Wednesday at the FINA Swimming World Championships ar Parc Jean-Drapeau in Montral, Canada. Hackett won the gold and set a new world record with a time of 7:38.65
PHOTO: AFP
Even Phelps was impressed.
"Congratulations. That was great to watch," Phelps told Hackett when the two ran into each other in the massage area.
Indeed, it was. The 1.98m tall Hackett claimed his second gold and third medal of the World Swimming Championships with a time of 7 minutes, 38.65 seconds, breaking the mark set four years ago by his countryman Thorpe.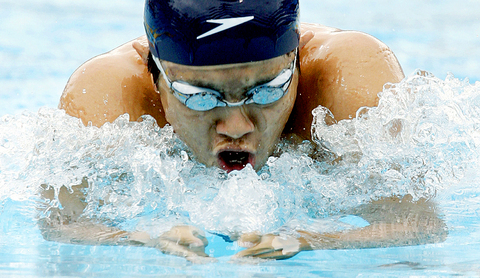 Tsai Kuo-chuan of Taiwan swims in a preliminary heat of the men's 200m individual medley on Wednesday in Montral, Canada.
PHOTO: AFP
Hackett was more than five seconds under Thorpe's pace at 600 meters, but it got tight at the end.
When Hackett touched the wall, his head popped out the water and he turned to look at the scoreboard. "Yeah!" he screamed upon seeing the time -- 51-hundredths of a second under Thorpe's record of 7:39.16.
Appropriately, Hackett held aloft his right index finger.
No. 1.
"That was a fast world record, and Ian is one of the greatest swimmers of all time," Hackett said. "Any record is great, but to get one of Ian's records is a little more satisfying."
When Hackett was coming along, Perkins was the icon of Australian distance swimming. As Perkins faded away, Thorpe emerged as the sport's dominant figure. Then it was Phelps, taking on the role with his six-gold, eight-medal performance at the Athens Olympics.
Through it all, Hackett keeps plugging along. He holds world records in both the 800 -- a non-Olympic event -- and 1,500 freestyle. He's the most prolific medal winner in meet history.
"I feel I've done enough to prove myself," said Hackett, savoring his 15th world championship medal -- two more than anyone else. "It's more personally satisfying than anything else."
Phelps had his busiest day of the championships, swimming four times to qualify for the finals of the 100 free and 200 individual medley.
"It's pretty much downhill from here," Phelps said. "I have a morning to sleep in, then let loose tomorrow night."
The 20-year-old American is on pace to win seven medals, but Hackett isn't done, either. The 1,500 is his signature event and he'll anchor the Aussies in the 800 free relay, expected to be a spirited battle with Phelps and his U.S. teammates.
Comments will be moderated. Keep comments relevant to the article. Remarks containing abusive and obscene language, personal attacks of any kind or promotion will be removed and the user banned. Final decision will be at the discretion of the Taipei Times.