Kansas City rally to defeat Chicago 6-5
BASEBALL Two homers by Mike Sweeney and a run-scoring single in the 13th inning by Emil Brown helped Kansas City turn a five-run deficit into victory
Mike Sweeney homered twice and drove in five runs, and Emil Brown hit a run-scoring single in the 13th inning as Kansas City overcame a five-run deficit and beat Chicago 6-5 on Wednesday.
"We faced probably one of top three pitchers in the American League in Garland," Sweeney said. "When we got down five to nothing, I thought, man it is going to be tough, but we can do it. We marched back and never quit."
White Sox starter Jon Garland, trying to become the first 16-game winner in Major League Baseball, left in the eighth with a 5-2 lead but his bullpen couldn't hold it, partly because of sloppy fielding.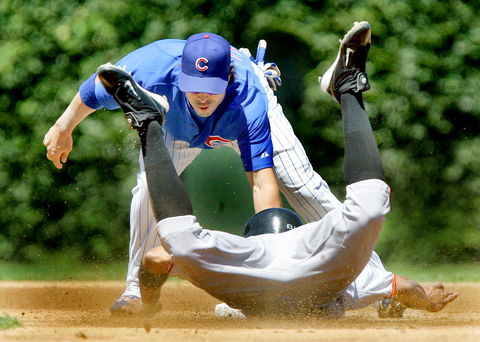 San Francisco Giants' Jason Ellison, bottom, is tagged out trying to steal second by Chicago Cubs second-baseman Todd Walker during the first inning on Wednesday in Chicago.
PHOTO: AP
"This is the best club in baseball and we beat [Mark] Buehrle and Garland back-to-back," Royals manager Buddy Bell said. "It doesn't really get any better than that."
The Royals, who won two of three in the series, got seven shutout innings from their bullpen with Shawn Camp (1-2) getting a win for a perfect 13th.
Athletics 5, Indians 4, 10 innings
In Oakland, California, Marco Scutaro singled to drive in the winning run in the 10th and Oakland won for the eighth time in nine games and improved to 8-2 in extra innings this year.
Mark Ellis hit a two-out single in the 10th and Jay Payton followed with a double off David Riske (2-3), who then gave up Scutaro's single. Rookie Huston Street (4-1) pitched two innings for the victory.
The A's tied it in the ninth against closer Bob Wickman, who had converted his previous 11 saves.
Red Sox 4, Devil Rays 1
In St. Petersburg, Florida, Tim Wakefield scattered six hits over 7 1-3 innings, and Curt Schilling earned the save by getting the final out of a nervous ninth inning to give Boston a victory over Tampa Bay on Wednesday.
Wakefield (9-9) allowed an unearned run in the fourth to win for the first time since July 5.
Blue Jays 3, Angels 2, 10 innings
In Toronto, Brendan Donnelly's wild pitch with the bases loaded and one out in the bottom of the 10th inning gave Toronto a win over Los Angeles.
Russ Adams led off with a single off Donnelly (6-3) and Frank Catalanotto laid down a sacrifice bunt. Donnelly intentionally walked Vernon Wells to face rookie Aaron Hill, who ended an 0-for-18 slump with an infield single to third before the decisive wild pitch.
Toronto's Miguel Batista (5-3) pitched two innings, and the Blue Jays handed the Angels lost their third straight defeat. Batista escaped a bases-loaded jam when he got Bengie Molina to hit a comebacker to end the Los Angeles 10th.
Corey Koskie and Alex Rios had RBIs for the Blue Jays. Vladimir Guerrero homered for the Angels.
Twins 7, Yankees 3
In New York, Johan Santana allowed seven hits in seven innings, and Minnesota ended a 10-game regular-season losing streak at Yankee Stadium.
Santana (10-5) struck out five and walked two. Joe Nathan got four outs for his 28th save.
Justin Morneau gave Minnesota the lead against Al Leiter (1-2) -- who pitched five innings -- with an RBI double in the third. Torii Hunter's RBI single and Shannon Stewart's two-run double made it 4-0 in seventh.
Jacque Jones added a two-run homer in the eighth and Morneau connected in the ninth.
Mariners 9, Tigers 3
At Seattle, Jamie Moyer worked eight innings for his 201st career win and Richie Sexson homered twice to lead Seattle over Detroit.
Moyer (9-3) used his usual array of curveballs and changeups, improving his career mark to 201-148.
He gave up two runs and eight hits with two walks and five strikeouts to win for the first time since July 8.
The Mariners raced to a 6-0 lead in the second inning against Mike Maroth (8-11). He gave up and five hits and six runs -- three earned -- in 1 2-3 innings.
Detroit's Magglio Ordonez singled leading off the fourth, extending his career-high hitting streak to 20 games.
Rangers 11, Orioles 8, 11 innings
At Baltimore, Gary Matthews hit a three-run homer in the 11th inning to complete his first career two-homer game, and Texas overcame a milestone shot by the Baltimore's Sammy Sosa.
Matthews connected off Jorge Julio (3-3) after Richard Hidalgo reached on a walk and Mark DeRosa singled.
Hours earlier, Sosa hit his 587th homer to move into sole possession of fifth place on the career list. Sosa's 13th homer, his third in four games, broke a tie on the career chart with Frank Robinson that had lasted about 24 hours.
Miguel Tejada and Javy Lopez also homered for the Orioles, who lost for the seventh time in eight games. Francisco Cordero (2-1), who blew a two-run lead in the ninth, pitched two innings. James Baldwin worked the 11th for his first save since 2003.
AP, CHICAGO
Jeromy Burnitz hit a winning single in the ninth inning as the Chicago Cubs rallied past the San Francisco Giants 4-3 on Wednesday for their fourth victory in five games.
Chicago trailed 3-2 in the eighth inning when pinch-hitter Matt Murton hit a fly ball that right fielder Michael Tucker lost in the sun and allowed to drop for the tying RBI single.
In the ninth, Jody Gerut pinch hit for pitcher Ryan Dempster (5-3) and was walked by Kevin Correia (1-3) leading off the inning. Derrek Lee, who leads the major leagues with a .367 average, was intentionally walked, and Burnitz scored him with a sharp single to right.
"I think I swung at ball four, a high fastball," Burnitz said of the foul ball. "Then he threw me a slider that was right there to hit, and I took a good hard hack at it."
Cubs starter Carlos Zambrano allowed three runs and 11 hits in 7 1-3 innings, while Giants starter Brett Tomko allowed two runs and five hits in seven innings, struck out six and walked three.
"He asked me if I wanted to go out in the eighth inning," Zambrano said of manager Dusty Baker. "I said yes. I felt competitive and I want to throw eight innings today. I just made a mistake in the eighth inning today and I paid for it."
Diamondbacks 3, Brewers 0
At Milwaukee, Claudio Vargas won for the fourth time in five decisions, and Arizona scored on a wild pitch and two errors to beat Milwaukee.
Vargas (4-5) allowed six hits in six innings, struck out six and walked one to beat former Washington teammate Tomo Ohka (6-6). Vargas, claimed off waivers on June 3, has made seven starts since taking over the rotation spot of Russ Ortiz, who has a broken rib.
Brian Bruney pitched a perfect ninth for his 12th save in 15 chances.
Braves 4, Nationals 3
At Atlanta, Jeff Francoeur had three hits and two RBIs, including a decisive double in the eighth inning that gave the Braves a two-game lead over Washington in the National League East.
Tim Hudson gave up a run on five hits in seven innings, handing his bullpen a 3-1 lead. But John Foster walked two batters to start the eighth before Dan Kolb (3-6) gave up RBI singles to Jose Guillen and Nick Johnson.
In the bottom of the inning, Chipper Jones singled with two outs and stole second before Adam LaRoche was intentionally walked to bring up Francoeur. He blooped a double to shallow center off Gary Majewski (2-2), and Atlanta won its second straight in the three-game series.
Astros 3, Phillies 2
At Houston, Roger Clemens pitched seven innings, and the streaking Astros benefited from a fielding gaffe by Philadelphia pitcher Vicente Padilla.
The Astros won their fourth straight and 10th in 11 games. They swept the three-game series, beating the Phillies for the ninth straight time and improving to 18-2 in their last 20 home games.
Clemens (9-4) gave up six hits, walked two and struck out four. His major league-leading ERA is 1.46 after his sixth win in his last seven decisions. Brad Lidge pitched the ninth for his 24th save.
Orlando Palmeiro doubled in the first run in the second, and later scored when Padilla (5-9) failed to catch a popped up bunt by Brad Ausmus. Lance Berkman added an RBI single in the third.
Chase Utley and Mike Lieberthal had RBIs for Philadelphia.
Marlins 3, Pirates 1
At Miami, Juan Encarnacion and Damion Easley homered, and Jason Vargas pitched three scoreless innings after a second rain delay for his first major league victory.
Encarnacion hit a two-run shot in the fourth off Ryan Vogelsong (0-1). Easley had a solo homer off Salomon Torres in the seventh.
Vargas (1-0) retired nine of the 10 batters he faced. He struck out five of the first six after taking over for Ismael Valdez. Todd Jones pitched the ninth for his 17th save.
Pittsburgh rookie Chris Duffy went 3-for-4, including an RBI single in the seventh. Duffy, 4-for-5 in Pittsburgh's 6-3 win Tuesday, singled and tripled in his first two at-bats to give him six consecutive hits.
Other games
In other National League action, the Mets beat the Rockies 9-3 at Denver, the Padres beat the Cardinals 2-1 at San Diego and the Reds beat the Dodgers 7-6 at Los Angeles.
Comments will be moderated. Keep comments relevant to the article. Remarks containing abusive and obscene language, personal attacks of any kind or promotion will be removed and the user banned. Final decision will be at the discretion of the Taipei Times.