Former Wimbledon champions face off
Roger Federer and Lleyton Hewitt were the only two former Wimbledon champions in the men's singles draw for this year's tournament.
Just one of them will get a chance to win another.
The world's top two players, who have combined to win the last three titles at the All England Club, meet in the semifinals. Andy Roddick faces Thomas Johansson in the other semifinal.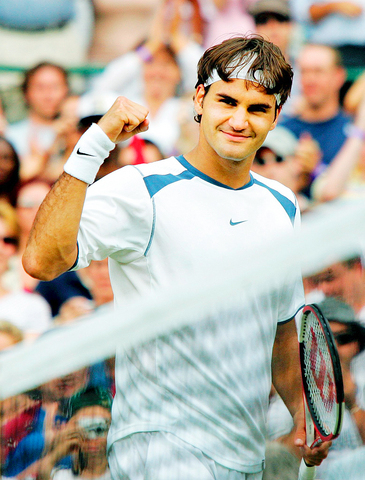 Defending champion Roger Federer of Switzerland celebrates his victory over Fernando Gonzalez of Chile after their quarterfinal match for the Wimbledon Championships in London on Wednesday. Federer won the match in straight sets 7-5, 6-2, 7-6.
PHOTO: EPA
Two-time defending champion Federer has won 34 straight matches on grass and has beaten 2002 winner Hewitt seven straight times to improve to 9-8 against the Australian.
"We've played on so many occasions now that I think we know each other's game so well," said Federer, who beat Hewitt earlier this year at Indian Wells, California. "I'm really looking forward [to this match] because this time he's fit, not like in Indian Wells."
Hewitt, who is ranked second but seeded third, has missed much of this year's tour because of injury. He had foot surgery this spring, then missed the French Open after cracking two ribs when he fell down stairs at his home in Sydney.
In his return, Hewitt reached the quarterfinal at Queen's. Federer, meanwhile, won his third straight title at Halle, Germany.
"He's really taken his game to another level in the last couple of years," Hewitt said. "He's got to be confident against anyone."
And Federer, who is trying to join Bjorn Borg and Pete Sampras as the only men in the past 70 years to win three straight Wimbledons, should be confident.
Besides his grass-court winning streak, the second longest in the Open era, the top-ranked Swiss is 56-3 this year and the only player to reach the semifinals at all three Grand Slam events.
"He's nearly been unbeatable in certain matches," Hewitt added. "You still got to go out there and try and make him not play his best tennis.
``He doesn't have a lot of big weaknesses out there, but you've got to try and pin something down."
The last time Hewitt beat Federer was in the semifinals of the Davis Cup in 2003, rallying from two sets down.
"That match in a way gave me a lot of confidence because he beat me on many, many occasions before that," Federer said. "I really had the feeling I could dominate almost for three entire sets against him."
Both have done pretty well at this year's Wimbledon. Federer has dropped just one set in his five matches, while Hewitt has lost two.
Still, Hewitt thinks it's odd that the top two players in the world rankings are meeting in the semifinals instead of the final.
Comments will be moderated. Keep comments relevant to the article. Remarks containing abusive and obscene language, personal attacks of any kind or promotion will be removed and the user banned. Final decision will be at the discretion of the Taipei Times.