Jan Ullrich has one last chance to overcome Lance
While Lance Armstrong bids to end his career with a seventh straight Tour de France win, longtime rival Jan Ullrich is close to another record.
The German has finished as Tour runner-up five times -- just one less than the record held by Dutchman Joop Zoetemelk. But with one last chance to beat Armstrong he has no intention of equaling Zoetemelk's feat.
"Lance is the man to beat and he will be under pressure because everyone will be attacking him," Ullrich said Thursday at a news conference. "This is the last time I can beat him, so naturally it is an extra motivation for me."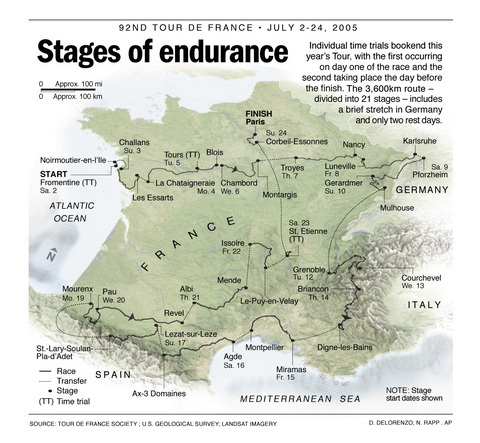 Ullrich's career started brightly when he finished second to Bjarne Riis on his debut in 1996 -- the year Armstrong abandoned mid-race and the only time Ullrich has ever beaten him in the Tour. Armstrong missed the 1997 and 1998 Tours because of testicular cancer and his recovery from it.
During Armstrong's absence, Ullrich won his only Tour in 1997 and has finished runner-up four times since -- to Italian Marco Pantani in 1998 and to Armstrong in 2000, 2001 and 2003. Ullrich was widely tipped to become cycling's biggest star -- but Armstrong took that mantle away from him.
"We have had many great battles over the years," Ullrich said. "Cycling will miss him when he retires as he has been the dominator. If he has a party, I hope he will invite me. There would be some special feelings."
Last year's fourth-place finish is the only time Ullrich has finished off the podium in seven Tour participations. Ullrich has never abandoned, but did not take part in1999 because of a knee injury, and sat out again in 2002.
In 2003 he came back from a 14-month break that included two knee operations and a doping ban imposed after he tested positive for a recreational drug.
Armstrong pulled out in 1993, 1994 and 1996, and finished 36th in 1995. Since 1999, he has won every Tour and has clinched 21 stage wins compared with seven for Ullrich.
Comments will be moderated. Keep comments relevant to the article. Remarks containing abusive and obscene language, personal attacks of any kind or promotion will be removed and the user banned. Final decision will be at the discretion of the Taipei Times.