Celtic secures Scottish Cup
EUROPEAN FOOTBALL Although Celtic suffered a loss to Motherwell last week that cost them the league title, they were able to regroup to defeat Dundee United 1-0
Celtic won its 33rd Scottish Cup on Saturday, beating Dundee United 1-0 and giving departing manager Martin O'Neill a final trophy.
Celtic scored in the 11th minute when Alan Thompson's free kick went in off Dundee United defender Garry Kenneth.
Craig Bellamy won a penalty for Celtic in the 85th minute when he was tackled by Kenneth in the box, but Chris Sutton slipped while taking the spot kick and the ball went over the bar.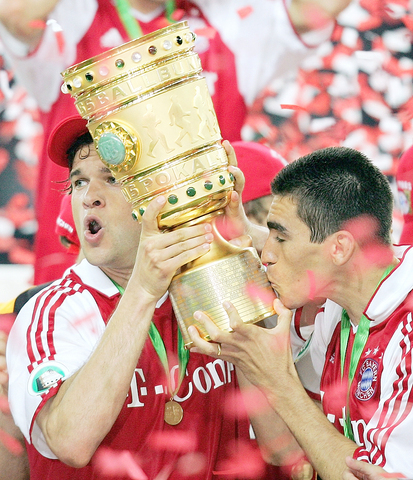 Lucio, right, of FC Bayern Munich, celebrates with Michael Ballack after defeating Schalke 04 2-1 Olympia Stadium in Berlin to win the German Cup on Saturday.
PHOTO: AP
Last weekend, Celtic gave up two goals in the final two minutes to lose to Motherwell 2-1. The loss, coupled with Rangers' 1-0 victory over Hibernian, snatched the Premier League title from Celtic and handed it to its bitter rival.
"It was hard to get up for the game after last week even though it is a cup final," Thompson said. "We have been so down and so low this week. You can't really explain how we have been feeling after last weekend."
O'Neill resigned three days after the loss to Motherwell, citing his need to care for his wife, Geraldine. She has been diagnosed with lymphoma, a potentially fatal condition.
"It was a brilliant effort by the players and we deserved to win it," O'Neill said. "But, like last week, we couldn't put the game away. The players have been terrific bunch for a long, long time."
The 53-year-old O'Neill won three league titles, three Scottish Cups and the League Cup in his five years at Celtic.
Former Southampton and Coventry manager Gordon Strachan will take over Celtic on June 1. The change in manager is likely to be followed by a wholesale player change.
Bellamy's loan from Newcastle ended Saturday and the contracts of captain Jackie McNamara and midfielder Neil Lennon have also finished.
Bayern Munich completed its fifth domestic double when Hasan Salihamidzic came off the bench to score the winning goal in a 2-1 win over Schalke in the German Cup final.
In his first season as coach of Bayern, Felix Magath won the Bundesliga championship and the German Cup. Schalke finished runner-up to Bayern in the league.
"We had a difficult start to the season, but at the end we showed that we are the top team in Germany," Magath said.
Bayern, which had lost to Schalke twice in the league, dominated the first half and had a penalty and a score denied in dubious decisions, but Salihamidzic's goal in the 76th minute appeared to come from an offside.
The goal stood, however, and Bayern celebrated its 12th cup triumph after winning its 18th Bundesliga championship.
"Bayern had more chances, it's a pity that the decisive goal came from an offside, but overall the better team won today," Schalke coach Ralf Rangnick said.
In a scrappy final at Berlin's Olympic stadium, Bayern went ahead after 42 minutes.
Ze Roberto suddenly found himself with open space in front of the Schalke goal but his shot hit the post. Roy Makaay pounced on the rebound, his first effort was blocked by goalkeeper Frank Rost, but the Bayern striker buried his second attempt into the roof of the net.
Just before halftime, Schalke striker Ailton earned a contested penalty after going down in a tackle by Willy Sagnol.
Lincoln converted the 45th-minute penalty to level the score.
Both teams created few scoring opportunities after the break, until Salihamidzic collected Makaay's low cross to score just minutes after coming on for Bastian Schweinsteiger.
On a warm night, the players got some unexpected refreshment when the sprinkler system at the stadium that will host next year's World Cup final went off suddenly. The match was interrupted briefly while the water was turned off.
Spanish champion FC Barcelona drew 0-0 with Real Sociedad in its final league match of the season.
Barcelona, which played without five of its title-winning team including Ronaldinho and Deco, gave a relaxed display at Sociedad's Anoeta stadium. The champions were applauded by their opponents before the match.
Barcelona striker Samuel Eto'o had four goal-scoring opportunities, however, twice hitting the side netting and twice thwarted by Sociedad goalkeeper Asier Del Riesgo.
Defender Oleguer Presas nearly gave Sociedad the lead in the 15th when he headed the ball off his own bar.
Barcelona finished its season with 84 points.
In the other game, Real Madrid concluded a disappointing season by beating Zaragoza 3-1 on goals by Michael Owen, Roberto Carlos and Ronaldo.
Madrid, which hasn't won a major trophy in two years, finished in second place with 80 points and a 10-match unbeaten streak.
Kieran Richardson scored twice in his first appearance for England, leading a 2-1 victory over the US Saturday in the teams' first meeting in more than a decade.
Clint Dempsey scored his first career goal in the second half to spoil England's shutout.
The match, the first in a two-game US trip for England, was the first time the US and English had played since 1994, when the English won 2-0 at Wembley to avenge a loss in Foxboro, Massachusetts, the year before.
England played a largely second-choice lineup with Joe Cole, Ashley Cole and Sol Campbell the only regulars. David Beckham and Michael Owen are expected to join the team for tomorrow's game against Colombia in New Jersey.
Soldier Field looked more like an English stadium. Banners featuring the English flag and various English clubs ringed the field and the first row of seats.
The Americans finally scored in the 79th minute, when Donovan took a free kick and Carlos Bocanegra flicked it while sliding in front of the goal. England goalie David James made a nice kick save, but the ball caromed straight back at Dempsey, who headed it in.
Comments will be moderated. Keep comments relevant to the article. Remarks containing abusive and obscene language, personal attacks of any kind or promotion will be removed and the user banned. Final decision will be at the discretion of the Taipei Times.