Safin sets early pace at French Open
`DARK HORSE' Australian Open champion Marat Safin of Russia yesterday had an excellent start to his French Open campaign, beating Raemon Sluiter 6-1, 4-6, 6-4, 6-2
Reigning Australian Open champion Marat Safin advanced to the second round of the French Open yesterday along with former champions Justine Henin-Hardenne and Juan Carlos Ferrero.
Safin, the third seed from Russia, won 6-1, 4-6, 6-4, 6-2 in just under two hours against Dutchman Raemon Sluiter and next faces Czech qualifier Lukas Dlouhy for a place in the third round.
The Russian did not have it all his own way against Sluiter, who took the second set, but he admitted that he has high hopes over the next two weeks of winning his second Grand Slam of the season.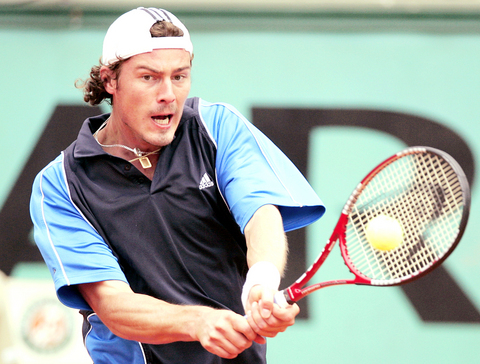 Russia's Marat Safin hits a backhand to The Netherlands' Raemon Sluiter during their first-round match at the French Open in Paris yesterday.
PHOTO: AP
"I prefer to be a dark horse. Like that I don't have any expectations and pressure on me," the 25-year-old former US Open champion said.
Henin-Hardenne, the 2003 women's champion, and Ferrero, winner of the men's title the same year, got their campaigns off to winning starts.
It was a confidence-booster for both players who suffered the ignominy of equalling the worst-ever records by defending champions when they fell in their second round matches last year.
Henin-Hardenne needed three sets to see off Spanish veteran Conchita Martinez 6-0, 4-6, 6-4 in 2hr 16min, while Ferrero, eased past Slovak Karol Beck 6-4, 6-3, 6-3 in 1hr 53min.
Beck, seeking his first win in Roland Garros was no match for Ferrero, seeded 32nd, who now faces either France's Fabrice Santoro or Jan Hernych for a place in the third round.
Henin-Hardenne, among the favorites for the Roland Garros title this year after putting her seven-month absence behind her to win three claycourt titles, achieved her seventh win in as many meetings with the 33-year-old former Wimbledon champion Martinez.
The 22-year-old Belgian coasted in the first set but Martinez, competing in her 18th Roland Garros, fought back in the second which lasted just under an hour, helped by six Henin-Hardenne double faults.
Despite being broken when serving for the match the Belgian held firm to take the tie on her first match point and advance to meet either Spaniard Virginia Ruano Pascual or Belarus qualifier Anastasiya Yakimova.
Russian sixth seed Svetlana Kuznetsova had an easy 6-1, 6-1 win over French wildcard Mathilde Johansson, and next faces Sweden's Sofia Arvidsson for a place in the third round.
Myskina out
The first Russian woman to win a grand-slam crown, Anastasia Myskina on Monday became the first French Open champion to lose in the opening round as she was beaten 6-4, 4-6, 6-0 by doughty Spaniard Maria Sanchez Lorenzo.
Where 12 months ago the elfin Myskina had triumphed in glorious Parisian sunshine, her brief defense fell to pieces on center court as storm clouds gathered overhead.
Drained by concerns over her mother's health, the Russian's heart simply was not in it and despite mustering a modicum of resistance in the second set she handed her 109th-ranked opponent the match with her 69th unforced error.
Since the tournament opened up to international competitors in 1925, only twice had competing champions failed to reach the second round. But neither Hungary's Jozsef Asboth in 1948 nor Spain's Manuel Santana in 1965 were beaten -- both handed their opponents walkovers.
"Tough times," Myskina said, tears glistening in her eyes. "It doesn't seem to take much to beat me these days, huh? I just have no confidence. I hit the ball and it just goes off the court... I have no explanation."
Myskina's defeat opened up the draw for 11th seed Venus Williams of the US.
Comments will be moderated. Keep comments relevant to the article. Remarks containing abusive and obscene language, personal attacks of any kind or promotion will be removed and the user banned. Final decision will be at the discretion of the Taipei Times.