Cobra's Lin shines as brightest rookie
SENSATIONAL The Macoto Cobras' budding star Lin En-yu had another stellar performance from the mound on Sunday and remains at a perfect 4-0 for the season
It was not a complete-game victory like his previous two straight, but last Sunday's 5-3 win for Macoto Cobras' budding star Lin En-yu over the La New Bears in Kaohsiung was just as sweet, as the rookie righty remained perfect (4-0) for the year with another stellar performance from the mound.
The win gave the serpents a 3-0 record for the week, counting their 2-0 win over the Sinon Bulls in a makeup contest at Hsinchuang last Monday and Friday's 6-3 decision over the Bears.
Lin was razor sharp from the word go in his fourth start of the season on Sunday and he mowed through the Bear lineup without much trouble, allowing a run on five hits in seven innings to drop his earned-run average (ERA) below 1.50 for the first time this year (1.46). Other than a second-inning solo homer that Bear slugger Victor Rodriguez smashed to deep-left, the Cobras' number one draft pick this year was in full control of his game.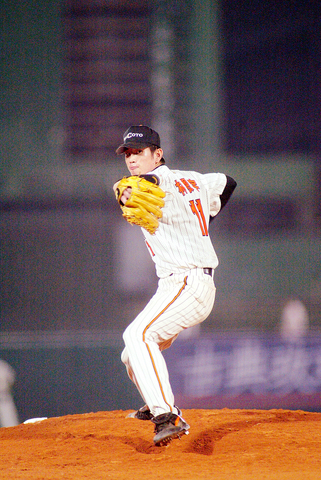 Lin En-yu pitches in a recent outing. The Cobra rookie sensation is 4-0 with the league's second-best ERA at 1.46.
PHOTO: MACOTO COBRAS
His teammates also did not let Lin down after he fell behind 1-0 early in the game as they added a pair of runs in the fourth on cleanup man Hsieh Jia-shien's two-run blast off Bear starter Corey Bailey and made it 3-1 in the fifth again on Hsieh's lining double to right, good for another run.
The Bears made things interesting at the end with designated hitter Pan Chung-wei's two-run shot to left in the bottom of the ninth to make it 5-3 after the Cobras had scored twice in the top of the inning to seemingly put the game out of reach.
In came reliever Lee Ming-jing who promptly got the last two outs with a runner on to save the day for Lin and the Cobras.
Other league action
Wet weather throughout the week rained out four of the nine scheduled games, including the highly anticipated three-game series between the league-leading Brother Elephants and the second-placed Chinatrust Whales. All three contests will be played on a date yet to be determined.
Comments will be moderated. Keep comments relevant to the article. Remarks containing abusive and obscene language, personal attacks of any kind or promotion will be removed and the user banned. Final decision will be at the discretion of the Taipei Times.