Jeffries conjures up win for Wizards
NBA PLAYOFFS Washington advanced to the second round for the first time since 1982 and is the ninth team in NBA history to rally from an 0-2 deficit to win a series
The Washington Wizards needed a victory and Jared Jeffries was the least likely player to deliver it.
Jefferies's steal and dunk with 32.7 seconds left propelled the Washington Wizards to a 94-91 series-clinching victory (4-2) over the Chicago Bulls on Friday night in Game 6 of their first-round Eastern Conference playoff matchup at the sold-out MCI Center.
The Wizards will play the Heat in Miami today in Game 1.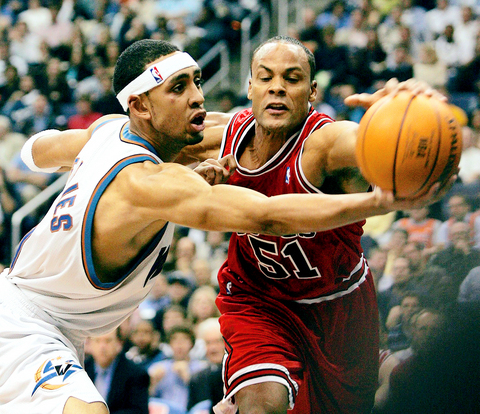 Jared Jeffries, left, of the Wizards, pressures Lawrence Funderburke of the Bulls during the first half of Game 6 of their playoff series at the MCI Center in Washington on Friday. Jefferies's steal and dunk with 32.7 seconds left in the game propelled Washington to a 94-91 series-clinching win over Chicago and their first playoff series win in 23 years.
PHOTO: EPA
Jefferies's heroics began when he intercepted a Bulls inbounds pass that had bounced off Chris Duhon's back. Jefferies saw daylight and dribbled half the length of the court for the game-winning slam.
"I've never run that fast in my life," Jefferies said. "If you had timed me against Carl Lewis, I would have been right there with him."
For the second consecutive game, the Wizards won in the final seconds. Gilbert Arenas hit a 15-foot shot as time expired Wednesday night to set up Game 6 at home.
Jefferies was not the only reserve to excel for the Wizards in the series. Etan Thomas scored a season-high 20 points in the Game 3 victory and Juan Dixon poured in a career-high 35 in the Game 4 victiory.
"That's what this team is about," forward Michael Ruffin said. "A different guy every night. It shows how much heart we have and what got us here."
The second half of Game 6 provided another example. The Wizards trailed by as many as 10 points in the third quarter and were down 91-87 with less than three minutes left in the fourth. But Chicago would give up the last seven points of the game, allowing a sensational defensive play swing the game back toward Washington.
His team ahead by four, Chicago's Kirk Hinrich stripped Washington's Larry Hughes in the backcourt and drove toward the basket. But Arenas sprinted back to reject Hinrich's layup and gave possession back to the Wizards.
"He covered for me," Hughes said. "I got a little lazy with the ball, and I usually don't make the kind of play. But Gil had my back. He has all year."
Hughes, Arenas and Antawn Jamison, the team's Big Three who accounted for two-thirds of the team's points during the regular season, each finished with 19 points. Jefferies added 12, the last of which proved to be the winning points.
But the finish wasn't without the drama associated with a team that's gone a generation without tasting this sort of success. His team up two with 16 seconds left, Juan Dixon, a 90 percent foul shooter, made only one of two free throws. His miss was the team's seventh from the free throw line in the fourth quarter.
Without using their final time out, the Bulls came upcourt with a chance to tie. But Andres Nocioni, whose 22 points matched Hinrich's as tops for the Bulls missed a three-pointer with six seconds left. Tyson Chandler rebounded and missed two-point attempt, even though his team needed three points to tie.
Arenas, who scored eight of his points in the fourth quarter, grabbed the Chandler miss and flipped the ball into the stands, triggering a celebration that included pyrotechnics and streamers falling from the arena ceiling. A few fans ran on to the floor to celebrate, and Arenas jumped on the scorer's table, and, sticking with custom, tore off his jersey and fired it into the crowd.
"It's great, man," Arenas said. "All I kept saying was that I wasn't going back to Chicago. There was no way I was going to back to Chicago."
Jeff Van Gundy kept the Texas shootout alive on the eve of Game 7 of a series that has been swirling with both controversy and thrilling basketball from the Rockets and Mavericks.
Van Gundy, the Rockets' coach, apologized again for comments he made last Sunday about his perceived bias in the officiating of center Yao Ming and also shot back at Mavericks coach Avery Johnson.
Van Gundy claimed Sunday that an NBA official had called him with information that the league was singling out Yao for fouls.
"I would be the first one to admit I made mistakes," Van Gundy said Friday. "I apologized the other day. I am truly sorry for using the word bias, for bringing another person into it, for not thinking enough about the ramifications or implications of the word bias and how it could affect the integrity of the league. I couldn't be more contrite for those things."
After the Rockets drilled the Mavericks, 101-83, in Game 6, Johnson spoke emotionally from the interview room, but never used spoke Van Gundy's name. "Maybe I should go crazy and then you talk about how the coach went crazy, that's what this series is about," Johnson said sarcastically.
That is what this series has been all about.
"He can feel free to use my name, he doesn't have to speak around it," Van Gundy. "My only point was don't speak around it, speak to it. If you want to come after me, I understand it. No one knows I screwed up more than I did. No one has to tell me.
"Well," he said with a laugh, "they have."
Van Gundy also criticized Johnson, who took over for Don Nelson on March 19, for being hypocritical. After Game 1, Johnson berated referee Joey Crawford, running after him and confronting him. He was fined US$10,000.
"I would have just expected more from a coach who, after he did what he did, I tried to support," Van Gundy said.
At Mavericks practice on Friday, Johnson shrugged off his emotional outburst, saying he was his normal self and joked that "I'm disappointed nobody offered to pay my US$10,000 fine. I've been in Texas longer than Jeff."
Over two exhaustive weeks of post-game rants, 20-0 and 19-0 runs and scintillating fourth-quarter finishes, there has been one calm constant: Tracy McGrady. The Rockets' small forward has been an unstoppable force; no one other than he has scored more than 25 each game, averaging 31.3 points.
McGrady has deflated Dirk Nowitzki with his defense, turning the 7-footer into a frustrated shadow. He has played cheerleader to Yao, who had a dismal Game 6. He is also averaging 7.5 rebounds and 6.7 assists.
Can he get any better? "I had several people ask me that," McGrady said. "Like, what's going on with you? Are you getting better?' You know what? I think I can."
That is bad news for the Mavericks, who squandered their lead in a series that has been anything but predictable.
"How do you defend Michael Jordan? It's the same thing, like with Kobe and Shaq. He's that type of player," Johnson said of McGrady. "He's going to get his 30 against anybody, no matter what you do. The more he feels like he has to do everything himself and not have as much help, the better it is for us."
But in Game 6, the Rockets reserve guards Mike James (22 points) and Jon Barry (12 points in the fourth quarter) provided the support McGrady had not received for most of the series.
The Mavericks were there own worst enemy, too, missing 17 consecutive shots in the fourth quarter during the Rockets' 19-0 run. Nowitzki missed 17 of 22 shots.
McGrady steered away from making the prediction that his teammate, Dikembe Mutombo made before Game 6, saying he would do his finger-wag in Phoenix, for the second round. McGrady no longer makes predictions after he last did -- in 2003, when his Magic had a 3-1 lead and ultimately lost to Detroit in seven games.
This time, McGrady is prepared for Game 7. "This is THE game," he said.
But it was not the only game in town. Van Gundy still had plenty to say.
"I never meant to impugn the integrity of the NBA," he said, repeating the words used by his owner, Les Alexander. "No one has benefited more in life from the NBA. I was coaching at McQuaid Jesuit High School and Rutgers as a part-time assistant. I've tried to be a positive reflection. I think I have and at times, I've made mistakes."
Van Gundy alluded to his running onto the court in 1998 and grabbing onto Alonzo Mourning's leg during a melee between the Knicks and the Heat. For Van Gundy, his actions look worse upon reflection. "Sometimes when you see what you said or see what you do, running on the court tackling people," Van Gundy said.
"You hope the totality of your career is viewed in totality, not in sound bites or 4 or 5 seconds of temporary insanity loss."
Commissioner David Stern seemed to threaten Van Gundy's job when Van Gundy said he would not reveal the name of the referee. Was he worried?
"I don't think right now is the time to think about anything like that," Van Gundy said.
Comments will be moderated. Keep comments relevant to the article. Remarks containing abusive and obscene language, personal attacks of any kind or promotion will be removed and the user banned. Final decision will be at the discretion of the Taipei Times.