Johnson still defiant at Darlington
Jimmie Johnson arrived at Darlington Raceway this week defensive and defiant, brushing aside blame for causing two major crashes at Talladega Superspeedway last weekend. But few are letting him off so easily heading into the Dodge Charger 500 at Darlington today.
This time, Johnson may be the one in for a rough ride.
Although Johnson enters the NASCAR Nextel Cup race as the favorite, having won the two races at Darlington last season and taken the series points lead this season, he is no favorite among many of his peers. How is Johnson's garage appeal these days? He was called an idiot this week by none other than Dale Earnhardt Jr.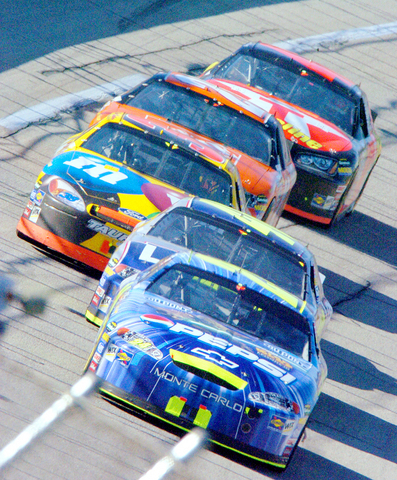 NASCAR driver Jeff Gordon leads Elliott Sadler, Tony Stewart and Jamie McMurray during the Aaron's 499 at the Talladega Superspeedway in Talladega, Alabama last Sunday. The Dodge Charger 500 is scheduled to run at Darlington, South Carolina, today.
PHOTO: AP
"Hey, my wife calls me that every morning," Johnson said dismissively after arriving for practice on Thursday and before qualifying ninth on Friday. Kasey Kahne won the pole with a speed of 170.024mph.
"In the big scheme of things," Johnson said, "if the worst thing I'm called is an idiot, I'm doing all right."
That is not the worst of it, though. Johnson is being called a danger to those around him, a damning assessment in a sport where tiny errors can lead to serious injuries. Asked where Johnson stood on the fine line between aggressiveness and recklessness on the racetrack, the 2004 series champion Kurt Busch said, "I think he's running a bit over the edge."
Busch, who is second in points, should know. He straddled that line through the first few years of his career before finally settling down. Along the way, Busch learned to be calculating on the racetrack and diplomatic off it -- he was mostly complimentary of Johnson after practice on Friday. Busch also fears the controversy will strengthen Johnson down the road, when he will become Busch's top competition, along with Jeff Gordon and a handful of others, in the hunt for the series title.
"Everybody goes through these spells, and what I see as a competitor, this is going to make Jimmie better," Busch said.
If it were one crash or one race, perhaps the questions would not be raised about Johnson. But it has been happening all season. Johnson, who had relatively few run-ins with drivers before this season, has been bumping opponents since the Daytona 500, when he had the first of two clashes with Tony Stewart. The two bumped each other on the final lap, and after the race as well.
Then came Bristol in April, when Johnson's Chevrolet tapped Jeff Burton's Chevrolet from behind, putting Burton into a spin that led to a dangerous wreck with Busch. Johnson chalked it up to hard racing. Johnson sent Stewart into another spinout at Phoenix on April 23 and blamed Stewart for brake-checking in front of him.
And finally there was the 25-car crash at Talladega on May 1, followed by a six-car wreck later in the race. Johnson was blamed for both.
"I'm racing hard," he said. "I'm doing my job. There's been some things that have popped up that have been well documented, and I've gone through each of those instances and have moved on, and life goes on."
As for the big one at Talladega, he said, "I think if you look at the overhead shot of it and you look at what the dynamics were of that, it's easy to see it. It's just guys racing 2 inches apart at 200 miles an hour. I mean, 2 inches isn't much. Once that's gone, you have a big wreck."
Robin Pemberton, the NASCAR vice president for competition, said that Nextel Cup officials would continue to monitor Johnson, as well as every other driver. But Pemberton figured the drivers would police their sport just as well.
Comments will be moderated. Keep comments relevant to the article. Remarks containing abusive and obscene language, personal attacks of any kind or promotion will be removed and the user banned. Final decision will be at the discretion of the Taipei Times.