Sports Briefs
■ Curling
Six teams end in tie at top
Norway lost to Switzerland 8-6 in the final round of matches Thursday to fall into a six-way tie for first place at the curling world championship in Victoria, British Columbia. Norway, Scotland, Germany, the US, Canada and Finland all finished 8-3 in round-robin play at the 12-team tournament. Scotland and Germany will advance to the four-team playoffs as the top two seeds because of tiebreaking procedures. Norway will face the US today, and Canada will take on Finland -- with the winners also advancing.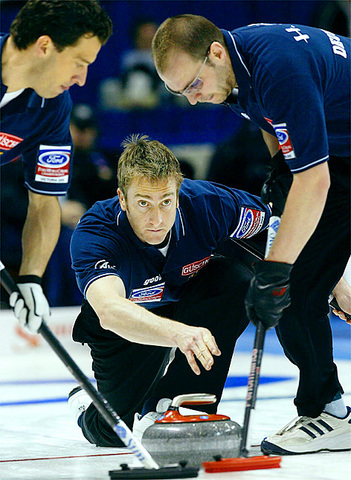 ■ Soccer
Fans build virtual stadium
Austrian soccer fans frustrated by snags in building a stadium for the 2008 European Championship have opted to build a virtual one of their own -- on the Internet. Software design company Datenkraft drew a virtual stadium and posted it on the Web (www.rettetdieem.at) after the proposed venue in Klagenfurt became bogged down in disputes over contract-bidding irregularities and government funding. Fans are invited to pick seats and pledge to purchase tickets -- all in support of having some of the Euro 2008 matches remain in Austria.
■ Asian Games
Vietnam enters bid to host
Vietnam's Olympic Committee said Friday it has entered a bid to host the 2014 Asian Games. The committee sent a letter to the Kuwait-based Olympic Council of Asia expressing its interests in organizing the region's biggest sporting event, said Nguyen Hong Minh, vice president of Vietnam's Olympic Committee. The OCA said in a statement earlier this week that India, Jordan and North Korea had also filed letters of intent by the March 31 deadline to bid for the quadrennial event.
■ Soccer
Meeting addresses racism
A two-day international conference on the fight against racism at soccer stadiums was to open in Bratislava, Slovakia capital Friday. Some 100 participants from 38 groups from around Europe which fight against racism in soccer were to participate in the conference organized by People Against Racism, a civic group. Guests at the conference were to include UEFA spokesman William Gaillard and EU Education Commissioner Jan Figel, organizers said. Slovakia, which is hosting the conference, has had its troubles with soccer-related racism in the past. In 2003, Slovakia was ordered to play a home game in an empty stadium because of racist chanting and crowd trouble during a 2004 European Championships qualifier against England. UEFA also fined the Slovak Football Federation. British officials said taunts aimed at black England players Emile Heskey and Ashley Cole were the worst they had heard at a soccer game. Baton-wielding Slovak police fought with thousands of English fans at the stadium. The English Football Association was also ordered to pay a fine because of bad fan behavior.
Comments will be moderated. Keep comments relevant to the article. Remarks containing abusive and obscene language, personal attacks of any kind or promotion will be removed and the user banned. Final decision will be at the discretion of the Taipei Times.